Home » Authors, Doll Noa, Features, Month of Love, Reviewers, Reviews, The Garter Brides
Month of Love Review: Love for Grown-ups: The Garter Brides' Guide to Marrying for Life When You've Already Got a Life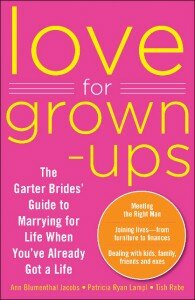 Authors: The Garter Brides- Ann Blumenthal Jacobs, Patricia Ryan Lampl and Tish Rabe
Book: Love for Grown-ups: The Garter Brides' Guide to Marrying for Life When You've Already Got a Life
Release: July 19, 2011
Genre: Non-Fiction
Reviewers: Noa
Source: Publisher
Purchase: – Barnes & Noble
Over thirty-five and still seeking that special someone?

About to take a serious relationship to the next level and want to make sure it works—for keeps?

The Garter Brides can help!

These three friends—whose name derived from the lucky garter passed from one woman to another—met and married wonderful men later in life. Now you can tap into the wisdom of this special sisterhood through the true stories and real-life strategies these women—plus the dozens of others they interviewed—used to meet the right guy, fall in love and create exciting, happy and fulfilling lives.

YOU'LL FIND GREAT ADVICE ON:

– Transforming dating from a drag to a delight,– Revealing your history and hopes for the future,– Blending friends, family and kids, Creating a home together, Dollars and common sense for grown-ups, Your wedding, your way …and much more!

Like your best girlfriends, they tell it like it is: woman-to-woman, heart-to-heart.
500 blind dates. Yup, 500. 31 years old and 500 blind dates. So you see, I usually don't like books that tell me about dating. I mean, I may not be an expert at relationships, but after the number of dates I've been on, dating – I know. Well, so do the Garter Brides.
Ann Blumenthal Jacobs, Patricia Ryan Lampl and Tish Rabe all found love when they already had a life, all over 35 and all share their amazing stories in this book. It's self help without being self help but more than that, it's a big 'ole book of hope.
After over ten years in the dating world a girl gets tired of being told "yours will come along", "you're too picky" and my favorite: "it's not him, it's you." It's disheartening, depressing and at some point, gets you a bit bitter. You really do feel like "I'm Mr. Lonely" is the soundtrack to your life.
Then you read about these incredibly successful and wonderful women who found love – some in places they least expected it and it just gives you that small glimmer of hope. Well, it gave me that small glimmer of hope.
Now, if you think this book is just for singletons – you'd be wrong. Love for Grownups takes a look at dating, building relationships, creating a new family when you already have a family, and even weddings and everything that comes with them. Through the Garter Brides stories and the stories of other women who also shared the "grownup relationship" experience.
The book was filled with humor, tales of romance and nice dose of sensible advice. Perfect for anyone looking for love yet it also has a great deal to offer those who have love in their life.
Thanks to the Garter Brides, I'm not giving up quite yet…I just hope it won't take 500 more dates!!!
Noa first fell in love with books when she discovered 100 acre wood and its inhabitants. To this day, the last pages of "The House at Pooh Corner" make her cry. In a good way. From"Calvin and Hobbes" to "The Iliad and the Odyssey" and lets not forget "Martha Stewart's Cupcakes". Biographies, mysteries, history books and romances all have a place on her bookshelves. Who needs furniture? This 29 year old singleton's dream is to invent the zero-calorie chocolate. But until that day arrives, she tries to create sweet confections with whatever chocolate she can find. An MA in conflict studies (need a mediator?) means Noa loves a good debate, especially when she wins. If she were in charge, books would be free for everyone.
Doll Noa