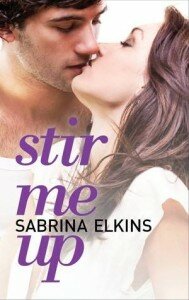 Author:       Sabrina Elkins
Title:             Stir Me Up
Reviewer:   Mona Leigh
Source:        Harlequin Teen/NetGalley
Pub Date:    Oct 1, 2013
Cami Broussard has her future all figured out. She'll finish her senior year of high school, then go to work full-time as an apprentice chef in her father's French restaurant, alongside her boyfriend, Luke. But then twenty-year-old ex-Marine Julian Wyatt comes to live with Cami's family while recovering from serious injuries. And suddenly Cami finds herself questioning everything she thought she wanted.
Julian's all attitude, challenges and intense green-brown eyes. But beneath that abrasive exterior is a man who just might be as lost as Cami's starting to feel. And Cami can't stop thinking about him. Talking to him. Wanting to kiss him. He's got her seriously stirred up. Her senior year has just gotten a lot more complicated…
******************************************************************************************************
Senior year of high school is a year of promise and opportunity. As teens, most of us had some sort of idea what lay ahead in our near future: college, travel, work, marriage. But what if the plans we made went awry through no fault of our own? And what if the new plans turned out to be even better? Well, that's what happened to Cami.
I loved, loved, loved this book! Cami Broussard knows what she wants out of life after graduation, but her French chef father isn't so sure about her plans. She wants to be a chef like him; he wants her to go to college so she'll have options. Cami's boyfriend, Luke, (who's a year older) works with her at her father's restaurant and they're a pretty serious item.
Then her stepmom, Estella, receives word that her twenty-year-old nephew, Julian, has been critically wounded in Afghanistan and is being airlifted from Germany to Bethesda for hospitalization. Cami's dad sends her along to help Estella deal with everything. Good thing, too, because Estella's a basket case after seeing Julian. He's black and blue, swollen and cut up, and missing part of a leg, but the emotional damage is even worse.
Despite his injuries and bad temper, Cami's drawn to Julian. Then she learns he's coming to live with them during his recovery and will be taking her downstairs bedroom while she's stuck sleeping in an alcove upstairs…. with no privacy. Needless to say, she's not happy about losing out to a grouchy guy even if he is good looking.
I loved the way Cami stood her ground with Julian, refusing to let him sulk. To Estella's dismay, when Julian yells and throws things, Cami yells back and even hits him in the face with a muffin. She refuses to let him feel sorry for himself or shut out the people who love him. And that's a good thing.
As her feelings for Julian subtly change, her relationship with Luke changes, too. She starts finding excuses NOT to sneak out of the house to see him until she finally realizes she doesn't love him quite as much as she thought. But is she strong enough to do the right thing?
Watching Julian heal physically and mentally was tough, but Elkins did a great job with it, addressing it with matter-of-fact sensitivity. She also did an awesome job developing the relationship between Julian and Cami as they dealt with the injuries and healing. But the best part was watching Julian come to terms with the horrific scars as he struggled to hide them from Cami, and how she exposed them and showed her acceptance of them as part of him. The tenderness was touching.
The book chronicles Julian's struggle to rebuild his life and Cami's determination to heal him body and soul while she finds her place in the world. They fight, they yell, they throw things, and they learn to talk (and listen) to each other. They learn to dream again as Julian forces Cami to experience life on her own before they decide to settle down.
This is an honest, heartfelt love story that will stay with you long after you've turned the last page, and there's plenty of steaminess going on, too.  ;)
Mona Leigh