Home » Authors, Doll Eowyn, Gillian Flynn, Reviewers, Reviews
Doll Eowyn Reviews: Gone Girl by Jillian Flynn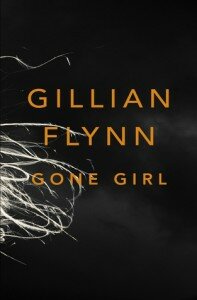 Author: Jillian Flynn
Title: Gone Girl
Release: May 4, 2012
Reviewer: Doll Eowyn
Source: Personal Library
Purchase: | Book Depository

Marriage can be a real killer.

One of the most critically acclaimed suspense writers of our time, New York Times bestseller Gillian Flynn takes that statement to its darkest place in this unputdownable masterpiece about a marriage gone terribly, terribly wrong. The Chicago Tribune proclaimed that her work "draws you in and keeps you reading with the force of a pure but nasty addiction." Gone Girl's toxic mix of sharp-edged wit and deliciously chilling prose creates a nerve-fraying thriller that confounds you at every turn.

On a warm summer morning in North Carthage, Missouri, it is Nick and Amy Dunne's fifth wedding anniversary. Presents are being wrapped and reservations are being made when Nick's clever and beautiful wife disappears from their rented McMansion on the Mississippi River. Husband-of-the-Year Nick isn't doing himself any favors with cringe-worthy daydreams about the slope and shape of his wife's head, but passages from Amy's diary reveal the alpha-girl perfectionist could have put anyone dangerously on edge. Under mounting pressure from the police and the media—as well as Amy's fiercely doting parents—the town golden boy parades an endless series of lies, deceits, and inappropriate behavior. Nick is oddly evasive, and he's definitely bitter—but is he really a killer?

As the cops close in, every couple in town is soon wondering how well they know the one that they love. With his twin sister, Margo, at his side, Nick stands by his innocence. Trouble is, if Nick didn't do it, where is that beautiful wife? And what was in that silvery gift box hidden in the back of her bedroom closet?
GONE GIRL is not the typical book that I read and review but my book club chose to read it this month based on its popularity and our varying interests. As I closed the last page I found myself wondering "What the hell?" My mind is so confused!
GONE GIRL by Jillian Flynn is a psychological thriller that will mess with your mind! The writing is pure genius in its delivery and will long leave you wondering "what the heck just happened"? The book unfolds in both Nick's voice and Amy's voice. We open on the day of their 5th wedding anniversary, the day Amy disappears. We slowly move from Nick's voice in the present to Amy's voice in the past from the pages of her diary. The characters evolve throughout the book and will take you for a roller coaster ride full of emotions.
Amy's diary begins of course at the beginning of their relationship when things were new, exciting and all was well in their universe. As the story progresses though we begin so see a picture of a marriage that is falling apart and is not so happy anymore. On Nick's side we are with him in present time as the disappearance of his wife begins to explode on the scene. Nick seems to be the All-American guy from the Midwest yet he loses in our favor for his lack of knowledge regarding his wife's life. Nick isn't being honest with the police and he lets us know but we aren't sure why? Is he hiding something? Is he just stupid? Is he trying to portray the image of the husband he knows he should be but isn't? Despite this dishonesty I find myself pondering "Is he really capable of killing his wife?"
As the two sides of the story begin to merge into a reality we are not expecting I found myself not liking Amy so much anymore. She slowly begins to sound more controlling and maybe a little bit manipulative. By the time Flynn shakes up the story about half way in I find myself shocked, I had guessed the twist but I in no way had guessed the downright insaneness behind the twist. I wish I could say more but it is just impossible to do so without giving too much away.
From this moment on we are racing toward the conclusion wondering how on earth this is all going to turn out well for the innocent party in this fatal dance. The further we go along though the more we begin to realize that not only is their one psycho in this marriage but two. The depths that Flynn takes us to in their minds and plots are truly entertaining and when the story finally comes to its conclusion you will find yourself thinking for days "Man they are messed up."
Great job Gillian Flynn for writing a psychological thriller that makes you look at reality and wonder is it so. I will be pondering what happened in this story for quite some time.
Steph (Eowyn) is a voracious reader who does not remember a time when she wasn't engrossed in a book in fact she is often reading two or three. She enjoys a broad range of books including Fiction, Paranormal, Thrillers, Urban Fantasy, Women's Issues, Historical and Spiritual Novels. Steph believes that reading changes lives and credits her love of books for success in her own life. Since she doesn't know a stranger she enjoys discussing the latest novel she is reading with anyone who will listen. Steph dreams of writing her own novel in the future and speaking around the world on women's issues. She currently resides in North Carolina with her husband and cat (Mirabelle).
Doll Eowyn