Home » Authors, Doll Eowyn, Kim Harrison, Reviews
Doll Eowyn Reviews The Good, The Bad and the Undead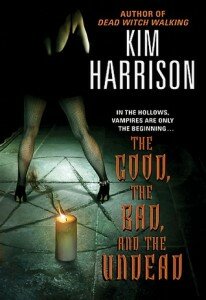 Author: Kim Harrison
Title: The Good, The Bad and the Undead
Release: 2005
Series: The Hollows #2
Reviewer: Eowyn
Source: Personal Library
Purchase: | Book Depository
It's a tough life for witch Rachel Morgan, sexy, independent bounty hunter, prowling the darkest shadows of downtown Cincinnati for criminal creatures of the night.
She can handle the leather-clad vamps and even tangle with a cunning demon or two. But a serial killer who feeds on the experts in the most dangerous kind of black magic is definitely pressing the limits.
Confronting an ancient, implacable evil is more than just child's play – and this time, Rachel will be lucky to escape with her very soul.
Wow, I'm glad I listened to all my friends and started up the second book in THE HOLLOWS series by Kim Harrison. THE GOOD THE BAD AND THE UNDEAD grabbed me from the very beginning. This book begins with Rachel, Ivy and Jenks progressing along with their business plans but of course things will not stay calm for long.
Someone is killing off witches, specifically good ley line witches and before you know it Rachel is pulled into the saga when she is brought in to help the FIB as a consultant when a missing person case is filed for a witch. Soon Rachel discovers that Sara Jane (who works for Trent Kalamack and unknowingly helped Rachel in the previous book is the person filing the report). Soon Rachel is determined that Trent is the witch killer and she is blinded in her anger against him which leads her to act childishly and jeopardize herself and the investigation.
In the midst of all the chaos we learn a little more about Rachel and the potential power she has herself with ley line magic. Her father seems to have been keeping something from her and I wonder how long it will be until we find out exactly what.
We are introduced to a new character Glenn Edden who is working on the case with Rachel. Perhaps there will be to him in the future. I can't say at the moment but there seems to be a little tension going on with him and Ivy that could prove to pan out in the future.
The relationship between Ivy and Rachel proves to be getting even more complicated in the second book and of course vampire politics is always complicated. The dynamics between the two is quite interesting and I am curious how this will pan out in the end. I am looking forward to seeing where Harrison is taking things between the two.
Nick is still in the picture and I still don't trust him very much. I feel something is just not right with him. He is active in this book nevertheless and serves as path to the demon Algaliarept. "Al" is currently the villain against Rachel and I'm curious to see what all he knows and the role he will play in the future.
Overall, I loved this book so much more than the second one and I can't wait to pick up the next book and see what will happen. I love watching Rachel learn about herself and what she is capable of. I don't think we've scratched the surface yet. The friendships she is forming are complex and add interesting plot twists. I also look forward to seeing if Trent is really as bad as he seems or could her turn out to be one smexy dude. Stay tuned……
Steph (Eowyn) is a voracious reader who does not remember a time when she wasn't engrossed in a book in fact she is often reading two or three. She enjoys a broad range of books including Fiction, Paranormal, Thrillers, Urban Fantasy, Women's Issues, Historical and Spiritual Novels. Steph believes that reading changes lives and credits her love of books for success in her own life. Since she doesn't know a stranger she enjoys discussing the latest novel she is reading with anyone who will listen. Steph dreams of writing her own novel in the future and speaking around the world on women's issues. She currently resides in North Carolina with her husband and cat (Mirabelle).
Doll Eowyn