Home » Articles, Authors, Giveaways, Guests, News, Week in Review, Winners
Week in Review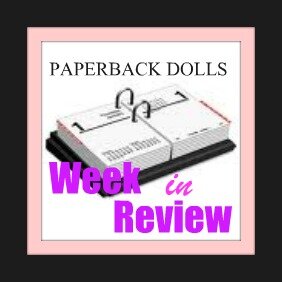 Welcome one and all to the week in review!
Week in Review is when we take a look at the past week and everything that's been going on at Paperbackdolls.com – plus we share what you can expect from the week to come…
Last Week on Paperback Dolls…
On Monday Believer was here with an ARC review of A Witch's Handbook of Kisses and Curses by Molly Harper

Nola Leary would have been content to stay in Kilcairy, Ireland, healing villagers at her family's clinic with a mix of magic and modern medicine. But a series of ill-timed omens and a deathbed promise to her grandmother have sent her on a quest to Half-Moon Hollow, Kentucky, to secure her family's magical potency for the next generation. Her supernatural task? To unearth four artifacts hidden by her grandfather before a rival magical family beats her to it.

Complication One: Her grandfather was Mr. Wainwright and the artifacts are lost somewhere in what is now Jane Jameson's book shop.

Complication Two: her new neighbor, Jed Trudeau, who keeps turning up half naked at the strangest times, a distraction Nola doesn't need. And teaming up with a real-life Adonis is as dangerous as it sounds, especially when he's got the face of an angel and the abs of a washboard—can Nola complete her mission before falling completely under his spell? READ REVIEW
Then on Tuesday Mona shared a review of The Rules by Stacey Kade

1. Never trust anyone.

2. Remember they are always searching.

3. Don't get involved.

4. Keep your head down.

5. Don't fall in love.

Five simple rules. Ariane Tucker has followed them since the night she escaped from the genetics lab where she was created, the result of combining human and extraterrestrial DNA. Ariane's survival—and that of her adoptive father—depends on her ability to blend in among the full-blooded humans in a small Wisconsin town, to hide in plain sight at her high school from those who seek to recover their lost (and expensive) "project."

But when a cruel prank at school goes awry, it puts her in the path of Zane Bradshaw, the police chief's son and someone who sees too much. Someone who really sees her. After years of trying to be invisible, Ariane finds the attention frightening—and utterly intoxicating. Suddenly, nothing is simple anymore, especially not the rules… READ REVIEW
On Wednesday Chrissy was here with a review of Lady Mercy Danforthe Flirts with Scandal by Jayne Fresina

Lady Mercy likes her life neat and tidy. She prides herself on being practical – like her engagement to Viscount Grey, whose dark colouring co-ordinates very well with her favourite furnishings. But things start to get messy when her best friend abandons her fiance at the altar, leaving it up to Mercy to help the couple. There's just one problem. The jilted man is Rafe Hartley—Mercy's former husband.

Rafe has not forgiven Mercy for deserting him when they were seventeen. Their hasty marriage was declared void by law, but in his eyes the bossy little vixen was still his wife, even if the marriage lasted only a few hours. And Mercy "Silky Drawers" Danforthe still owes him a wedding night. READ REVIEW
On Thursday Mona was back with a review of The Trouble With Fate by Leigh Evans

Meet Hedi Peacock. She's half Fae. Half Were. And all trouble…

I Have Two Words For Werewolves:

My name is Hedi Peacock and I have a secret. I'm not human, and I have the pointy Fae ears and Were inner-bitch to prove it. As fairy tales go, my childhood was damn near perfect, all fur and magic until a werewolf killed my father and the Fae executed my mother. I've never forgiven either side. Especially Robson Trowbridge. He was a part-time werewolf, a full-time bastard, and the first and only boy I ever loved. That is, until he became the prime suspect in my father's death…

Bite Me.

Today I'm a half-breed barista working at a fancy coffee house, living with my loopy Aunt Lou and a temperamental amulet named Merry, and wondering where in the world I'm going in life. A pretty normal existence, considering. But when a pack of Weres decides to kidnap my aunt and force me to steal another amulet, the only one who can help me is the last person I ever thought I'd turn to: Robson Trowbridge. And he's as annoyingly beautiful as I remember. That's the trouble with fate: Sometimes it barks. Other times it bites. And the rest of the time it just breaks your heart. Again… READ REVIEW
Finally… On Friday – Mona brought back some goodies from the RT convention so it's about time we had a Giveaway! Summer is upon us and with it – Summer Reading! Get ready because on Friday you'll be getting a chance to win the perfect vacation reads!

Find out how you can win here! 
Next Week on Paperback Dolls…
On Monday Mona is here with a review of The Beautiful and the Cursed by Page Morgan
and She'll be offering 15 copies of the book to our lucky followers!

After a bizarre accident, Ingrid Waverly is forced to leave London with her mother and younger sister, Gabby, trading a world full of fancy dresses and society events for the unfamiliar city of Paris.

In Paris there are no grand balls or glittering parties, and, disturbingly, the house Ingrid's twin brother, Grayson, found for them isn't a house at all. It's an abandoned abbey, its roof lined with stone gargoyles that could almost be mistaken for living, breathing creatures.

And Grayson has gone missing.

No one seems to know of his whereabouts but Luc, a devastatingly handsome servant at their new home.

Ingrid is sure her twin isn't dead—she can feel it deep in her soul—but she knows he's in grave danger. It will be up to her and Gabby to navigate the twisted path to Grayson, a path that will lead Ingrid on a discovery of dark secrets and otherworldly truths. And she'll learn that once they are uncovered, they can never again be buried.
On Tuesday Eowyn is here with a review of Garden Spells by Sarah Addison
The women of the Waverley family — whether they like it or not — are heirs to an unusual legacy, one that grows in a fenced plot behind their Queen Anne home on Pendland Street in Bascom, North Carolina. There, an apple tree bearing fruit of magical properties looms over a garden filled with herbs and edible flowers that possess the power to affect in curious ways anyone who eats them.

For nearly a decade, 34-year-old Claire Waverley, at peace with her family inheritance, has lived in the house alone, embracing the spirit of the grandmother who raised her, ruing her mother's unfortunate destiny and seemingly unconcerned about the fate of her rebellious sister, Sydney, who freed herself long ago from their small town's constraints. Using her grandmother's mystical culinary traditions, Claire has built a successful catering business — and a carefully controlled, utterly predictable life — upon the family's peculiar gift for making life-altering delicacies: lilac jelly to engender humility, for instance, or rose geranium wine to call up fond memories. Garden Spells reveals what happens when Sydney returns to Bascom with her young daughter, turning Claire's routine existence upside down. With Sydney's homecoming, the magic that the quiet caterer has measured into recipes to shape the thoughts and moods of others begins to influence Claire's own emotions in terrifying and delightful ways.

As the sisters reconnect and learn to support one another, each finds romance where she least expects it, while Sydney's child, Bay, discovers both the safe home she has longed for and her own surprising gifts. With the help of their elderly cousin Evanelle, endowed with her own uncanny skills, the Waverley women redeem the past, embrace the present, and take a joyful leap into the future.
Then on Wednesday Believer is here with a review of Winter's Tale by Emma Holly

Something sexy is afoot at Rackham's School for Young Ladies. Half faerie, half elf Hans Winter broke the heart of the wrong princess. Cursed to live as a statue at a school for human girls, only true love—and true bravery—can free him.

December Worth never met a rule she didn't want to break, as the numerous institutions that expelled her can attest. Bravery she can handle. Love she's less sure about, especially if it involves believing in fairytales.

A kiss seems like the last thing these lonely souls would share, until one night in the cemetery where Hans stands trapped, Fate brings stone and flesh together . . .
Then on Thursday Noa is here with a few of her summer book picks!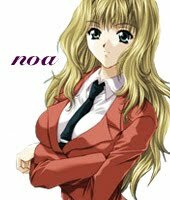 (and don't forget the amazing giveaway we're having for 5 book baskets!!!!)
Finally on Friday Lil is here with a review of It Had To Be You by Jill Shalvis

Ali Winters is not having a good day. Her boyfriend left her, everyone in town thinks she's a thief, and now she's about to be kicked out of her home. Her only shot at keeping a roof over her head and clearing her name is to beg for help from a police detective who's as sexy as he is stern….

After a high-profile case goes wrong, Luke Hanover returns to his hometown for some peace and quiet. Instead he finds a bombshell brunette in a heap of trouble. As he helps Ali put her world back together, the pieces of Luke's own life finally seem to fall into place. Is this the start of a sizzling fling? Or are Luke and Ali on the brink of something big in a little town called Lucky Harbor?
That's it for us this week!
Thanks for stopping by and commenting!
Paperback Dolls is made up of women from different parts of the world, with different backgrounds, different tastes and beliefs that were brought together through a love of reading. We like to think of ourselves as a cyber version of "The View" that focuses on books, authors, and reading. We are proof positive that one common love can unite the most opposite of people and form lasting friendships that introduce other ways of life and perspectives to each other.
Paperback Dolls