Home » Articles, Authors, Giveaways, Guests, News, Reviewers, Week in Review, Winners
Week in Review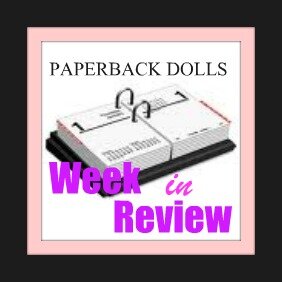 Welcome one and all to the week in review!
Week in Review is when we take a look at the past week and everything that's been going on at Paperbackdolls.com – plus we share what you can expect from the week to come…
Last Week on Paperback Dolls…
On Monday Mona was here with a review of the novella Double Crossed by Ally Carter

Macey McHenry—Glamorous society girl or spy-in-training?

W.W. Hale V—Heir to an American dynasty or master thief?

There are two sides to every coin. Whether these two can work together is a tossup.

Born into privilege, Macey and Hale are experts at mingling with the upper class. But even if they've never raised an eyebrow at the glitz, neither teenager has ever felt at home with the glamour.

When Macey and Hale meet at a society gala, the party takes a dangerous turn. Suddenly they're at the center of a hostage situation, and it's up to them to stop the thugs from becoming hostile. Will Macey's spy skills and Hale's con-man ways be enough to outsmart a ruthless gang? Or will they have to seek out the ultimate inside girl to help?

The worlds of Heist Society and the Gallagher Girls collide in Ally Carter's fast-paced, high-stakes and tantalizing new story. Get a behind the scenes glimpse as Ally delivers an irresistible thriller that is full of her signature style and savvy twists. READ REVIEW
On Tuesday Noa was here with an ARC review of A Conspiracy of Alchemists by Liesel Schwarz

LEAVE IT TO CHANCE. Eleanor "Elle" Chance, that is—the intrepid heroine of this edgy new series that transforms elements of urban fantasy, historical adventure, and paranormal romance into pure storytelling gold.

In a Golden Age where spark reactors power the airways, and creatures of Light and Shadow walk openly among us, a deadly game of Alchemists and Warlocks has begun.

When an unusual cargo drags airship-pilot Elle Chance into the affairs of the mysterious Mr. Marsh, she must confront her destiny and do everything in her power to stop the Alchemists from unleashing a magical apocalypse. READ REVIEW
Then on Wednesday and Thursday Chrissy was here with Reviews of Gathering Blue and Messenger by Lois Lowry

In her strongest work to date, Lois Lowry once again creates a mysterious but plausible future world. It is a society ruled by savagery and deceit that shuns and discards the weak. Left orphaned and physically flawed, young Kira faces a frightening, uncertain future. Blessed with an almost magical talent that keeps her alive, she struggles with ever broadening responsibilities in her quest for truth, discovering things that will change her life forever.

As she did in The Giver, Lowry challenges readers to imagine what our world could become, and what will be considered valuable. Every reader will be taken by Kira's plight and will long ponder her haunting world and the hope for the future. READ REVIEW

Lois Lowry's Messenger continues the quartet beginning with the quintessential dystopian novel, The Giver, and Gathering Blue, followed by Son.

For the past six years, Matty has lived in Village and flourished under the guidance of Seer, a blind man, known for his special sight. Village was a place that welcomed newcomers, but something sinister has seeped into Village and the people have voted to close it to outsiders. Matty has been invaluable as a messenger. Now he must make one last journey through the treacherous forest with his only weapon, a power he unexpectedly discovers within himself. READ REVIEW
Finally on Friday, Believer was here with an ARC review of Along Came Trouble by Ruthie Knox

An accomplished lawyer and driven single mother, Ellen Callahan isn't looking for any help. She's doing just fine on her own. So Ellen's more than a little peeved when her brother, an international pop star, hires a security guard to protect her from a prying press that will stop at nothing to dig up dirt on him. But when the tanned and toned Caleb Clark shows up at her door, Ellen might just have to plead the fifth.

Back home after a deployment in Iraq and looking for work as a civilian, Caleb signs on as Ellen's bodyguard. After combat in the hot desert sun, this job should be a breeze. But guarding the willful beauty is harder than he imagined—and Caleb can't resist the temptation to mix business with pleasure. With their desires growing more undeniable by the day, Ellen and Caleb give in to an evening of steamy passion. But will they ever be able to share more than just a one-night stand? READ REVIEW
Next Week on Paperback Dolls…
On Monday Believer is here with a review of Oblivion Storm by R. A. Smith

Over a century past, a wily young pauper wins the hearts of a childless couple of ancient nobility, and a place in one of the most prestigious families in London. The sole heir to the Grenshall family legacy, Iris 'Tally' Grenshall fights to protect her family from the machinations of an evil woman, but discovers her adversary presents a threat much greater than she ever imagined…

The victim of a brutal attack, Rose remembers one thing: a long-dead woman giving her an impossible task. She knows only the price of failure as she sets out to retrieve a deadly talisman, with the aid of new friends and powers over the living and the dead. As the body count rises, Rose's quest grows desperate–with London itself in jeopardy.

Rose and Tally share fates intertwined. Rose must discover how before the secrets of the past destroy her, her friends, and all of London.
On Tuesday Noa is here with an ARC review of With This Kiss – a novella in three parts by Eloisa James

Lady Grace Ryburn, the daughter of the Duke and Duchess of Ashbrook, has fallen wildly in love with Colin Barry, a dashing young lieutenant serving his country in the Royal Navy. When he returns home to exuberant celebrations, will he even notice the quiet wallflower he grew up with … or will he fall for Grace's sparkling, gorgeous sister?

Author's Note: Lady Grace is the eldest daughter of the Duke and Duchess of Ashbrook, from The Ugly Duchess, and Colin is the eldest adopted son of Sir Griffin Barry, from Seduced by a Pirate.
On Wednesday Chrissy is here with her review of the fourth installment in the Giver series: Son by Lois Lowry

They called her Water Claire. When she washed up on their shore, no one knew that she came from a society where emotions and colors didn't exist. That she had become a Vessel at age thirteen. That she had carried a Product at age fourteen. That it had been stolen from her body. Claire had a son. But what became of him she never knew. What was his name? Was he even alive?  She was supposed to forget him, but that was impossible. Now Claire will stop at nothing to find her child, even if it means making an unimaginable sacrifice.

Son thrusts readers once again into the chilling world of the Newbery Medal winning book, The Giver, as well as Gathering Blue and Messenger where a new hero emerges. In this thrilling series finale, the startling and long-awaited conclusion to Lois Lowry's epic tale culminates in a final clash between good and evil.
Then on Thursday and Friday Lil is here with a double dose of Christie Ridgway
On Thursday its a review of Bungalow Nights

Combat medic Vance Smith made a promise to a fallen officer: to treat the man's young daughter to an idyllic vacation at Beach House No. 9. One month, some sun and surf, a "helmet list" of activities to check off and Vance will move on. But the "little girl" he's expecting turns out to be a full-grown woman. With silky hair, big brown eyes and smelling sweetly of the cupcakes she makes for her mobile bakery, Layla Parker is irresistible. And Vance shouldn't lay a finger on her. Honor-and one heck of a scarred heart-says so.

To Layla, Vance is a hero who was injured trying to save her father's life. She intends to spend their month of lazy days and warm nights taking very good care of the gorgeous soldier-inside and out….
And on Friday its an ARC review of The Love Shack

Globe-trotting photojournalist Gage Lowell spent carefree childhood summers in Crescent Cove. Now that he desperately needs some R & R, he books a vacation at Beach House No. 9—ready to soak up some sun and surprise old friend and property manager Skye Alexander. Their long-distance letters got him through a dangerous time he can't otherwise talk about. But when
he arrives, the tightly wound beauty isn't exactly happy to see him.

Skye knows any red-blooded woman would be thrilled to spend time with gorgeous, sexy Gage. But she harbors secrets of her own, including that she might just be a little bit in love with him. And she's convinced the restless wanderer won't stay long enough for her to dare share her past—or dream of a future together. Luckily for them both, summer at Crescent Cove has a way of making the impossible happen….
That's it for us this week!
Thanks for stopping by and commenting!
Paperback Dolls is made up of women from different parts of the world, with different backgrounds, different tastes and beliefs that were brought together through a love of reading. We like to think of ourselves as a cyber version of "The View" that focuses on books, authors, and reading. We are proof positive that one common love can unite the most opposite of people and form lasting friendships that introduce other ways of life and perspectives to each other.
Paperback Dolls