Home » Articles, Authors, Giveaways, Guests, News, Week in Review, Winners
Week in Review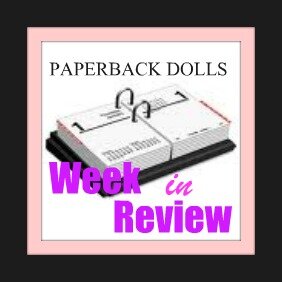 Welcome one and all to the week in review!
Week in Review is when we take a look at the past week and everything that's been going on at Paperbackdolls.com – plus we share what you can expect from the week to come…
Last Week on Paperback Dolls…
On Monday Believer reviewed  Bloodweight Underdogs of the Arena Series by Eva LeNoir

As a young independent vampire, Ellen Banks takes the ring, and all eyes are on her. The lithe rebel has worked hard to get to this one moment in her less-than-stellar life. No one will stand in her way of that championship belt, especially not the powerful and impossibly salacious Nash Stanford. If only her traitorous body's reaction would shut the hell up.

Nash Stanford, Vampire Sire of the East Coast, has been biding his time. He is a shrewd businessman and knows a good investment when he sees one. But when he looks at the incredibly sexy Ellen Banks, there is more than just money on his mind. Will she agree to work for him? More importantly, will she finally give into the hunger building between them? READ REVIEW
On Tuesday Mona was here with an ARC review of The Downfall of a Good Girl by Kimberly Lang

Southern debutante Vivienne LaBlanc can't believe bad-boy rock star Connor Mansfield is back in town for the New Orleans annual Saints and Sinners pageant. He has a reputation as wicked as his devilish smile, and Vivi has no intention of becoming one of his latest groupies! He once crushed her high school heart, so playing the saint to Connor's sinner should be easy. But how can Vivi get those less-than-angelic thoughts out of her head-especially when Connor's so good at tempting her to be bad? READ REVIEW
Then on Wednesday Chrissy was here with an Over 18′s Only review, this time: Bedding Down, A collection of Winter Erotica

Ignore the weather report–there's a heat wave coming!

Author, editor, blogger, and former sex columnist for the Village Voice, Rachel Kramer Bussel presents seven titillating tales guaranteed to steam up your bedroom windows in the midst of Mother Nature's seasonal chill. A lusty collection of scintillating erotic dreams from some of the best writers in the field, here is a sexy and sure cure for the winter blues! READ REVIEW
On Thursday Mona was back with an ARC review of The One That Got Away by Kelly Hunter

Good job? Tick. Newly purchased apartment? Tick. Evie's life is on a pretty even keel at the moment. The only thing missing? A man with an edge to keep things interesting. Enter Logan Black. Tortured, distant and sexy, Logan has edge written all over him. He's also the man who tipped Evie over the edge a few years back – she gave him everything, but he didn't know when to stop taking. Leaving Logan was the hardest thing Evie's ever done. Until now. Because Logan's back, the chemistry is as blistering as ever, and this time he's not going anywhere… READ REVIEW
Finally on Friday Noa was here with an ARC review of One Good Earl Deserves a Lover by Sarah Maclean

The second in the incredible new Rules of Scoundrels series from New York Times bestselling author Sarah MacLean.

Lady Philippa Marbury is odd. The bespectacled, brilliant fourth daughter of the Marquess of Needham and Dolby cares more for books than balls, flora than fashion and science than the season. Nearly engaged to Lord Castleton, Pippa wants to explore the scandalous parts of London she's never seen before marriage. And she knows just who to ask: the tall, charming, quick-witted bookkeeper of The Fallen Angel, London's most notorious and coveted gaming hell, known only as Cross.

Like any good scientist, Pippa's done her research and Cross's reputation makes him perfect for her scheme. She wants science without emotion—the experience of ruination without the repercussions of ruination. And who better to provide her with the experience than this legendary man? But when this odd, unexpected female propositions Cross, it's more than tempting . . . and it will take everything he has to resist following his instincts—and giving the lady precisely what she wants. READ REVIEW
Next Week on Paperback Dolls…
On Monday Mona is here with a review of Losing It by Cora Carmack

Virginity.

Bliss Edwards is about to graduate from college and still has hers. Sick of being the only virgin among her friends, she decides the best way to deal with the problem is to lose it as quickly and simply as possible– a one-night stand. But her plan turns out to be anything but simple when she freaks out and leaves a gorgeous guy alone and naked in her bed with an excuse that no one with half-a-brain would ever believe. And as if if that weren't embarrassing enough, when she arrives for her first class of her last college semester, she recognizes her new theatre professor. She'd left him naked in her bed about 8 hours earlier.
On Tuesday Chrissy is here with a review of Fire and Ice by Erin Hunter

Fireheart could hear a roaring around him, like wind in tall trees. The acrid stench of the Thunderpath stung his nostrils, together with a new smell, sharper and more terrifying. Fire!

Book Two of WARRIORS continues Fireheart's quest to be a true warrior, when he finds new danger lurking in the woods as the chill of winter sets in.

WindClan is missing, and hostilities between the remaining three clans place all the cats in peril. Illness and tragic accidents weaken the camp, and ThunderClan needs all its warriors to defent itself – but Fireheart suspects that certain cats may not be as loyal as they appear.
Then on Wednesday Lil is here with an ARC review of Beach House No. 9 by Christie Ridgway

When book doctor Jane Pearson arrives at Griffin Lowell's beach house, she expects a brooding loner. After all, his agent hired her to help the reclusive war journalist write his stalled memoir. Instead, Jane finds a tanned, ocean-blue-eyed man in a Hawaiian shirt, hosting a beach party and surrounded by beauties. Faster than he can untie a bikini top, Griffin lets Jane know he doesn't want her. But she desperately needs this job and digs her toes in the sand.

Griffin intends to spend the coming weeks at Beach House No. 9 taking refuge from his painful memories-and from the primly sexy book doctor who wants to bare his soul. But warm nights, moonlit walks and sultry kisses just may unlock both their guarded hearts….
On Thursday Mona is back with an ARC review of Taming Her Forbidden Earl by Catherine Hemmerling

Everyone knows William Bredon, the earl of Pembroke, has a reputation as a captivating rogue, determined to never marry until his duty to produce an heir requires it. So when he invites Lady Hannah Rochester to dance, Hannah vows to keep her distance. But the undeniably gorgeous William, with his dark humor and seductive gaze, draws her in nonetheless.

Of course, Lady Hannah is not completely what she seems, either. A member of the dowager Lady Lancaster's Garden Society, she secretly spends her days solving mysteries and uncovering intrigues, and when she brings William into the fold, a sinister plot develops that brings the two closer together. William's protective nature ensures he remains by Hannah's side, but he will not surrender his anti-marriage stance.

Can intrigue, passion, and maybe even a little bit of scandal reform the most notorious of rakes?
Then on Friday we reveal the winner of our Olivia Cunning Sinners on Tour Hot Ticket Giveaway!

Finally, on Saturday – On My Wishlist is back!
On My Wishlist a fun weekly event hosted by Cosy Up Book Reviews
That's it for us this week!
Thanks for stopping by and commenting!
Paperback Dolls is made up of women from different parts of the world, with different backgrounds, different tastes and beliefs that were brought together through a love of reading. We like to think of ourselves as a cyber version of "The View" that focuses on books, authors, and reading. We are proof positive that one common love can unite the most opposite of people and form lasting friendships that introduce other ways of life and perspectives to each other.
Paperback Dolls