Home » Articles, Authors, Giveaways, Guests, Week in Review, Winners
Week in Review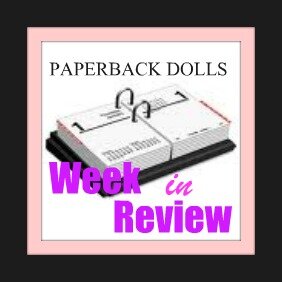 Welcome one and all to the week in review!
Week in Review is when we take a look at the past week and everything that's been going on at Paperbackdolls.com – plus we share what you can expect from the week to come…
Last Week on Paperback Dolls…
The Dollhouse was turned into the Action Figure Command Central this week!

Our very own Paperback Action Figure was here to introduce  you to his new series – !
With book #1 – Alchemsystic! (On a bookshelf near you on September 25th!)
Read his posts here:
Anton Strout Part the I
Next Week on Paperback Dolls…
On Monday Mona is here with an ARC review of Something Witchy This Way Comes by H.P. Mallory

A witch's work is never done, and in bestselling author H. P. Mallory's mesmerizing new novel, Jolie Wilkins finds that the real magic is only just beginning.

For smart and sexy witch Jolie Wilkins, being Queen of the Underworld is a royal pain. Back from a round of time travel, Jolie must now protect her realm from the sinister Lurkers—a powerful breed of half-humans bent on conquering the undead. And if there's one thing she knows, it's that the supernatural never go down without a fight.

At least Jolie has her soul mate (and finally official boyfriend), warlock Rand Balfour, by her side. Honorable, brave, and unbelievably handsome, Rand is everything Jolie wants in a man. So why can't she forget the dangerously alluring vampire, Sinjin Sinclair? With her private life heating up and a battle boiling over, Jolie sets out to prove that in matters of love and war, the fairer hex has its own set of charms.
On Tuesday Mona is back with a review of Don't Turn Around by Michelle Agnon

Sixteen-year-old Noa has been a victim of the system ever since her parents died. Now living off the grid and trusting no one, she uses her computer-hacking skills to stay safely anonymous and alone. But when she wakes up on a table in an empty warehouse with an IV in her arm and no memory of how she got there, Noa starts to wish she had someone on her side.

Enter Peter Gregory. A rich kid and the leader of a hacker alliance, Peter needs people with Noa's talents on his team. Especially after a shady corporation called AMRF threatens his life in no uncertain terms.

But what Noa and Peter don't realize is that Noa holds the key to a terrible secret, and there are those who'd stop at nothing to silence her for good.

Fans of "The Girl with the Dragon Tattoo" will devour the story of Noa, a teen soul mate to Lisbeth Salander.
On Wednesday Chrissy is here with her Over 18 reviews – this time Becoming Sage by Kasi Alexander

With a failed marriage behind her, Jill Marten was looking to start a new chapter in her life. She had no idea that running into her old friend, Jessie, would unlock a whole new world. When she accepts Jessie's invitation to a party, in order to "try something completely different," it awakens a need to discover her place in a new community…
On Thursday Noa reviews Rock Chick by Kristen Ashley
Indy Savage, cop's daughter, rock chick and used bookstore owner, has been in love with Lee Nightingale, once bad boy, now the man behind Nightingale Investigations, since she was five years old. No matter what ingenious schemes Indy used to capture his attention, Lee never showed an interest and Indy finally gave up. Now Indy's employee, Rosie, has lost a bag of diamonds and bad guys are shooting at him. When Indy gets involved, Lee is forced to help. Complicting matters, Lee has decided he's interested, Indy's decided she's not. But she can't seem to keep Lee out of her life when she's repeatedly stun gunned, kidnapped and there are car bombs exploding (not to mention she's finding dead bodies).

Indy's best bet is to solve the mystery of the diamonds before Lee. Lee's challenge is to keep Indy alive and, at the same time, win back her heart.
On Friday Teresa is here with an ARC review of Into the Woods by Kim Harrison
Fans have fallen for bounty hunter and witch Rachel Morgan. Through banishment and road trips, deadly supernatural duels and lost loves, they have avidly cheered her on, eagerly awaiting the next installment in her adventures. This collection of short works, published together in once volume for the first time, adds a whole new dimension to the Hollows saga, featuring tales involving Rachel and her coterie of friends and enemies.
Finally on Saturday On My Wishlist is back!

On My Wishlist a fun weekly event hosted by Cosy Up Book Reviews
That's it for us this week!
Thanks for stopping by and commenting!
Paperback Dolls is made up of women from different parts of the world, with different backgrounds, different tastes and beliefs that were brought together through a love of reading. We like to think of ourselves as a cyber version of "The View" that focuses on books, authors, and reading. We are proof positive that one common love can unite the most opposite of people and form lasting friendships that introduce other ways of life and perspectives to each other.
Paperback Dolls
Related posts: