Home » Giveaways, News, Week in Review, Winners
Week in Review…and a Winner!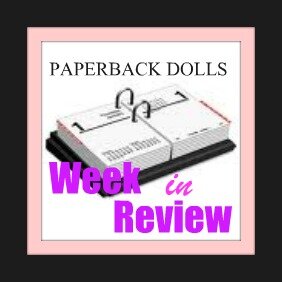 Welcome one and all to the week in review!
Week in Review is when we take a look at the past week and everything that's been going on at Paperbackdolls.com – plus we share what you can expect from the week to come…
But first we have some…

The winner of the Sandy Williams' Shattered Dark Blog Tour Giveaway is:
  Natalia J!

   neoterragoddess@..
Congratulations! Please email us at to claim your prize!

Last Week on Paperback Dolls…
On Monday Mona was here with a review of Iced by Karen Marie Moning

The year is 1 AWC—After the Wall Crash. The Fae are free and hunting us. It's a war zone out there, and no two days are alike. I'm Dani O'Malley, the chaos-filled streets of Dublin are my home, and there's no place I'd rather be.

Dani "Mega" O'Malley plays by her own set of rules—and in a world overrun by Dark Fae, her biggest rule is: Do what it takes to survive. Possessing rare talents and the all-powerful Sword of Light, Dani is more than equipped for the task. In fact, she's one of the rare humans who can defend themselves against the Unseelie. But now, amid the pandemonium, her greatest gifts have turned into serious liabilities.

Dani's ex–best friend, MacKayla Lane, wants her dead, the terrifying Unseelie princes have put a price on her head, and Inspector Jayne, the head of the police force, is after her sword and will stop at nothing to get it. What's more, people are being mysteriously frozen to death all over the city, encased on the spot in sub-zero, icy tableaux.

When Dublin's most seductive nightclub gets blanketed in hoarfrost, Dani finds herself at the mercy of Ryodan, the club's ruthless, immortal owner. He needs her quick wit and exceptional skill to figure out what's freezing Fae and humans dead in their tracks—and Ryodan will do anything to ensure her compliance.

Dodging bullets, fangs, and fists, Dani must strike treacherous bargains and make desperate alliances to save her beloved Dublin—before everything and everyone in it gets iced. READ REVIEW

 
Then on Tuesday author Julie Anne Long answered our questions!

Read more HERE
On Wednesday Mona and Chrissy shared a Two-Doll Review of Integration by Imogen Rose

Second haiku warning:

A boyfriend missing
A lover must pay in blood
A princess must die

Welcome back to Bonfire Academy. READ REVIEW
On Thursday Mona was back with a review of Weekends Required by Sydney Landon

Claire Walters has worked for Jason Danvers as his assistant at Danvers International for three years, and he has never thought of her as a woman until the day she jumps out of a cake at his friend's bachelor party.

Claire is forced to work a second job at a party planning company to support her ailing mother. She is horrified when Jason not only finds out, but has a front-row seat to the action. With Danvers in the process of merging with another company, Claire is forced to travel with Jason as well as work weekends. Suddenly all the fantasies she has entertained for years about her boss seem to be coming true. Her outspoken best friend Suzy thinks that just getting laid will solve everything. The problem is, Claire sees much more in Jason than just sex.

Jason is determined to know how the beautiful, sexy woman in the cake could also be his Plain Jane assistant who tries her best to blend into the background from 8-5 every day. Now not only does Jason see her as a woman, he fully intends to give her the fairy-tale ending that she deserves! READ REVIEW
On Friday Noa shared an ARC review of Steel's Edge by Ilona Andrews

The Edge lies between worlds, on the border between the Broken, where people shop at Wal-Mart and magic is a fairy tale—and the Weird, where blueblood aristocrats rule, changelings roam, and the strength of your magic can change your destiny…

Charlotte de Ney is as noble as they come, a blueblood straight out of the Weird. But even though she possesses rare magical healing abilities, her life has brought her nothing but pain. After her marriage crumbles, she flees to the Edge to build a new home for herself. Until Richard Mar is brought to her for treatment, and Charlotte's life is turned upside down once again.

Richard is a swordsman without peer, future head of his large and rambunctious Edger clan—and he's on a clandestine quest to wipe out slavers trafficking humans in the Weird. So when his presence leads his very dangerous enemies to Charlotte, she vows to help Richard destroy them. The slavers' operation, however, goes deeper than Richard knows, and even working together, Charlotte and Richard may not survive… READ REVIEW
Finally on Saturday we once again shared what's on our wishlist!
This time with Doll Mona Leigh
On My Wishlist a fun weekly event hosted by Cosy Up Book Reviews
Next Week on Paperback Dolls…
It's that time of the year again… No, we're not talking about new book releases (though there are some awesome ones coming out – just read some of our recent reviews!) we're talking about Thanksgiving Day. And while not all of our Dolls are Americans, for us, Thanksgiving has become a time to share what we're thankful for. So prepare yourselves for a week of Dollhouse Thanksgiving – with a few surprises for our followers!

That's it for us this week!
Thanks for stopping by and commenting!
Paperback Dolls is made up of women from different parts of the world, with different backgrounds, different tastes and beliefs that were brought together through a love of reading. We like to think of ourselves as a cyber version of "The View" that focuses on books, authors, and reading. We are proof positive that one common love can unite the most opposite of people and form lasting friendships that introduce other ways of life and perspectives to each other.
Paperback Dolls