Home » Giveaways, Reviews, Week in Review, Winners
Week in Review and Winner!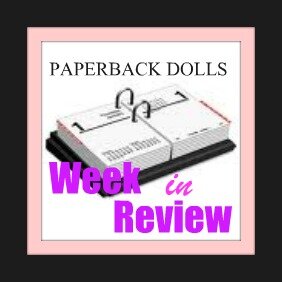 Welcome one and all to the week in review!
Week in Review is when we take a look at the past week and everything that's been going on at Paperbackdolls.com – plus we share what you can expect from the week to come…
But first we have some…

The winner of the Beautiful Disaster by Jamie McGuire giveaway is:
  Maureen!

   mce1011@..
Congratulations! Please email us at to claim your prize!

Last Week on Paperback Dolls…
On Monday Mona shared an ARC review of The Ugly Duchess by Eloisa James
How can she dare to imagine he loves her…when all London calls her The Ugly Duchess ?

Theodora Saxby is the last woman anyone expects the gorgeous James Ryburn, heir to the Duchy of Ashbrook, to marry. But after a romantic proposal before the prince himself, even practical Theo finds herself convinced of her soon-to-be duke's passion.

Still, the tabloids give the marriage six months.

Theo would have given it a lifetime…until she discovers that James desired not her heart, and certainly not her countenance, but her dowry. Society was shocked by their wedding; it's scandalized by their separation.

Now James faces the battle of his lifetime, convincing Theo that he loved the duckling who blossomed into the swan.

And Theo will quickly find that for a man with the soul of a pirate, All's Fair in Love—or War. READ REVIEW
On Tuesday Teresa was here with a review of Kitty Steals the Show by Carrie Vaughn

Kitty has been tapped as the keynote speaker for the First International Conference on Paranatural Studies, taking place in London. The conference brings together scientists, activists, protestors, and supernatural beings from all over the world—and Kitty, Ben, and Cormac are right in the middle of it.

Master vampires from dozens of cities have also gathered in London for a conference of their own. With the help of the Master of London, Kitty gets more of a glimpse into the Long Game—a power struggle among vampires that has been going on for centuries—than she ever has before. In her search for answers, Kitty has the help of some old allies, and meets some new ones, such as Caleb, the alpha werewolf of the British Isles. The conference has also attracted some old enemies, who've set their sights on her and her friends.

All the world's a stage, and Kitty's just stepped into the spotlight. READ REVIEW
On Wednesday Mona reviewed Goddess Interrupted by Aimee Carter

KATE WINTERS HAS WON IMMORTALITY.

BUT IF SHE WANTS A LIFE WITH HENRY IN THE UNDERWORLD, SHE'LL HAVE TO FIGHT FOR IT.

Becoming immortal wasn't supposed to be the easy part. Though Kate is about to be crowned Queen of the Underworld, she's as isolated as ever. And despite her growing love for Henry, ruler of the Underworld, he's becoming ever more distant and secretive. Then, in the midst of Kate's coronation, Henry is abducted by the only being powerful enough to kill him: the King of the Titans.

As the other gods prepare for a war that could end them all, it is up to Kate to save Henry from the depths of Tartarus. But in order to navigate the endless caverns of the Underworld, Kate must enlist the help of the one person who is the greatest threat to her future.

Henry's first wife, Persephone. READ REVIEW
On Thursday Chrissy was here with her over 18s reviews, this time:
K is for Kinky by Alyson Tyler

Get wild, get hot, don't stop to think, and just embrace your inner kinky in these explicit tales of sex. A seductive Halloween party costume is mercilessly shredded by a young passionate couple in lust in their haste to have sex in "Wings and All" by Emerald. In "Sign Your Name" by Saskia Walker a man and woman re-write the rules on foreplay by giving new meaning to taking notes with this delicious ink-on-skin fantasy come to fruition. READ REVIEW
Then it's Heat Wave: Hot, Hot, Hot Erotica edited by Alison Tyler

What could be sexier or more seductive than bare, sun-warmed skin? Bestselling erotica author Alison Tyler gathers explicit stories of summer sex bursting with the sweet eroticism of swimsuits, sprinklers, and ripe strawberries. Raise your temperature with Matthew I. Jackson's "Spectators," in which a couple taking lunch on their veranda are serenaded by an unknown woman's cries of passion. Get steamy with Tom Piccirilli's palm-dampening "Double-Click to Enter," the story of a work-at-home writer who confirms his suspicions about what his blonde neighbor does with her web cam. And Simone Harlowe's "Bikini" brings a flush to your face with its tale of a businesswoman who nervously shops for swimwear and finds a tall, insistent stranger at her dressing room door. The very definition of hot erotica, Heat Wave calls for an icy drink, fresh towels, and a fan in an open window. READ REVIEW
On Friday Noa reviewed Death Comes to Pemberley by PD James
It is 1803, six years since Elizabeth and Darcy embarked on their life together at Pemberley, Darcy's magnificent estate. Their peaceful, orderly world seems almost unassailable. Elizabeth has found her footing as the chatelaine of the great house. They have two fine sons, Fitzwilliam and Charles. Elizabeth's sister Jane and her husband, Bingley, live nearby; her father visits often; there is optimistic talk about the prospects of marriage for Darcy's sister Georgiana. And preparations are under way for their much-anticipated annual autumn ball.

Then, on the eve of the ball, the patrician idyll is shattered. A coach careens up the drive carrying Lydia, Elizabeth's disgraced sister, who with her husband, the very dubious Wickham, has been banned from Pemberley. She stumbles out of the carriage, hysterical, shrieking that Wickham has been murdered. With shocking suddenness, Pemberley is plunged into a frightening mystery.

Inspired by a lifelong passion for Austen, P. D. James masterfully re-creates the world of Pride and Prejudice, electrifying it with the excitement and suspense of a brilliantly crafted crime story, as only she can write it. READ REVIEW
Next Week on Paperback Dolls…
On Monday it's time for a Two Doll with review as Mona and Chrissy review Initiation by Imogen Rose
Welcome to Bonfire Academy. Set in the foothills of the alpine mountains in St.Moritz, this exclusive private school caters to a special kind of student. Enter at your own risk… but if you are human, you may not want to enter at all.

This is part one of the prequel series (Bonfire Academy) in the Bonfire Chronicles. Book two, INTEGRATION, will be released summer 2012.
On Tuesday Chrissy's back with her Over 18′s only review this time Alyson Tyler's Skirting the Issue

Skirting the Issue features a trio of dirty stories all based on a common theme: The Catholic Schoolgirl Skirt. Erotic writers Sophia Valenti, Sommer Marsden, and Alison Tyler have each contributed one naughty tale to the mini-anthology.
On Wednesday Noa is sharing an ARC review of Lee Child's A Wanted Man

Four people in a car, hoping to make Chicago by morning. One man driving, eyes on the road. Another man next to him, telling stories that don't add up. A woman in the back, silent and worried. And next to her, a huge man with a broken nose, hitching a ride east to Virginia.

An hour behind them, a man lies stabbed to death in an old pumping station. He was seen going in with two others, but he never came out. He has been executed, the knife work professional, the killers vanished. Within minutes, the police are notified. Within hours, the FBI descends, laying claim to the victim without ever saying who he was or why he was there.

All Reacher wanted was a ride to Virginia. All he did was stick out his thumb. But he soon discovers he has hitched more than a ride. He has tied himself to a massive conspiracy that makes him a threat—to both sides at once.

In Lee Child's white-hot thriller, nothing is what it seems, and nobody is telling the truth. As the tension rises, the twists come fast and furious, keeping readers guessing and gasping until the explosive finale.
On Thursday Kitt is sharing an ARC review of Amanda Carlson's Full Blooded

It's not easy being a girl. It's even harder when you're the only girl in a family of werewolves. But it's next to impossible when your very existence spells out the doom of your race… Meet Jessica McClain — she just became part of the pack.

In the vein of Kelley Armstrong and Patricia Briggs, a new urban fantasy that rewrites the werewolf myth…
On Friday Kitt reviews Mrs. Drew Plays Her Hand by Carla Kelly

Playing with Fire — Young widow Roxanna Drew was fair game in the sport of cads. Her suddenly impoverished state made her as vulnerable as her beauty made her tempting to men with more money than morals. Lord Marshall Whitcomb, who held her purse strings in his pawing hands, was intent on luring her into his bed. But even more dangerous was Lord Winn, who owned the dwelling where she sought refuge. The dashing lord reminded the widow that the lure of sharing a warm bed on a winter's night might indeed be worth the risks.

Lord Winn had trusted one woman and been betrayed. That disastrous marriage had endowed him with a wariness of females in general, and prospective wives in particular. But when the door to the dower house on one of his estates was opened by a woman with a cautious smile and memorable brown eyes, he knew here was danger to avoid at all costs — if he really wanted to…
Finally on Saturday it's time for our On My Wishlist feature!
On My Wishlist a fun weekly event hosted by Cosy Up Book Reviews
That's it for us this week!
Thanks for stopping by and commenting!
Paperback Dolls is made up of women from different parts of the world, with different backgrounds, different tastes and beliefs that were brought together through a love of reading. We like to think of ourselves as a cyber version of "The View" that focuses on books, authors, and reading. We are proof positive that one common love can unite the most opposite of people and form lasting friendships that introduce other ways of life and perspectives to each other.
Paperback Dolls