Home » Authors, Guest Blog, Guests, Tara Lain
Blog Tour Guest Blog: Deceptive Attraction by Tara Lain

Bending Gender in Deceptive Attraction



It's so fun to be back with the Dolls today to celebrate the release of Deceptive Attraction, the third book in my Genetic Attraction series (though you don't have to read the other books to enjoy this one). Deceptive Attraction is a M/M/F ménage and it has some real gender-bending aspects. In fact, the books early title was Androgynous Dreams. In the story, my hero, Caleb, a rising young soccer star, has a hot encounter with a man who is as beautiful as a girl. The gorgeous Elijah has golden Shirley Temple curls, pink cheeks and a cupid mouth though he has a lean masculine body. (Here you can see a model who served as an example of Eli for me). Then Cal meets a tomboy who attracts him powerfully even though he's gay. Together, these two gender-benders rock his world and join him in a story in which nothing is quite what it seems.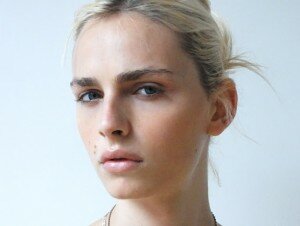 As you may know, I am fascinated by androgyny. Many of my characters have androgynous qualities like the supermodel, Roan Black, in The Scientist and the Supermodel or Trelain Medveyev in Golden Dancer. While I can appreciate a good alpha-male as much as the next girl, these gender-benders seem to embody the power of both sexes and, like the characters in yaoi, appeal to everyone. Did you see the film The Girl With the Dragon Tattoo or its sequel? The actress, Noomi Rapace, captivated with her powerful androgynous beauty and manner. The fascinating Tilda Swinton starred in Orlando in which she turns from a man to a woman without batting an eyelash and we believe it completely. We can't take out eyes from their gender-bending faces.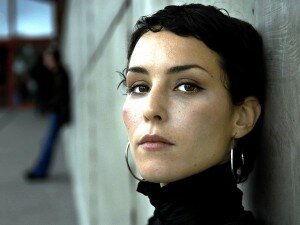 Among guys, I'm a freak for Adam Lambert who, while actually rather masculine looking, styles himself with an androgynous twist. We all know he's gay and yet many women think he's sexy as hell. Probably the ultimate in androgyny is the model Andrej Pejic. This 6'2" young man walks in both male and female fashion shows. In the women's show, he doesn't pad himself at all, walking with his hard, flat chest showing beneath the low necklines of the dresses. In an interview, he suggested that maybe the designers were so crazy for him because he saved them money by walking in both shows. I think, looking at his gender-bending beauty, you'll agree it's way more than that.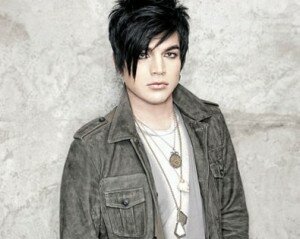 Who is your favorite androgynous person or character?
Want to win a copy of my gender-bending tale, Deceptive Attraction? Leave a comment here with your email AND go over to Leave a comment there with email and follow the blog. That will earn you 2 entries in the drawing which is this Friday!  (When you enter at Beautiful Boys Books you will also be entered in a grand prize drawing for a box of swag from GayRomLit that includes goodies from many authors. That drawing takes place November 20.) So enter here and go to Beautiful Boys Books. Thank you Dolls and to everyone who came to say hi.


Tara Lain never met a beautiful boy she didn't love – at least on paper. A writer of erotic romance, mostly ménage and male/male, Tara loves all her characters, but especially her handsome heroes. A lifelong writer of serious non-fiction, Tara only fell in love with EROM in 2009 and, through perseverance and lots of workshops, had the first novel she ever wrote accepted for publication in 2010. She's now on book six. After an exotic life of travel all over the world and work in television, education and advertising, Tara settled in Southern California with her soul-mate husband and opened her own small marketing business. She paints, collages, and started practicing yoga "way before it was fashionable". Passionate about diversity, justice, inclusion and new ideas she says on her tombstone it will read, "Yes".
WEBSITE – – – – – Savvy Authors –

At 22, Caleb Martin is already facing a life crisis — and he's pretty embarrassed about it. Cal always thought he'd follow his family into the helping professions, but all he seems to be good at is soccer. The world agrees, and now he faces signing a five year contract with a big professional team. Only one problem — Cal's gay and signing the contract means staying in the closet for five years or maybe his whole life. He knows lots of people would kill to be in his shoes, but he just can't get comfortable with the idea of his life as a sports star. But there are powerful forces trying to get him to sign on the bottom line.

Then, while housesitting for his brother, Jake, Cal meets a man who is as pretty as a girl and a girl who — lets just say surprises him and teaches him a lot about his own nature. But why is the beautiful man so interested in his contract? And how could Cal possibly have wound up in a menage with a commitmentphobe and a woman so dedicated to her work she's leaving him to go back to Africa? Then there's that snow storm. Cosmic joker strikes again.
Excerpt: Deceptive Attraction by Tara Lain; M/M/F Menage Contemporary

Available from Loose Id

Caleb Martin faces a life crisis — and he's pretty embarrassed about it. A talented soccer star, he has the chance to sign a lucrative five year contract and be rich and famous. Two problems — Cal is gay and signing the contract means he has to stay in the closet, maybe for life. Plus, he'll have to spend his years diving for soccer balls when he'd like to be helping people like the rest of his family. A one-night stand with a beautiful man rocks Cal, but the guy vanishes only to reappear where Cal is house-sitting. Too much coincidence? And then a cute tomboy throws Cal's life choices into confusion. How could he wind up with a commitmentphobe and a woman dedicated to her work in Africa? Oh yeah, and then there's a big surprise in a snowstorm. Cosmic joker strikes again.

The guy was looking down at his beer, but Cal still got a good look at the profile. Wheat-colored ringlets stood out from his head, framing a sharp, slightly upturned nose and bright pink cheeks. Not made-up, probably flushed from the heat and attention. Shirley fucking Temple. No, that made him sound cutesy and this guy was not. He was sexy as hell. The man picked up his beer bottle and took a swig. One of the guys near Cal actually sighed. Yeah, who wouldn't want those pretty, pouty lips wrapped around their dick?

And then there was the body. Small, slim, but pure male. The hands around the beer bottle looked rough and calloused, like they'd scrape your butt real nice if he grabbed you. His forearms under the pushed-up sleeves of his blue T-shirt were lean, but ripped and muscled. Shit, what did Jake call Roan? Sex on a stick. No wonder these guys were drooling.

One of the admirers Cal didn't recognize was saying, "C'mon, beautiful. Your boyfriend must've stood you up. Which means he's fucking crazy and doesn't deserve you, so let me buy you a drink, okay?"

Another guy chimed in. "Or me. Am I your type?"

Wow. So with all this adoration, the pretty boy was still buying his own beer.

Ringlets said something, and Cal moved a little closer to try and hear. The man standing in front of him looked up. "Hey, Caleb." He frowned a little, clearly not wanting any more competition. "What are you doing here?"

Yeah, what was he doing there? Eavesdropping? Satisfying his curiosity? Or nurturing the raging hard-on pushing against the zipper of his jeans? The fact was, he hadn't had sex in weeks and hadn't had satisfying sex in — shit, forever. He wasn't really the bar-pickup type, but the blond was something special.

He started to answer, but suddenly the guy at the bar turned on his bar stool, and Cal got the front-on view for the first time. Holy fucking gorgeous. Cal was staring directly into the tawniest pair of golden eyes, like some kind of cat. Yeah, the cat that ate his voice. He couldn't speak. Just stood there like someone had struck him dumb. The man smiled. Deep dimples appeared in the pink cheeks. That put the finishing touch on the hard-on.

"Caleb." How did he know his name? He must have heard the other guy say it. The blond's voice was soft, a little high, somehow appropriate to his prettiness. He said Cal's name somewhere between a question and a sigh. He looked around at the other men. "You see, I told you I was waiting for someone."

What the f –

Loud protests followed.

"Well, why the hell didn't you say you were waiting for Martin?"

"Some guys have all the luck."

"Hey, Cal, why'd you keep your date waiting, you asshole?"

At a loss was too mild a description. But the guy had things under control. He stepped off the bar stool — long legs made him a little taller than Cal had guessed, probably about five feet ten — and extended his hand to Cal. "So now that you've kept me waiting and made me lead on all these handsome guys, I figure it's time you dance with me." The golden eyes stared at Cal as if daring him to deny that they were a couple. Hell, Mrs. Martin didn't raise any dumb sons.

Cal took the man's hand, just as rough as it looked, and after a pause to stare down at the disappointed faces, he pulled the guy toward him, wrapped an arm around his lean shoulders, and turned toward the tiny dance floor. The other men grumbled but backed off. When he and the pretty boy had moved in among the other dancers, Cal turned toward him. Golden eyes gazed up at him. The man held up his arms, ready to let Cal lead. Good. He slipped his arms around the slender body and moved them into a gentle rock. Cal was no great dancer, but fortunately this dance floor didn't allow for much in the way of ballroom style.

They both spoke at the same time. "You want to explain what –"

"Thanks for going along –"

The guy smiled up at Cal. "Thank you for going along with me. I was telling the truth; I was supposed to meet a friend here, but he didn't show."

"A friend?"

"Yeah, just a friend."

"Really? Not a lover?"

Cal got an appraising stare. "No. I don't do lovers. It rhymes with commitment."

All righty then. "So your friend…?"

"Yeah. I was planning on killing him the next time I see him for leaving me here alone, but…" He looked at Cal with a soft smile. "I think I changed my mind about that. I'm Elijah, by the way. Eli."

"Caleb. Cal. I guess we'd better not shake hands, or we'll give ourselves away."

"No shaking of hands required." Eli molded his body to Cal's. Cal could feel the man's hard cock pressing against his thigh, and wished for the first time in his very tall life that he was shorter. Man, he would like that hard rod pushing against his cock. Shit, he should run. He could sense this pretty boy was way out of his league in terms of experience, since Cal had only had one committed relationship and a couple of short-term affections. The guy might even be a player, though his reluctance to let his admirers buy him drinks didn't suggest that. But Cal knew he was thoroughly and righteously hooked. He might not have known his type until tonight, but the fact was, Ringlets was his idea of perfect. No, he wasn't going anywhere.
Paperback Dolls is made up of women from different parts of the world, with different backgrounds, different tastes and beliefs that were brought together through a love of reading. We like to think of ourselves as a cyber version of "The View" that focuses on books, authors, and reading. We are proof positive that one common love can unite the most opposite of people and form lasting friendships that introduce other ways of life and perspectives to each other.
Paperback Dolls