Home » Authors, Giveaways, Guest Blog, Guests, Tara Lain
Blog Tour Guest Blog and Giveaway: Golden Dancer by Tara Lain
Rudy and Trelain –  My Golden Dancers.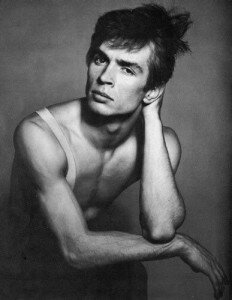 Ballet. Not everyone's cup of tea. As one famous line said, "Is it in English?" I must confess to being a lifelong fan. I was one of those little girls who wanted to be a ballerina but my Army brat existence moving all over the globe made continuous lessons impossible. So instead I loved it from afar. Still do. I have a friend in London who shares this passion and in an email last year she told me about a fantastic ballet she had seen. Since I tend to turn everything around me into books (LOL), I thought what a great hero a ballet dancer could be. After a lot more plotting and character creation, Golden Dancer was born — my new release coming Sept 27 from Loose Id.



Golden Dancer is not about ballet. It's a romantic suspense about the theft of a priceless statue called The Golden Dancer and the web of deceit, mistrust and passion that the investigation uncovers. Two of my heroes (it's a M/M/M ménage) are a billionaire art collector who may or may not have stolen the statue and the investigative reporter who is trying to prove it.  My third hero, sigh, is Trelain Medveyev, the greatest living male ballet dancer. He is the one thing that both the other men want and when you read about him you'll understand why.
Want to see where I got my inspiration? Take a look at one of the most beautiful male dancers of all time. My heart throb, Rudolph Nureyev. Rudy was Tarter Russian. As exotic and full of fire as that lineage suggests. He captivated the world in the 1960s with his incredible balls-out dancing style and his gorgeous cheekbones. He made a few films –one I've seen of the ballet Romeo and Juliet. It's worth seeking out. I once saw a photo layout he did in a fashion magazine completely in the nude. Amazing. It inspired a scene in Golden Dancer in which Trelain is photographed by the pool at the billionaire Daniel's beautiful home while the reporter, Mac, tries to keep  from drooling.



Unlike my Rudy, Trelain has shoulder-length golden hair and turquoise eyes. He is half-Russian and half British. I hope you love him, and all my beautiful guys, as much as I do.
A special thanks to the Dolls for being so hospitable to all my gorgeous men. I always love visiting. Now, I invite you to win a copy of Golden Dancer or maybe a copy of Volley Balls or a Golden Dancer drawstring backpack. Just leave a comment here. I will enter it in the first drawing on Sept 27, tomorrow!  But there are many more ways to win between now and October 11. Go to my website and read all the rules of the Golden Giveaway Blog Tour Contest.  http://www.taralain.com/contest.html  and check out the Blog Tour Central at Beautiful Boys Books.  Thank you so much for coming to say hi. :  )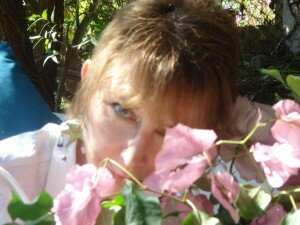 Tara Lain never met a beautiful boy she didn't love – at least on paper. A writer of erotic romance, mostly ménage and male/male, Tara loves all her characters, but especially her handsome heroes. A lifelong writer of serious non-fiction, Tara only fell in love with EROM in 2009 and, through perseverance and lots of workshops, had the first novel she ever wrote accepted for publication in 2010. She's now on book six. After an exotic life of travel all over the world and work in television, education and advertising, Tara settled in Southern California with her soul-mate husband and opened her own small marketing business. She paints, collages, and started practicing yoga "way before it was fashionable". Passionate about diversity, justice, inclusion and new ideas she says on her tombstone it will read, "Yes".
WEBSITE – – – – – Savvy Authors –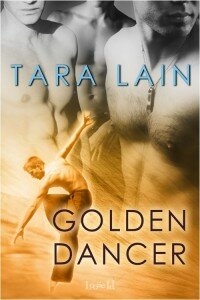 While Deceptive Attraction is a bit "edgy", Golden Dancer is the first book in which Tara Lain has woven true suspense elements — nasty sons-of-Nazi villains, a kidnapping, and a mysterious art collector who may or may not have stolen a priceless statue called The Golden Dancer. But, of course, the book is still an erotic romance bringing together Mac, a lanky, news reporter who thinks of himself as straight, Daniel, the billionaire art collector, and the beautiful Russian ballet dancer,Trelain, in a passionate menage. The story not only pits Mac's drive for his story against his desire for the two men, it also pits his curiosity and ambition against his conscience and honor. Golden Dancer takes readers from the beautiful spring sunshine of Laguna Beach, California to the ballet studios and waterfront warehouses of New York. It's a fun ride. [Release Date: Sept 27, 2011]
Excerpt: Golden Dancer by Tara Lain, M/M/M Romantic Suspense

Coming Sept 27 from Loose Id

A reporter and the thief he's investigating fall for a golden dancer forging a ménage of love and lies that could send one to prison and one to the morgue. Uncovering secrets requires baring more than just the soul.

 

The ballet had been restaged. Instead of a lyrical rose enchanting a debutante as in the original, Medveyev was now a biker bad boy creeping into the bedroom of a rich girl. Fokine's choreography had been modernized. Even the familiar von Weber music got a bit of an atonal twist.

The dancer had leaped on the stage, stalking the sleeping girl like some kind of feline predator, his famous mane of golden hair flowing over his shoulders. Christ, Mac's hands felt damp just thinking of it. And when the moment had come for Medveyev's grand exit, escaping the girl's outraged father in this version, he flew into the air and through the window. Fucking eagle. Audiences would shit. Especially the women. The Russian was fire, burning so bright, you couldn't look away, even though you knew it would turn you to ashes. Jesus, he'd better not put that in the review.

"Good afternoon."

Mac started and looked up. He hadn't heard a sound. Medveyev stood inside the rehearsal room door. Maybe he'd conjured the guy.

Controlled. That was the first thought Mac had. His hair was wound tightly in a queue at his nape, showing off his face. And that face was architectural perfection. High cheekbones under large, slightly slanted eyes. Maybe a little Tartar in there someplace a few generations back. The beauty suggested exotic and wild, but Mac saw none of it.

The only emotion? Wariness. Probably hated reporters. He still wore the form-fitting blue jean-looking tights he'd performed in, but he'd layered a silk shirt over the smooth, taut chest. Funny. He wasn't tall. Maybe five feet ten. Mac would tower over him. On the stage, he looked like a god. Of course, he was doing a pretty good god imitation right now. Like Adonis.

Mac stood. "Good afternoon, cavalier. I'm MacKenzie…uh, Mac MacAllister from the Daily Window."

The dancer gave a small smile. Good, the "cavalier" reference gained Mac a couple points. Proved he wasn't a rube.

"Mac…Kenzie, I don't believe we have met before. Mr. Hirschfield is…?" He waved an elegant hand in question.

"Sick. Sorry. I'm filling in."

"I see." Medveyev hadn't moved from beside the door. Mac wondered if he'd just leave. He stood like a statue in the familiar toes-out position. It reminded Mac of his parents. Dancers' hips were trained so that their feet naturally fell into that stance.

Shoot. Mac didn't want him to leave. "I'm sorry Hirschfield isn't here, but I'll give this story top priority, I promise."

The golden head tilted down as Medveyev looked Mac over. Crap. Maybe his hoodie and jeans were a bit out of character for the New York Ballet Theatre. Probably should've shaved closer, but this was him. Tough shit. Still –

"I assume this is not your regular, how do you say…beat, Mac…Kenzie?" His accent was mostly British, mostly posh, with a little rough Russian and Cockney creeping through.

"Yeah. I'm a hard-news reporter usually."

"And Ms. Chan sent you here because…?" Again with the hand wave.

"I grew up around ballet. My parents are dancers."

That got his attention. "MacAllister, did you say?"

"Yes, my father is Devin MacAllister. My mom's…"

"Shauna Rendell." He gave his first real smile. All those sculpted planes softened, and dimples appeared, making Mac realize that the dancer was very young, probably no more than twenty-four or -five. Amazing what he'd accomplished in his short life. "I know your parents, of course." Somebody must have pushed the Go switch, because Medveyev crossed the space and took the chair opposite where Mac had been sitting. "Sit, sit." The hands waved as if the dancer had been trying to get him to sit for hours.

Mac sat. Crisis averted.

"How are your parents? I haven't seen them since my last trip to Dallas."

"They're well. Hate Dallas, love teaching, so they stay."

"Ah yes, Texas, cowboys, and yee-haa. But still proud of their ballet. Your parents have elevated the company there. They are splendid professionals."

Mac smiled. His parents were going to freak when he told them about this conversation. "They'll be honored with your compliment. They're big fans."

Hand wave. Shy glance. "Ah. As you say. Now, what may I tell you about our little ballet, Mac…Kenzie?"

Man, the guy was just beautiful. Hard not to notice. "Just Mac. I wondered how the audiences in New York received the restaging of such a time-honored classic."

Medveyev had been looking at his hands but glanced up. His eyes were actually turquoise blue, like the stones in a Native American necklace. "I'm sure you've seen some of the reviews."

Mac nodded.

"The adventurous and avant-garde receive it with open arms. The purists?" He shrugged. "Shit their bloody pants."

Mac's laugh exploded. "Crap. I will just bet." He felt warm hearing the dancer's musical laugh. "Man, I gotta tell you, you are one bad-ass dancer."

The head cocked. "And bad-ass is…good ass, yes?" He glanced over his shoulder, looking at his own round, hard-muscled buttocks on the chair.

Okay, that was coy, but Mac was game. "Yeah, very good ass." Turquoise eyes met his, and Mac quickly turned to his notes. "So I've got some questions…"

For the next few minutes he was a good little boy and asked all the appropriate questions about the ballet. The challenge of the new choreography, how Medveyev trained for the famous flying exit through the window, what he was dancing next — all the usual stuff. But some of Debbie's personal mojo kept pushing at him.

"So, cavalier, do you have a wife or a girlfriend?"

He got the unwavering stare. "I'm sure it cannot have escaped your notice that I am homosexual."

Man, the way he said that word was a sexual experience all by itself. "I wouldn't assume."

The dancer sat back in his chair. "I appreciate that."

"So, do you have a partner?"

"Not at the present time." One pale eyebrow rose. "Do you plan to put that information in your review?"

Mac paused. Why had he asked the question? "Actually, I was thinking maybe the Window could do a more personal story on you — I mean, if you're open to such an idea." Yeah, actually that would be cool. Woo would love to have the gorgeous superstar featured on the site. "I mean, I'll still do the review. It'll be posted tonight, but maybe the other story could come later. I could e-mail you some questions, talk on the phone, you know." Jesus, that could be a good story.

"Many people have written about me, but I do not relish coming off as a pop star, or a bloody porn star for that matter."

Mac warmed to his own subject. "No, see, I'm no dancer, but I know the craft, you know? I can write it from that perspective. Of course, I'd want to tell your personal story too, as a dancer. But not anything you don't want to reveal. I'm no tabloid reporter."

The gaze never wavered, then Medveyev smiled. Dimples appeared again, startling in those sculpted cheeks. "I have a better idea. Why don't you take me to dinner tonight and get as personal as you wish?"
Paperback Dolls is made up of women from different parts of the world, with different backgrounds, different tastes and beliefs that were brought together through a love of reading. We like to think of ourselves as a cyber version of "The View" that focuses on books, authors, and reading. We are proof positive that one common love can unite the most opposite of people and form lasting friendships that introduce other ways of life and perspectives to each other.
Paperback Dolls