Home » Authors, Giveaways, Guest Blog, Guests, Jennifer Estep
Blog Tour Guest Blog and Giveaway: Touch of Frost by Jennifer Estep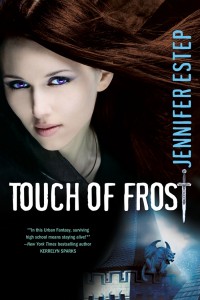 Gwen Frost is an outsider at Mythos Academy, a school of myths, magic and warrior whiz kids, where even the lowliest geek knows how to chop off somebody's head with a sword. Gwen is an outsider both to the students of the Academy and the rest of the world. But when her gift of psychometry – the ability to know an object's history just by touching it reveals dark undercurrents and danger afoot, she has no choice but to get involved.
Greetings and salutations! First of all, I want to say thanks to Kitt and the rest of the Paperback Dolls for having me on the blog again today. Thanks so much, guys!
My name is Jennifer Estep, and I write the Mythos Acad­emy young adult urban fan­tasy series for Kens­ing­ton. The books focus on Gwen Frost, a 17-year-old Gypsy girl who has the gift of psy­chom­e­try, or the abil­ity to know an object's his­tory just by touch­ing it. After a seri­ous freak-out with her magic, Gwen is shipped off to Mythos Acad­emy, a school for the descen­dants of ancient war­riors like Spar­tans, Valkyries, Ama­zons, and more.
Touch of Frost, the first book in the series, came out on July 26. First Frost, a prequel e-story to the series, is also available now. The sec­ond book, Kiss of Frost, will hit shelves on Nov. 29.
Today, the Paperback Dolls asked me to write a post about what my characters carry in their purses, briefcases, and more – and what those things might reveal about the characters using Gwen's psychometry magic. Here goes:
Gwen Frost's messenger bag: Gwen's bag is full of school books, notebooks, pens, pencils, her laptop, and folders full of homework and essays, since it's important to her to get good grades. But if you dig a little deeper, you'll find a tin shaped like a giant chocolate chip cookie and Gwen's latest stash of comic books. Gwen has a major sweet tooth, just like her Grandma Frost does, and her grandma, who lives near the academy, is always making cookies, brownies, and more for Gwen to take back to Mythos. As for the comic books, Gwen loves superheroes and all the amazing adventures that they have. The idea that the good guy always wins in the end is helping Gwen cope with her mom's recent death.
Daphne Cruz's purse: First of all, Daphne never carries around just a mere purse. Oh, no. It's designer all the way, baby, and done in some shade of pink, since that's the Valkyrie's favorite color. As for what's inside, there's a comb, a brush, a mirror, and half a dozen tubes of shimmery pink lip gloss, telling everyone exactly what a girly-girl Daphne really is. There's also a Hello Kitty notebook for taking notes during class, tons of thumb drives, and the latest laptop that Daphne is tinkering with. The Valkyrie has some wicked computer skills and is in the Tech Club at Mythos.
Logan Quinn's messenger bag: Daggers, throwing stars, lengths of rope, sharpened bits of wood and metal. Logan's bag has a bit of a psycho-killer vibe to it. That's because Logan is a Spartan who can pick up any weapon – or any object – and automatically know how to kill with it. So not only could Logan slice you to bits with a dagger, but he could just as easily skewer you with the pens, pencils, and Twizzlers inside his bag. Also tucked inside are books on famous battles and various fighting techniques that Logan likes to read in his spare time.
Carson Callahan's backpack: Carson's backpack is full of sheet music, since he's the drum major of the Mythos Academy Marching band. Also inside are school books, a laptop with music editing software on it, and his iPod, which is stocked with all kinds of tunes. Carson loves listening to music just as much as he does playing it. Not surprising, since the Celt is rumored to be some sort of warrior bard.
Professor Metis's briefcase: Metis's briefcase is full of the latest essays that she needs to grade for her myth-history classes, along with pens, pencils, notebooks, and more. Everything inside her briefcase in secured in an appropriate slot because Metis is just that organized – including a dagger she has tucked away in case of emergency. Metis likes to be prepared for anything. Also, hanging off the zipper of her briefcase is a small keychain shaped like a miniature statue of Athena, the Greek goddess of wisdom, something that Metis hopes to impart to all her students.
Coach Ajax's gym bag: Ajax's bag looks a lot like Logan's – there are weapons, weapons, and more weapons inside, given the fact that Ajax is responsible for training all the Mythos students on how to use everything from swords to daggers to throwing stars. You'll also find a water bottle, a pedometer, a heart rate monitor, sneakers, and some gym clothes in Ajax's bag. The coach pushes himself just as hard as he does his students because he knows that Reapers of Chaos could attack at any time – and he wants to be ready to defend his students.
Nickamedes's briefcase: No surprise here – Nickamedes's briefcase is full of books, since he's the head librarian at the Library of Antiquities. All of the books are carefully wrapped in plastic, so they won't get damaged in any way. Nickamedes is a little obsessive about keeping books in pristine condition – he won't even break the spine on a paperback. Also inside his briefcase are pens, pencils, a laptop, and a screwdriver. Nickamedes is always having to fix the loose, squeaky wheels on the carts that Gwen pushes around the library when she's shelving books as part of her after-school shifts at the library.
So there you have it. A little bit about what's inside the purses, briefcases, and bags of some of the folks at Mythos Academy.
What about you guys? What do you carry in your purses, pockets, briefcases, or wallets? What would those things say about you?

Jennifer Estep is a USA Today bestselling author who also writes the Ele­men­tal Assas­sin urban fan­tasy series for Pocket Books. The books focus on Gin Blanco, an assas­sin code­named the Spi­der who can con­trol the ele­ments of Ice and Stone. When she's not busy killing peo­ple and right­ing wrongs, Gin runs a bar­be­cue restau­rant called the Pork Pit in the fic­tional South­ern metrop­o­lis of Ash­land. The city is also home to giants, dwarves, vam­pires, and ele­men­tals – Air, Fire, Ice, and Stone.

Books in the series are Spider's Bite, Web of Lies, Venom, and Tan­gled Threads. Spider's Revenge, the fifth book, will be released on Sept. 27. Visit www.jenniferestep.com for free short stories, excerpts, and more.
Buy A Touch of Frost: – Book Depository – Kensington

Paperback Dolls is made up of women from different parts of the world, with different backgrounds, different tastes and beliefs that were brought together through a love of reading. We like to think of ourselves as a cyber version of "The View" that focuses on books, authors, and reading. We are proof positive that one common love can unite the most opposite of people and form lasting friendships that introduce other ways of life and perspectives to each other.
Paperback Dolls