Home » Articles, Authors, Guests, Reviewers, Week in Review, Winners
Week in Review and Winners!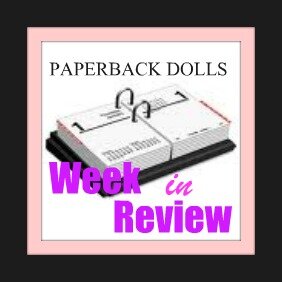 Welcome one and all to the week in review!
Week in Review is when we take a look at the past week and everything that's been going on at Paperbackdolls.com – plus we share what you can expect from the week to come…
But First…

The winners of the All I want for Christmas and Holly's First Noel giveaway are:

Diane

dsadler53@..

And…

Reading Mind

aliasgirl@..
Congratulations! Please email us at to claim your prize! 
Last Week on Paperback Dolls…
This week was all about the highs and lows of 2011 and what the Dolls are looking forward to in 2012!
On Monday Steph shared her picks for favorite books of 2011! Read them here
Tuesday, Day shared her list of favorite reads from the past year! Read it here
Wednesday, Lil gave us the low down on her best and worst reads of 2011 in her "Literary Year in Review"!
Thursday, Noa was all about the good, the bad and the ugly of 2011! Find out more here
Then Tween Doll in Training Desi shared her most anticipated books of 2012 – Find out who made the list here
On Friday, Doll Believer shared her awesome list of most anticipated books of 2012…Read more Here
And, finally on Saturday tween-doll in training Desi launched a new year of book reviews with her review of The Mockingbirds by Daisy Whitney…
Some schools have honor codes.
Others have handbooks.
Themis Academy has the Mockingbirds.
Themis Academy is a quiet boarding school with an exceptional student body that the administration trusts to always behave the honorable way–the Themis Way. So when Alex is date raped during her junior year, she has two options: stay silent and hope someone helps her, or enlist the Mockingbirds–a secret society of students dedicated to righting the wrongs of their fellow peers. Read her review Here
Next Week on Paperback Dolls…
We really wanted to start 2012 with a bang and thanks to some awesome authors – we can!
First, on Monday-Wednesday Doll Mona is sharing an interview she had with internationally acclaimed author Barry Eisler!


It is so awesome we are sharing it in three parts and there might just be some goodies involved! :D
Then on Thursday we will be taking part in an epic Kindle giveaway!
The giveaway is being shared by Bestselling paranormal and thriller writers Scott Nicholson, J.R. Rain, Aiden James, H.T. Night!


Other gifts will include Amazon gift cards! (Can't get enough of those!)
On Friday Honorary Doll Steph is here with a review of When she Woke by Hillary Jordan
Hannah Payne's life has been devoted to church and family. But after she's convicted of murder, she awakens in a new body to a nightmarish new life. She finds herself lying on a table in a bare room, covered only by a paper gown, with cameras broadcasting her every move to millions at home, for whom observing new Chromes–criminals whose skin color has been genetically altered to match the class of their crime–is a sinister form of entertainment. Hannah is a Red for the crime of murder. The victim, says the State of Texas, was her unborn child, and Hannah is determined to protect the identity of the father, a public figure with whom she shared a fierce and forbidden love.

A powerful reimagining of The Scarlet Letter, When She Woke is a timely fable about a stigmatized woman struggling to navigate an America of the not-too-distant future, where the line between church and state has been eradicated, and convicted felons are no longer imprisoned and rehabilitated but chromed and released back into the population to survive as best they can. In seeking a path to safety in an alien and hostile world, Hannah unknowingly embarks on a journey of self-discovery that forces her to question the values she once held true and the righteousness of a country that politicizes faith and love.
Finally, on Saturday Mona is here with her review of Sherrilyn Kenyon's The Guardian
As a Dream-Hunter, Lydia has been charged with the most sacred and dangerous of missions. She's to descend into the Nether Realm and find the missing god of dreams before he betrays the secrets that could kill all of them. What she never expects is to be taken prisoner by the Realm's most vicious guardian.

Seth's time is running out. If he can't hand over the key to Olympus and the heart of Zeus, then his own life and soul will be forfeit. No matter the torture, he hasn't been able to break the god in his custody. But when a rescuer appears, he decides to try a new tactic.

When these two lock wills, one of them must give. But Lydia isn't just guarding the gates of Olympus, she's holding back the darkest of powers. If she fails, an ancient evil will roam the earth once more and no one will be safe.
But evil is always seductive…
That's it for us this week! Thanks for stopping by and commenting!
Paperback Dolls is made up of women from different parts of the world, with different backgrounds, different tastes and beliefs that were brought together through a love of reading. We like to think of ourselves as a cyber version of "The View" that focuses on books, authors, and reading. We are proof positive that one common love can unite the most opposite of people and form lasting friendships that introduce other ways of life and perspectives to each other.
Paperback Dolls
Related posts: