Home » Charlaine Harris, Doll Lil, Elizabeth Naughton, J.R.Ward, Jill Shalvis, Karen Marie Moning, Kristan Higgins, Lorelei James, Susan Elizabeth Phillips, Uncategorized
Lil's literary year in review…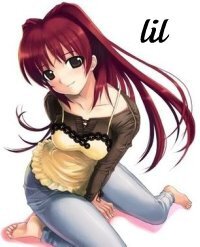 Lil's Literary Year In Review
(Wow that is a pretty fancy title. A bit serious don't you think?)
When we were brainstorming about the end of year posts I kept thinking I have got this in the bag. I can name my top five books of the year in a heart beat. Yeah…. right. I can't make up my mind. I tried to count all the books I read this year and came up with a number in the high 300′s. I then thought about the books I read this year that were released this year and the number dropped significantly. That is when I realized I spent most of my time catching up on the last ten years of fiction and not investing in new authors. I was dumbstruck. I have always championed new writers. I then came to the conclusion I was so busy reading newbies I never gave equal time to discovering established authors. So I guess if nothing else I need a New Year's Literary Resolution….. Equal time to new and established writers. This is going to be harder than I think isn't it? Well it can't be harder than breaking down my year in books so enough of my stalling let's get down to the nitty gritty! So here it is….
Lil's-GAH!-This-is-so-HARD!-Top-Five-Books-Of-The-Year-List
(My selections are NOT in any particular order.)
1.
2.
3.
4.
5.
There are a few more books I have to mention. I could call them honorable mentions but they were so good I think we should just consider them 6 -10….. besides when have I ever once followed an assignment?
6.
7.
8.
9.
10.
Now on the to really hard part, what book(s) I am most disappointed in…… I may curl up into a fetal position after this, it was hard enough even feeling disappointed but now I'm sharing!
by Jane Auel. I absolutely love this series. It is because of Jane I insist on an author to be detailed and descriptive in their writing; to feel their love for their characters and belief in their words. I did not find that to be true in the final book of The Earth's Children series. I adore Ayla and Jondalar. The angst within the pages of each and every book was always so compelling. The passion these two shared not only for each other but for their people was always inspiring. Painted Caves missed the mark and while still enjoyable, it did not live up to what has become a high mark set by this author. I was disappointed the characters were still facing the same insecurities and issues addressed in earlier books. Where were the new challenges? Did they learn nothing? The same jealousies and miscommunication made me feel like the emotional aspect of the book was glossed over. I still suggest reading the "finale" but as just I viewed Breaking Dawn as a "Wait!-what?-that's-it?!!!" literary moment I find myself saying the same about The Land of The Painted Caves.
Okay now that I've gotten that out of the way I can discuss something that makes me wiggle in my seat! My most anticipated books of 2012. I'll give you one guess…..
Ha! NO! WRONG! Oh, wait, did you say Tohr?
Yes it's true! The next book in the Black Dagger Brotherhood is  and it is Tohrment's rebirth. Early buzz is Tohr's book is longer than John Mathew's but a wee bit shorter than Rhev's. Also Lover Reborn will bring the brothers back to the forefront and we will be reacquainted with many of them. There will also be more Quinn! I do love that boy. We will get more Lassiter and that makes me oh so very happy!
One of my favorite aspects of a BDB book is the intertwining of each brother's life. Ward is an expert of keeping past characters in the mix and I did sense an absence of that in both JM's and Payne's books. Also the angst in this book should be off the charts. I have one thing to say to that. Bring. It. On.
You have guessed by now I am a fan of book series so another book I am looking forward to is ; the next addition in Elisabeth Naughton's Eternal Guardian series brings us up close and personal with Orpheus. Not since I discovered the BDB have I been so taken by a series and it's heroes. The characters are well thought out and the richly developed story lines are addicting. When I think of an Eternal Guardian book a few key words come to mind…. Passion, Adventure, Loyalty, Angst, Suspense, and Honor. Trust me when I tell you, you will fall in love with the Argonauts. They are simply to hard to resist.
Over the summer we can expect three new Lucky Harbor books! I think it's pretty obvious I am a big fan of Jill Shalvis fan but it's this series that has really satisfied me as a reader. Check out my reviews of the first three in the series here on PBD.
Lisa Kleypas is diving into another contemporary series with Friday Harbor's second book . Keep an eye out for me here at the blog with more news about Rainshadow Road, I have some fun stuff planned! **I am one of "Lisa's Divas" – a group of select fans who share info & content related to Lisa's novels and get sneak peeks & swag in return!**
There are a few more books that are on my must read list for 2012:
1.  
2.
3. (Lucy's book!)
4.
5. Rapture (Fallen Angels series) by JR Ward
6.
7-10.) Susan Mallery is bringing cowboys to Fools Gold…. COWBOYS. YEE HAW to the highest power my friends!
So I guess that's it from me for 2011. Knowing me there is a glaring typo in here that I won't discover until after it's published. There will be a book I have forgotten to mention somewhere too. I'll end up *head-desking*, I always do. I do want to say thanks to all my fellow dolls and I am so proud to be a part of such an amazing group of book lovers! Happy New Year to you and please tell me what your favorite book of the year was! I want to read it!
–
~Lil
Lil is an avid reader who gave up TV so she could greedily read every book she could get her hands on. In the process she discovered a love for contemporary romance heavily laden with humor. Lil is formerly a True Blood blogger who discovered there is more to the world than her annoying love/hate one-sided relationship with the writers of TB. She credits JR Ward for pulling her from the two dimensional world of TV viewing.
Doll Lil