Home » Articles, Authors, Giveaways, Guests, News, Reviewers, Reviews, Week in Review, Winners
Week in Review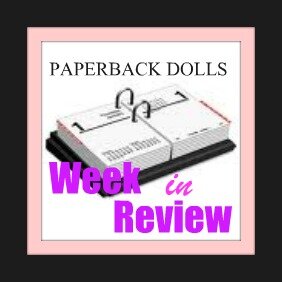 Welcome one and all to the week in review!
Week in Review is when we take a look at the past week and everything that's been going on at Paperbackdolls.com – plus we share what you can expect from the week to come…
Last Week on Paperback Dolls…
Last week the Dolls focused their attention on those wonderful people known as "Secondary Characters" yes, those characters that have the best one liners, that are on and off the page, that make the hero and/or heroine shine and that provide all those wonderful moments f comic relief.
You know who we're talking about.
Those characters you keep telling yourself should get their own books!
So, who did we include?
Find out below! 
On Monday it was Chrissy's turn
On Tuesday Teresa gave it a shot 
On Wednesday Noa shared her picks 
Next Week on Paperback Dolls…
On Monday Believer is here with a review of Saving Grace by Pamela Hutchins

Katie Connell is a high-strung attorney whose sloppy drinking habits and stunted love life collide hilariously in a doomed celebrity case in Dallas. When she flees Texas for the Caribbean, Katie escapes professional humiliation, a broken heart, and a wicked Bloody Mary habit, but she trades one set of problems for another when she begins to investigate the suspicious deaths of her parents on the island of St. Marcos. She's bewitched by the voodoo spirit of an abandoned house in the rainforest and discovers that she's as much a danger to herself as the island's bad guys are. As the worst of her worlds collide, Katie drags herself back to the courthouse to defend her new friend Ava, an island local accused of stabbing the senator she's been sleeping with.
Then on Tuesday Doll Mona is here with an ARC review of Immortal Ever After by Lynsay Sands

A kiss doesn't mean eternity . . .

Valerie Moyer doesn't believe in vampires—until she is kidnapped by a fanged psychopath! After escaping her bloodthirsty captor, she's through with creatures of the night. Until she finds herself under the protection of the darkly handsome Anders. Not only is she expected to accept that Anders is immortal, but also that she is the woman destined to be his life mate!

. . . Or does it?

Anders felt a connection to Valerie from the moment he cradled her bruised body in his arms. But before he claims her, he must destroy the vampire who almost stole her from him forever. His job would be easier if Valerie didn't fight him every step of the way. Still, Anders loves a challenge, and the green-eyed beauty is worth fighting for!
On Wednesday Mona is here again with a review of How to Get Over Your Ex by Nikki Logan

After her on-air proposal is turned down by her commitment-phobe boyfriend, Georgia Stone must learn to survive singledom. Unfortunately, thanks to a clause in her contract, she has to do it under the watchful gaze of brooding radio producer Zander Rush. And so begins the Year of Georgia! Lurching from salsa classes to spy school, Georgia discovers a taste for adventure. Her biggest thrill so far? Flirting with danger-aka the enigmatic Zander. But admitting she's ready for more than just a fling…? Definitely Georgia's scariest challenge yet!
On Thursday Believer is back for a Valentines review of How to Misbehave by Ruthie Knox

What woman can resist a hot man in a hard hat? Beloved author Ruthie Knox kicks off her new Camelot series with this deliciously sexy original novella, in which a good girl learns how to misbehave . . . with all her heart.

As program director for the Camelot Community Center, Amber Clark knows how to keep her cool. That is, until a sudden tornado warning forces her to take shelter in a darkened basement with a hunk of man whose sex appeal green lights her every fantasy. With a voice that would melt chocolate, he asks her if she is okay. Now she's hot all over and wondering: How does a girl make a move?

Building contractor Tony Mazzara was just looking to escape nature's fury. Instead, he finds himself all tangled up with lovely Amber. Sweet and sexy, she's ready to unleash her wild side. Their mutual desire reaches a fever pitch and creates a storm of its own—unexpected, powerful, and unforgettable. But is it bigger than Tony can handle? Can he let go of painful memories and let the force of this remarkable woman show him a future he never dreamed existed?
And on Friday Doll Eowyn is here with a review of Inescapable by Amy Bartol

My name is Evie Claremont and this was to be the making of me–my freshman year of college. I had been hoping that once I had arrived on Crestwood's campus, the nightmare that I've been having would go away. It hasn't.

I may be an inexperienced seventeen-year-old, but I'm grounded…sane. Since meeting sophomore Reed Wellington, however, nothing makes any sense. Whenever he is near, I feel an attraction to him–a magnetic kind of force pulling me towards him. I know what you're thinking…that sounds fairly awesome. Yeah, it would–if he liked me, but Reed acts as if I'm the worst thing that's ever happened to Crestwood…or him. But, get this, for some reason every time I turn around he's there, barging into my life.

What is the secret he is keeping from me? I'm hoping that it is anything but what I expect: that he is not exactly normal…and neither am I. So maybe Crestwood won't be the making of me, but it could be the breaking of me. I have been left to wonder if the dark future my dream is foretelling is…inescapable.
That's it for us this week!
Thanks for stopping by and commenting!
Paperback Dolls is made up of women from different parts of the world, with different backgrounds, different tastes and beliefs that were brought together through a love of reading. We like to think of ourselves as a cyber version of "The View" that focuses on books, authors, and reading. We are proof positive that one common love can unite the most opposite of people and form lasting friendships that introduce other ways of life and perspectives to each other.
Paperback Dolls