Home » Articles, Doll Mona Leigh, Reviewers
Mona's Secondary Character Stash
Favorite secondary characters. Hmmm. *drums fingers on desk* With all the books I read, how do I narrow down the list? Seriously. I read three to six books a week. That makes for a lot of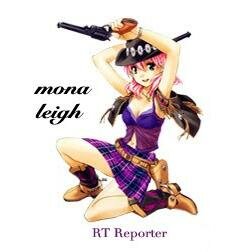 characters. Maybe I'll just try the trusty ol' 'stream-of-consciousness' method and see what pops up.
*drum, drum, drum* *perks up* Oh! Of course!
Simi. Oh, yeah. Simi's my girl, er, Charonte demon, for sure. As a baby, she was given to her Akri, Acheron, in Sherrilyn Kenyon's Dark-Hunter series. Since then, she's spent most of her time as a tattoo on his body, but when he sets her free, look out.
Like any 11,000 year-old teenager, she loves her plastic, and hers has no credit limit. She also loves watching QVC and buying sparkly things. Her favorite food is anything barbecued – people, dogs, other demons. Just make sure to have lots of barbecue sauce on hand. She's also the reason Acheron nearly killed Nick. So remember … never cross Simi.
Another favorite is Diesel from the Stephanie Plum series. Who can resist a super-sexy guy who pops in out of nowhere? Deadbolt on your door? No problem. He can open any lock with his magic. Although he's a secondary character in Stephanie's books, he has his own series now, and I can enjoy all that sexy goodness any time I want.
Next on my list is Adrian from the Vampire Academy series. If you're not familiar with the books, I suggest you put them on your TBR list. Adrian is a Moroi vampire who can wield Spirit. Sexy and shallow, he starts the series with a drinking/drug problem since that's the only thing that helps lessen the effects of Spirit. He falls in love with Rose, and when she castigates him for his weakness, he goes cold turkey and cleans up his act. When she regains her true love, Adrian gets pushed aside. Poor Adrian.
Let's see … who's next? Oh, I know! Raphael Medrano from the Kate Daniels series. Who could resist the son of the Bouda clan alpha?! I mean, come on … he's six feet tall with shiny, black hair and skin the color of coffee with lots of cream. Walking sex. You've gotta love a shapeshifter who carves 'MINE' into his mate's tabletop, moves all his belongings into her apartment, and hangs a chandelier over her bed. Of course, he does lots of other crazy things to rile Andrea, but the breaking and entering thing is classic. As to be expected, she retaliated by carpeting his entire apartment … floor, walls, ceiling, dishes, everything……


Although I have a ton of other favorites, I have to end my post with a particularly touching one … Finn in Flat-out Love. Finn isn't the kind of guy you normally see in a book, because he's a life size cut-out poster. You see, his little sister, Celeste, ordered him online after the real Finn died. A brilliant, yet socially inept thirteen-year-old, she doesn't fit in anywhere since Finn went away, so when she's home the poster is always by her side.
When Julie, the college-age daughter of her mom's old friend, comes to stay, Finn takes on new life. Julie doesn't know he's dead, and the dysfunctional family refuses to talk about it. Thinking Celeste is hurt because Finn's traveling the world, Julie tries to find him. They exchange e-mails, she regularly checks his Facebook status, and begs him to come home. As the months pass and they correspond, she and Finn fall in love. Imagine how devastated she was to find out the Finn she corresponded with for so many months was actually the other brother, Matt, with whom she shared a house every day.
Tragic, yet incredibly touching. With Julie's help, a poster named Finn healed a family and brought love to two deserving people.
Well, there you have it … well, not all of it, but enough for now. Check out the Dolls on Goodreads and see what we liked and what we panned. I think our tastes in books might surprise you. ;)
Mona's first grade teacher, Mrs. Stanford, gifted her with the love of reading. For that, she'll always live in her heart. But reading took over Mona's life, eclipsing everything but playing sports, and has continued to be a huge part of her life. Although she has always written poetry and stories for her self, last year she decided to try her hand at writing fiction. She is currently editing her first urban fantasy and hopes to have it ready for the agent by summer's end. Besides reading, Mona loves speed in the form of fast cars. The faster, the better! In her next life, she plans to drive race cars (or whatever happens to be their replacement in the future) all while reading and writing. She has also taken up rune reading, and find it to be disturbingly accurate and exciting.
Doll Mona Leigh