Home » Articles, Doll Lil, Reviewers
Lil's secondary character favorites!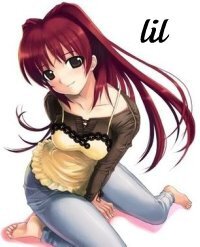 Okay so when Noa asked us which secondary character we would like to see in his own book I could only come up with one name. Ian Flannery. Jeaniene Frost has created a character that I can't seem to help but to love. Ian doesn't deserve my adoration.
He is a very naughty vampire who often only thinks of himself and very often allows "Ian Jr." to do most of his thinking. He's rude, inappropriate, and has often left me with my mouth hanging open at his less than gentlemanly comments. He should not be so damn likable! I should be left with a bad taste in my mouth and looking for the nearest exit! But alas he is and I am always moving towards him and never away. He's loyal to his mates, he makes me laugh out loud almost every time he pops up, and worst of all his naughty talk totally lights me up.
Frost has created in Ian a dark, unbearably sexy yet selfish and sometimes downright mean character who has a depth that has been kept carefully veiled throughout the series. I don't think we've gotten passed the surface with this particular cad.
Maybe it's just me, but in Ian I see someone who can love and maybe one day be loved. He's vulnerable in a way that most people would not recognize, but having some experience with Alpha Males who refuse to admit to their weaknesses and do their very best to ignore the emotions that bubble up from time to time I've witnessed a character worth a deeper look. And so in the end kudos to Jeaniene Frost for the ability to write characters that hop off the page and demand to be seen, heard, and of course… shagged.
~Lil
Lil is an avid reader who gave up TV so she could greedily read every book she could get her hands on. In the process she discovered a love for contemporary romance heavily laden with humor. Lil is formerly a True Blood blogger who discovered there is more to the world than her annoying love/hate one-sided relationship with the writers of TB. She credits JR Ward for pulling her from the two dimensional world of TV viewing.
Doll Lil