Home » Articles, Giveaways, News, Reviewers, Reviews, Week in Review, Year In Review
Week in Review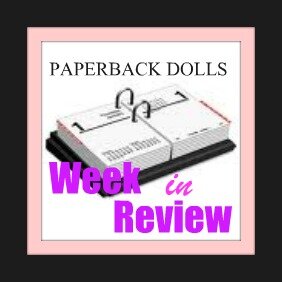 Welcome one and all to the week in review!
Week in Review is when we take a look at the past week and everything that's been going on at Paperbackdolls.com – plus we share what you can expect from the week to come…
Last Week on Paperback Dolls…
The Dolls took a bit of a holiday while sharing our favorite and least favorite reads of 2012.
First Believer shared her favorite book of 2012 READ MORE
Then Chrissy shared her favorites and least favorite books of 2012 READ MORE
Noa was next up with her favorite and least favorite reads READ MORE
and Finally Teresa took a turn sharing her 2012 favorites READ MORE
Next Week on Paperback Dolls…
Well, we discussed and reviewed 2012, but what are the Dolls looking forward to in 2013?
Next week is all about our most anticipated reads for the New Year and the books we really don't want to see on our bookshelves… There might even be a resolution or two involved… ;)
For now though, to all our wonderful followers -
Happy New Year!

May 2013 bring you all health, happiness and books glorious books!
That's it for us this week!
Thanks for stopping by and commenting!
Paperback Dolls is made up of women from different parts of the world, with different backgrounds, different tastes and beliefs that were brought together through a love of reading. We like to think of ourselves as a cyber version of "The View" that focuses on books, authors, and reading. We are proof positive that one common love can unite the most opposite of people and form lasting friendships that introduce other ways of life and perspectives to each other.
Paperback Dolls