Home » Articles, Doll Lil, Giveaways, Uncategorized
Harlequin, Cosmo, and Sylvia Day Afterburn Launch Giveaway!!
Launch Day. It's always exciting when a favorite author starts a new series isn't it? Even better when you have several talented authors joining the fun like in the super steamy, super sexy Red-Hot Reads from Harlequin and Cosmo. It's even more exciting when they get Sylvia Day to supply the first book in the series!

To celebrate the first release in the new smokin' hot series from Cosmo and Harlequin, Red-Hot Reads, they are offering up a goodie bag giveaway for our US readers!!! Just answer the question!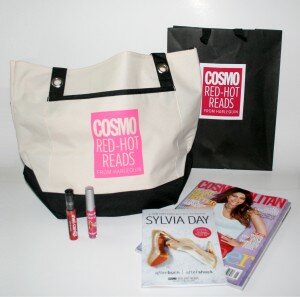 Doll Lil had a chance to read the first few chapters of the first book Afterburn by Sylvia Day a couple of months ago and she has been waiting very impatiently for today's release! Sylvia Day has written another story that will be a must have in every romance reader's library. It's a sophisticated faced-paced story that grabs the reader right from the word go.
What kind of romance do you prefer? Paranormal, Historical, Contemporary, ect.?
a Rafflecopter giveaway
Lil is an avid reader who gave up TV so she could greedily read every book she could get her hands on. In the process she discovered a love for contemporary romance heavily laden with humor. Lil is formerly a True Blood blogger who discovered there is more to the world than her annoying love/hate one-sided relationship with the writers of TB. She credits JR Ward for pulling her from the two dimensional world of TV viewing.
Doll Lil