Home » E. C. Ambrose, Reviewers
Review: Elisha Barber by E.C. Ambrose
Title: Elisha Barber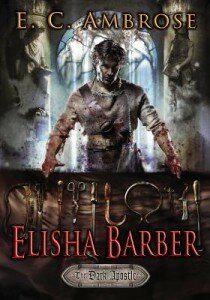 Author: E.C. Ambrose
Publisher: DAW Hardcover
Publication Date: July 2, 2013
Genre: Fantasy/Science Fiction
Series: The Dark Apostle #1
Source: Library Rental
Reviewed by: Doll Chrissy
Working in a library has many advantages to a bookworm like me. One of those advantages is working first hands with books that I might not have otherwise come across. Such was the case with E.C. Ambrose's Elisha Barber, the first book in The Dark Apostle series.
At first I was struck by how the man on the cover looked identical to the actor (Ryan Kwanten) who plays Jason Stackhouse on True Blood. This prompted me to have a look at the inside cover. After reading the synopsis I decided to check out this book. Boy, was I glad that I did.
This is a wonderful book. It's filled with all the elements that one would expect of a fantasy novel set in fourteenth century England: magic, mayhem, knights, kings, witches, you name it. However, I must forewarn readers: the depictions of war and surgery in this novel are extremely graphic, some even borderline stomach turning even for those of us with stronger constitutions. If you are squeamish with graphic depictions of injuries and surgeries then this is not the book for you.
However, I must say that this book is very realistic in its descriptions and was very well researched for the time period in which it is set. The characters are very strong and will stay with you for days after having finished the novel. This was a really great read and I recommend it to fans of science fiction, fantasy, and historical fiction.
Paperback Dolls is made up of women from different parts of the world, with different backgrounds, different tastes and beliefs that were brought together through a love of reading. We like to think of ourselves as a cyber version of "The View" that focuses on books, authors, and reading. We are proof positive that one common love can unite the most opposite of people and form lasting friendships that introduce other ways of life and perspectives to each other.
Paperback Dolls