Home » Authors, Doll Chrissy, Erotica, Maya Banks, Reviewers, Reviews
Review: Colters' Wife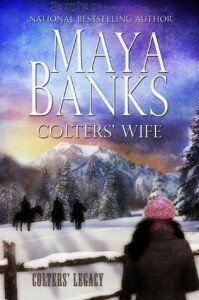 Author:Maya Banks
Title: Colters' Wife
Publisher: Samhain Publishing
Publication Date: April 6, 2010
Genre: Erotica
Series: Colters' Legacy Book 1.1
Source: Library Rental
Purchase:

Colters' Wife is an extended epilogue that picks up just a few months from where Colters' Woman left off. Revisit the Colter family just in time for the birth of their first child.
Colters' Wife is the short story sequel the Colters' Woman by Maya Banks. In this story, we learn what happens after the wedding and many years after the Colters have started a family. It is clear that these children will be the next generation that we will be following in the Colters' Legacy series.
First we meet Seth, a serious little boy who has his heart set on becoming a police officer. Michael is a down to earth boy that enjoys playing with his brothers. And finally, we meet Dillon, the little mischief maker who is always the first of the three boys to seek out affection from his mother. Colters' Wife tells the tale of Holly's final pregnancy and hopes for a baby girl.
This story is sweet and contains none of the naughty elements contained in the previous book. I truly enjoyed this story and was glad to see that the characters were able to have a happy ending. It is available as a free download on Amazon.com or in the back of the 2010 reissued copy of Colters' Woman.
Chrissy fell in love with books at an early age. It all started with Judi Barrett's Cloudy with a Chance of Meatballs. At the tender age of five she decided that she wanted to be a writer. Later, she graduated to books like A Wrinkle in Time, Scary Stories to Tell in the Dark, and the Goosebumps series, participating avidly in her school's Book It program. High school brought on new challenges and loves. She began writing for the school's newspaper and literary magazine. The works of Stephen King, Edgar Allan Poe, H.P. Lovecraft, and Shirley Jackson quickly overran her bookshelves. But when Chrissy was introduced to the world of Urban Fantasy and Paranormal Romance, a grand love affair was set in motion. She is an avid reader of romance, urban fantasy, horror, erotica, and cozy mysteries. After working for the city library for six years and being surrounded by the works of greatly admired authors, she decided to devote her life to writing full time and hasn't looked back since. When she is not devouring book after book, Chrissy loves to cook, bake, volunteer at the local animal shelter, and feed her addiction for horror movies. She lives in Maryland with her family and beloved pets.
Doll Chrissy