Home » Maya Banks, Reviews, Uncategorized
Review: Colters' Lady by Maya Banks
Title: Colters' Lady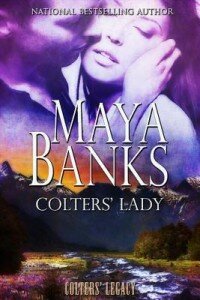 Author: Maya Banks
Publisher: Samhain Publishing
Publication Date: June 1, 2010
Genre: Erotica
Series: Colters' Legacy Book 2
Source: Library Rental
Reviewed by: Doll Chrissy
Having previously read Colters' Woman and Colters' Wife, I couldn't wait to get started on Colters' Lady, the second book in the Colters' Legacy series by Maya Banks. I was a bit skeptical as to how the three brothers sharing one woman would work out for the next generation of Colter boys (Seth, Michael, and Dillon) but Maya Banks made it work.
This book was just as incredible as the first in the series. I loved all of the characters. Banks keeps you guessing about Lily's deep dark secret until the very end. Seth, Michael, and Dillon are just as (if not more) hunky as their fathers Adam, Ethan, and Ryan (who make several appearances in the novel along with Callie and Holly.)
Again, other readers argue that the heroine is TSTL (too stupid to live) because she is a homeless woman who just moves in with three random men that she doesn't know. But I found her character to be endearing. Seeing her transform from such a wounded young woman to a gorgeous and confident young lady throughout the book gave me the warm and fuzzies.
The love scenes certainly were not lacking in any way shape or form. As with Colters' Woman, these scenes are hot hot hot! Maya Banks is a true master of her craft and knows how to keep readers on their toes. I would highly recommend this book to readers of the erotica genre.
Paperback Dolls is made up of women from different parts of the world, with different backgrounds, different tastes and beliefs that were brought together through a love of reading. We like to think of ourselves as a cyber version of "The View" that focuses on books, authors, and reading. We are proof positive that one common love can unite the most opposite of people and form lasting friendships that introduce other ways of life and perspectives to each other.
Paperback Dolls