Home » Uncategorized
The Thing About Weres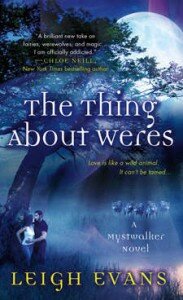 Author: Leigh Evans
Title: The Thing About Weres
Series: The Mystwalker Series #2
Release Date: July 30, 2013
Reviewer: Mona Leigh
Source: Publisher
If you thought Leigh's first book, The Trouble with Fate, was exciting, then hold onto your hats because this one has excitement in spades.
I'll try not to reveal any spoilers since many of you still have TTWF on your TBR list, but it's going to be tough. When we left Hedi, she'd sent Robson Trowbridge someplace where he could heal, and that left her as the Alpha of the Creemore weres.
Because of her fae heritage, most of the weres are leery of her, and after months without Trowbridge around, the weres plot a coup. Just when it seems that Hedi will die, Trowbridge shows up to save her, but he's not alone. Accompanying him home are a male fae … and a female were in wolf form – that smells suspiciously like Trowbridge.
Of course, Hedi automatically suspects Trowbridge has cheated on her, but the truth is stranger and more critical than that. I suspect the young female were will play an important future role and possibly cause problems between the Alpha couple.
So much takes place in this book that you can't skip along to get to the good stuff … 'cause it's all good stuff. I really wish the first book had been out longer so I could pass along more information without spoiling, but you'll just have to trust me on this one.
I can appreciate the character growth of both Hedi and Trowbridge, and I like that she's choosing to face her problems head on rather than run from them as she did in the past. I had mixed emotions about Trowbridge's experience while he was away, and felt sad for Hedi that she'd been left behind, so to speak.
If you haven't read The Trouble With Fate yet, I suggest you hop to it so you can top it off with The Thing About Weres. Just make sure you don't have anything important to do, because you won't want to stop.
Leave a comment and tell us what you like most about the Mystwalker series for a chance to win a copy of The Thing About Weres.
Mona Leigh
Paperback Dolls is made up of women from different parts of the world, with different backgrounds, different tastes and beliefs that were brought together through a love of reading. We like to think of ourselves as a cyber version of "The View" that focuses on books, authors, and reading. We are proof positive that one common love can unite the most opposite of people and form lasting friendships that introduce other ways of life and perspectives to each other.
Paperback Dolls