Home » Authors, Doll Lil, Inara Scott, Reviewers, Reviews
Review: Rules of Negotiation by Inara Scott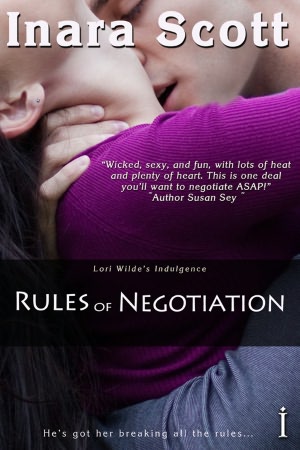 Author: Inara Scott
Title: Rules of Negotiation
Release: February 14th 2012
Series: Novel
Reviewer: Lil
Source: Entangled Publishing
Purchase: Amazon Kindle | Barnes and Nobles Nook

He let her make the rules…

NYC's most eligible bachelor, Brit Bencher, is also known as The Slayer for his reputation in the boardroom…and the bedroom. And he'll do anything to take care of his family, even seduce high-powered corporate attorney Tori Anderson in the hopes of getting her to reveal confidential information about one of her clients. But for the first time in his life, he finds he's falling for a woman.

…and then he started to break them.

After juggling the demands of her career and the stress of caring for her ailing mother, Tori Anderson doesn't have time for relationships—but that doesn't mean she doesn't want to feel like a woman. When Brit offers a no-strings attached fling, it sounds like exactly what she needs. But what will she do when Brit decides he won't take "one night stand" for an answer? When Tori uncovers his lies, will he lose his chance with her forever?
I'm always a little nervous when I read a new author. And when I say new, I mean to me, because let's face it, there are simply too many great writers out there for even a book addict like me to have even scratched the surface. I sat down with Rules of Negotiation on a day when the house was clean, the kids were in school, and my wonderful husband was off hunting down lawn and pool supplies. I would have hours of uninterrupted reading time. And it's a good thing, because I don't think I would have noticed if dinner was burning.
RON was full of everything I love, a good dose of angst, a great love story, and a writer who knows how to deliver a story. I've recently hit a road bump with several writers and their continuity issues within one book. I've also run across finding a real disconnect with characters in several books. In more than a few I wanted to throttle the leads and tell them to find some new friends and family to hang with! In Rules of Negotiation we have characters that were likable, I want them to be together, I root for them! Brit is hot and adorable and sexy and smart. And hot. Hey did Imention hot? Tori got to me and not in a bad way. I was so happy to like a female lead this much again! I also enjoyed Betsy, Tori's assistant. She was funny and straight forward but not in an annoying I-know-better-than-you way.
It's that time of year to put our summer reading lists together and I highly recommend to all our readers to add Scott's love story to their TBR! I ended up reading it twice and I have a good feeling I will again this summer. I'll have to put a * next to the title though …..iced tea and a fan at the ready for some scenes because hot and steamy will be coming from the pages not just Mother Nature.
Lil is an avid reader who gave up TV so she could greedily read every book she could get her hands on. In the process she discovered a love for contemporary romance heavily laden with humor. Lil is formerly a True Blood blogger who discovered there is more to the world than her annoying love/hate one-sided relationship with the writers of TB. She credits JR Ward for pulling her from the two dimensional world of TV viewing.
Doll Lil
Related posts: