Home » Articles, Giveaways, Guests, News, Week in Review, Winners
Week in Review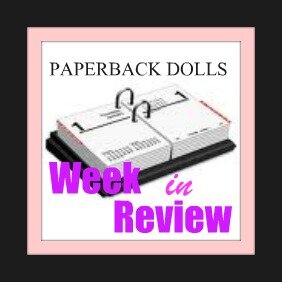 Welcome one and all to the week in review!
Week in Review is when we take a look at the past week and everything that's been going on at Paperbackdolls.com – plus we share what you can expect from the week to come…
You may have noticed we've been going through some programming adjustments, well, lots of changes have been going on in the Dollhouse, with most of us Dolls suffering major LRTS – Lack of Reading Time Syndrome due to Real Life issues.
We still love the Dollhouse and all of our reading friends band we're trying very hard to make this site the place you want to come to for discussions, reviews and interviews – and all things book related.
So while we're working hard to refurbish the house – we would love to hear your input – comment here or on facebook, send us emails – share your thoughts!
Next Week on Paperback Dolls…
On Monday Mona is here with a review of Dare You To by Katie Mcgarry

Ryan lowers his lips to my ear. "Dance with me, Beth."

"No." I whisper the reply. I hate him and I hate myself for wanting him to touch me again….

"I dare you…"

If anyone knew the truth about Beth Risk's home life, they'd send her mother to jail and seventeen-year-old Beth who knows where. So she protects her mom at all costs. Until the day her uncle swoops in and forces Beth to choose between her mom's freedom and her own happiness. That's how Beth finds herself living with an aunt who doesn't want her and going to a school that doesn't understand her. At all. Except for the one guy who shouldn't get her, but does….

Ryan Stone is the town golden boy, a popular baseball star jock-with secrets he can't tell anyone. Not even the friends he shares everything with, including the constant dares to do crazy things. The craziest? Asking out the Skater girl who couldn't be less interested in him.

But what begins as a dare becomes an intense attraction neither Ryan nor Beth expected. Suddenly, the boy with the flawless image risks his dreams-and his life-for the girl he loves, and the girl who won't let anyone get too close is daring herself to want it all….
Then on Wednesday it's Lil's Wednesday Book Bargains!!!!
On Thursday and Friday Mona and Noa are so excited to share ARC reviews of Ilona Andrews' Magic Rises!!!

Atlanta is a city plagued by magical problems. Kate Daniels will fight to solve them—no matter the cost.

Mercenary Kate Daniels and her mate, Curran, the Beast Lord, are struggling to solve a heartbreaking crisis. Unable to control their beasts, many of the Pack's shapeshifting children fail to survive to adulthood. While there is a medicine that can help, the secret to its making is closely guarded by the European packs, and there's little available in Atlanta.

Kate can't bear to watch innocents suffer, but the solution she and Curran have found threatens to be even more painful. The European shapeshifters who once outmaneuvered the Beast Lord have asked him to arbitrate a dispute—and they'll pay him in medicine. With the young people's survival and the Pack's future at stake, Kate and Curran know they must accept the offer—but they have little doubt that they're heading straight into a trap…
That's it for us this week!
Thanks for stopping by and commenting!
Paperback Dolls is made up of women from different parts of the world, with different backgrounds, different tastes and beliefs that were brought together through a love of reading. We like to think of ourselves as a cyber version of "The View" that focuses on books, authors, and reading. We are proof positive that one common love can unite the most opposite of people and form lasting friendships that introduce other ways of life and perspectives to each other.
Paperback Dolls