Home » Authors, Giveaways, Guests, Interviews, Paperback Proust, Suzanne McLeod
Blog Tour Paperback Proust Interview and Giveaway: The Shifting Price of Prey by Suzanne McLeod
Hello, Papberback Dolls and thanks for having me on Paperback Proust! Interesting, mind-wracking, err, thought-provoking interview :-)
What is your current state of mind?
My current state of mind is TIRED! I had an attack of domesticity yesterday and turned the mattress, and so didn't sleep well. #sensitivelikeaprincess *g*
What is your favorite occupation (way of spending time)?


Reading. Preferably by a pool in some swanky holiday resort with cocktails and cabana boys on tap (can you tell I want a holiday?) but really, reading anywhere where I won't be disturbed is good. :-D
What historical figure do you most identify with?
Boudica and Elizabeth 1 spring to mind though that's more because of where my creative head is right now than because I identify with them. *teases*
Which living person do you most admire?
Going for more than one here: My brother, sister-in-law and their kids. My second nephew has a lot of serious health problems and the whole family are all totally inspirational about helping him deal with them.
Who is your favorite fictional hero? Heroine?
Can I choose mine? No? Okay, guess that would be too easy. ;p So, favourite hero has to be Vel from Ann Aguirre's Sirantha Jax series – he's an awesome friend to Jax. Oh, and heroine . . . so many to choose from . . . but I'm going to go with Dory from Karen Chance's Midnight Daughter series – she has a lot of iffy background stuff to cope with while being cool, funny, irreverent and kickass.
Who are your real-life heroes?
My brother and his family – see above. :-)
What is your most treasured possession?
Boy, had to think about this one. I've lots of things that have sentimental value that I treasure, but it's hard to pick one I could do without, probably because if I had to save something from a fire it wouldn't be things but people and pets. :-)
When and where were you happiest?


I've been generally happier since I hit my late twenties (which was a while ago now :-)) and again since I started writing in 2003, but there's no one specific time or place.
What is your most obvious characteristic?
Lol! I come across as quiet and reserved, which I can be (introverted author here). But anyone who gets to know me or reads my books knows I'm not that quiet! *gives evil author cackle as decapitates another character*
What is the trait you most deplore (hate) in yourself?
I can dither about decisions so I wish I could just go for things instead of over-analyzing too much.
What is the trait you most deplore in others?
Intolerance.
What is your greatest extravagance?
Books!
What is your favorite journey?
I don't have one – I'm not too fond of travelling – getting there, yes, the journey, no – so, I'd much prefer my own personal transporter.
What do you most dislike about your appearance?
Ah, a classic one: my weight – more because I know I'm unfit than my actual size.
What do you consider the most over-rated virtue?
Any virtue that's taken to extreme.
On what occasion do you lie?


Usually when I talk to my mum (who worries a lot, like all mums :-)) and I end up reverting to a teenager who says, 'of course I didn't stay out too late or drink too much'. *looks innocent*
What is your greatest fear?
Heights and falling. My stress-y dreams are all about climbing shifting stairs (think moving staircases à la Hogwarts!) with no handrails.
Which words or phrases do you most over-use?
'Hopefully' – which I guess means I have a positive outlook on life, or I hope I do, anyway. ;p
If you could change one thing about yourself, what would it be?
I 'd choose to write better and faster! Oh, and make decisions better and faster. *g*
What do you consider your greatest achievement?
Writing my books!
Where would you like to live?
Where we live now is pretty cool – okay, so it isn't a private Caribbean island and it doesn't have the pool and the cabana boys, but Mr Mac mixes a mean mojito and we're only a mile or so from the beach.
What is the quality you most admire in a man? In a woman?
The determination to keep going even when times are hard. Tolerance. Oh, and a sense of humour! (I know, that's three, so sue me :-))
What is it you most dislike?
I HATE manipulativeness and bullying.
What do you value most in your friends?


Loyalty and a sense of humour.
How would you like to die?
Quickly.
If you were to die and come back as a person or an animal, what do you think it would be?
I'd LOVE to come back as a dragon! Though if I had to pick a real animal I think either a dolphin or a giant octopus would be cool, that way I could explore the ocean deeps.
If you could choose an object to come back as, what would you choose?
Right now? Curiosity Rover! Who wouldn't want to explore Mars?
What is your motto (words you live by or that mean a lot to you)?
Ack. I don't have one — maybe I should, something like, 'Stop procrastinating and make that decision. Now!'
Who has been the greatest influence on you?
My wonderful partner in life, Mr Mac. :-)
Thanks all for reading and hope you enjoyed!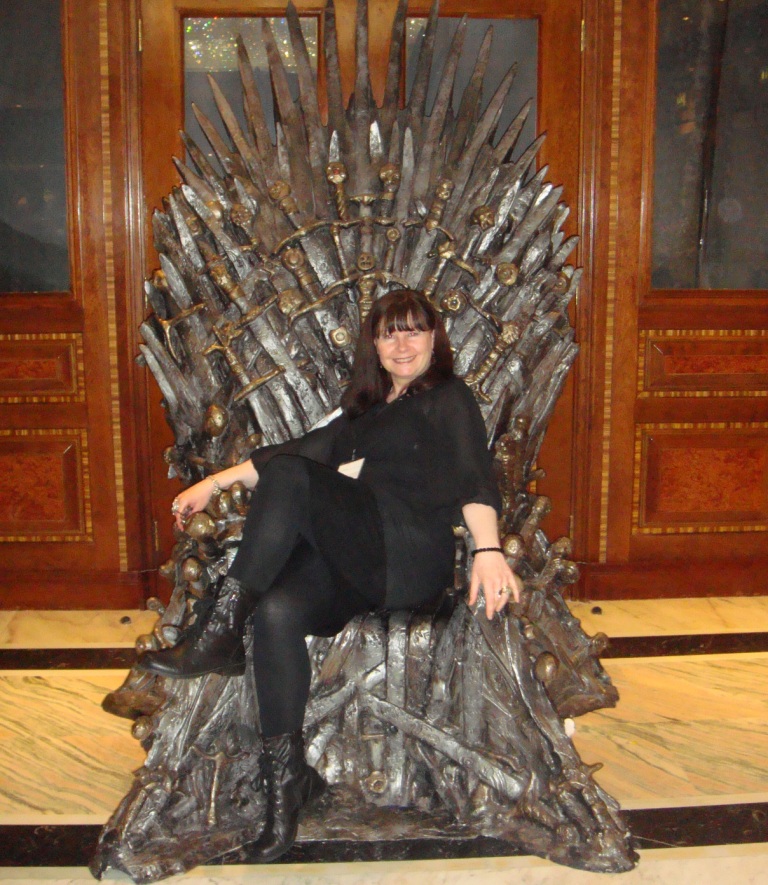 I was born in London, but spent most of my childhood in the Midlands. Since then I've been a bit of a nomad, having lived and/or worked in most parts of the UK. Now I'm settled on the South Coast about a mile away from the sea, along with my husband and our rescue dog, a geriatric German Shepherd/Lab, who doubles as a tummy on legs.

I write the Spellcrackers.com urban fantasy series about magic, mayhem and murder – liberally spiced with hot guys, kick-ass chicks and super-cool supes! I live on the sunny (sometimes) South Coast of England with my wonderful, long-suffering husband and our demanding, geriatric rescue dog.
Find Suzanne McLeod: Website | Blog | Facebook | Twitter | Goodreads
Sometimes a bit of magical help might cost more than you bargained for . . .

London is hosting the Carnival Fantastique, and Genny's job has never been busier or more fulfilling. Only not everyone is so happy. The fae are in trouble again and Genny learns the mysterious Emperor may have the solution they need – if Genny can find him.

Genny needs help. She turns to the vampire, Malik al-Khan, only to find he's wrestling with his own demons. Genny's own problems are about to multiply too. An old flame arrives with a tragic situation, just as the police request her urgent assistance with a magical kidnap. Is it all unconnected, or can the Emperor help her solve more than the fae's troubles?
Out August 30th! Pre-order The Shifting Price of Prey now!

a Rafflecopter giveaway

Giveaway provided by Suzanne McLeod. By entering this giveaway, you are agreeing to the rules set by our Giveaway Policy. Ends 08/18 As long as Book Depository ships to you.
Paperback Dolls is made up of women from different parts of the world, with different backgrounds, different tastes and beliefs that were brought together through a love of reading. We like to think of ourselves as a cyber version of "The View" that focuses on books, authors, and reading. We are proof positive that one common love can unite the most opposite of people and form lasting friendships that introduce other ways of life and perspectives to each other.
Paperback Dolls