Home » Authors, Features, Guests, Interviews, Kami Garcia, Smart Chicks Kick-It
Smart Chicks Kick It 2.0: Interview with Kami Garcia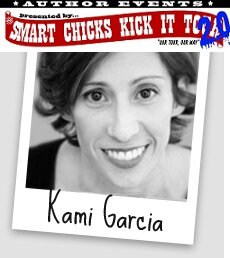 What made you decide to participate in the Smart Chicks Kick It Tour this year?
I was invited on the Smart Chicks Kick It Tour last year, and it was more fun than anyone should be allowed to have on tour. It was an honor to be included with my favorite authors, and when I was invited again, I jumped at the chance.
Do you have a favorite memory from last year's tour?
There were too many to count. But I did meet Cassandra Clare for the first time wearing my UNC pajamas (Melissa Marr dared me), and I ate lunch with Melissa Marr, Kelley Armstrong, Holly Black, Cassandra Clare, Margaret Stohl, and Rachel Vincent in those pajamas.
What are you most looking forward to on the tour this go around?
I'm excited to meet so many new YA authors, and see readers with ENTHRALLED, the anthology that Melissa Marr and Kelley Armstrong edited, featuring lots of Smart Chicks from last year's tour. I'm proud to have a story in it as well.
One thing is for certain…there are some amazing authors on this tour with awesome books… Do you find time to read books by any of your fellow authors on tour? If so, who?
I try to read as much as I can, generally several books a week when I'm not writing and revising. And I'm proud to say that I've read the work of every woman on Smart Chicks Kick It 2010 and 2011.
What is next for you?
The third book in my series with co-author Margaret Stohl, Beautiful Chaos, is coming out on October 18th, and the final book in The Beautiful Creatures Novels will release fall of 2012. I recently sold the first two books in my solo series The Legion to Little, Brown. UNBREAKABLE (Book 1) will release in fall 2013, and the film is currently in development with producer Mark Morgan (THE TWILIGHT SAGA & PERCY JACKSON AND THE OLYMPIANS). I am also an active producer on the film, which is exciting.
For more information on Kami Garcia and her work please visit her website: www.kamigarcia.com
Paperback Dolls is made up of women from different parts of the world, with different backgrounds, different tastes and beliefs that were brought together through a love of reading. We like to think of ourselves as a cyber version of "The View" that focuses on books, authors, and reading. We are proof positive that one common love can unite the most opposite of people and form lasting friendships that introduce other ways of life and perspectives to each other.
Paperback Dolls