Home » Doll Noa, Meet the Dolls, On My Wishlist
On My Wishlist (#4) Noa
On My Wishlist is a fun weekly event hosted by Book Chick City and runs every Saturday. It's where we list all the books we desperately want but haven't actually bought yet. They can be old, new or forthcoming. It's also an event that you can join in with too – Mr Linky is always at the ready for you to link your own 'On My Wishlist' post. If you want to know more click here.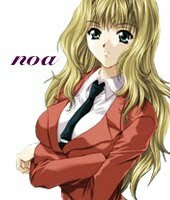 For me, this week's wishlist is all about making a start on my TBR pile. The last few weeks have been crazy hectic for both good and bad reasons.
The good involves me becoming an aunt for the 14th time (Yay to baby sis for having a beautiful baby girl)the bad is just real life making its presence felt. So my wishlist? I just wish to finally get to read the following:
Author: Darynda Jones
Book: Third Grave Dead Ahead (Charley Davidson #3)
Release: January 31 2012

 
 
Paranormal private eye . Grim reaper extraordinaire . Whatever . Charley Davidson is back ! And she's drinking copious amounts of caffeine to stay awake because every time she closes her eyes she sees him : Reyes Farrow , the part-human , part-supermodel son of Satan .

Granted she did imprison Reyes for all eternity , but how is she supposed to solve a missing-persons case , deal with an ego-driven doctor , calm her curmudgeonly dad , and take on a motorcycle gang hell-bent on murder when the devil's son just won't give up on his plan of seduction….. and revenge ?
Author: Julia Quinn
Book: A Night Like This
Release: May 29 2012

 
 
Anne Wynter might not be who she says she is…

But she's managing quite well as a governess to three highborn young ladies. Her job can be a challenge — in a single week she finds herself hiding in a closet full of tubas, playing an evil queen in a play that might be a tragedy (or might be a comedy—no one is sure), and tending to the wounds of the oh-so-dashing Earl of Winstead. After years of dodging unwanted advances, he's the first man who has truly tempted her, and it's getting harder and harder to remind herself that a governess has no business flirting with a nobleman.

Daniel Smythe-Smith might be in mortal danger…

But that's not going to stop the young earl from falling in love. And when he spies a mysterious woman at his family's annual musicale, he vows to pursue her, even if that means spending his days with a ten-year-old who thinks she's a unicorn. But Daniel has an enemy, one who has vowed to see him dead. And when Anne is thrown into peril, he will stop at nothing to ensure their happy ending
Author: Jacqueline Winspear
Book: Elegy for Eddie (Maisie Dobbs #9)
Release: March 27 2012

 
 
In this latest entry in the acclaimed, bestselling mystery series, Maisie Dobbs takes on her most personal case yet, a twisting investigation that will take her across London, from her childhood neighborhood to the highest echelons of power.
Now, all I need is a quiet place to read…
Well, what's on your wishlist this week? Share in the comments!
Noa first fell in love with books when she discovered 100 acre wood and its inhabitants. To this day, the last pages of "The House at Pooh Corner" make her cry. In a good way. From"Calvin and Hobbes" to "The Iliad and the Odyssey" and lets not forget "Martha Stewart's Cupcakes". Biographies, mysteries, history books and romances all have a place on her bookshelves. Who needs furniture? This 29 year old singleton's dream is to invent the zero-calorie chocolate. But until that day arrives, she tries to create sweet confections with whatever chocolate she can find. An MA in conflict studies (need a mediator?) means Noa loves a good debate, especially when she wins. If she were in charge, books would be free for everyone.
Doll Noa