Home » Authors, Doll Lil, Joanne Kennedy, Reviewers, Reviews
ARC Review: Cowboy Crazy by Joanne Kennedy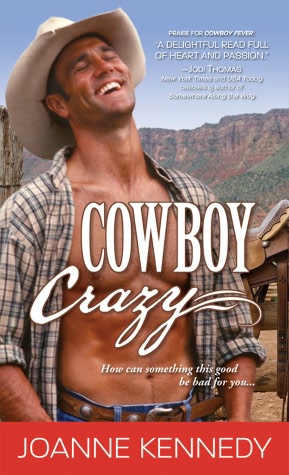 Author: Joanne Kenndey
Title: Cowboy Crazy
Release Date: June 1, 2012
Reviewer: Doll Lil
Source: Source Books, Inc.
Purchace: | Barnes&Noble

From stable to boardroom…

Sarah Landon's Ivy League scholarship transforms her from a wide–eyed country girl into a poised professional. Until she's assigned to do damage control with the boss's rebellious brother Lane, who's the burr in everybody's saddle. He's determined to save his community from oil drilling, and she's not going back to the ranch she left forever. Spurs will shine in this saucy romp about ranchers and roots, redemption and second chances.
 
I have to admit it took me a couple times to get into this book, but I blame since I've been on a Cat and Bones marathon and it was quite the switch from one genre to another. The final time I picked up this book I couldn't remember why I had put it down in the first place. I thoroughly enjoyed Cowboy Crazy.
The characters for me were full of what real people are: love, laughter, and contradictions. I love complex characters but I'm also drawn to people who know their minds. I liked Lane because he knew what he wanted straight away and poor Sarah who maybe, just maybe had enough baggage to keep her from finally letting go and loving someone. Stubborn women and the alpha cowboys who love them, I've always been a fan.
The backdrop of Cowboy Crazy isn't something I'm overly familiar with but the way Kennedy made the town of Two Shot it's own characters is a plus in my book. It gives the reader a complex landscape to explore as the characters interact and discover what they want out of life and love. Lane's brother Eric Carrigan had me laughing, lusting, and scratching my head. I would love to see him get his own story where it's get knocked down a peg or two by a cowgirl.
I'm not going to come out and say this is my favorite book of the year but I am glad I read it. There was chemistry between the Lane and Sarah and darn it if my husband didn't find me squirming and completely enthralled more than once. I have to recommend a book that makes me laugh, groan, and talk out loud to the characters and Kennedy got me to do all three! In the end I kept myself up late so I could see how Lane and Sarah finally figured out how to be together and I'm not sorry I did. ;)
Lil is an avid reader who gave up TV so she could greedily read every book she could get her hands on. In the process she discovered a love for contemporary romance heavily laden with humor. Lil is formerly a True Blood blogger who discovered there is more to the world than her annoying love/hate one-sided relationship with the writers of TB. She credits JR Ward for pulling her from the two dimensional world of TV viewing.
Doll Lil