Home » Authors, Guests, Interviews, J.C. Daniels, Shiloh Walker
Interview: Blade Song by J.C. Daniels
 
BLVR:  J.C. how would you compare yourself to Shiloh Walker?


JCD: This is a weird question to answer…lol…we're both the same person. I've never written one kind of story. My romances have always ranged all over the place from contemporary to fantasy to futuristic and stepping outside the romance genre to try my hand at UF is something I've always wanted to do so this isn't an odd step for me. I don't really know if there's a comparison to be made, because we're both me. The J.C. Daniels books are mostly going to be my 'smaller' books…stuff that will not be going to my mainstream publishers and since I had the plans to launch the new UF series, it made since to start things off under that name.
BLVR: Shiloh is a pretty big fan of Star Wars. Do you share this interest as well?
JCD: Everybody loves Star Wars… right? You mean there are people who don't? O.O

BLVR: You introduced us to Kit Colbana almost 2 years ago in a short story "A Stroke of Dumb Luck". Did you always envision Kit having her own series?
JCD: I wanted to play with it more, yes. It just took a long, long while to make it happen.
BLVR:  BLADE SONG is self-published? Why did you choose to self-publish BLADE SONG? How did you come to choose Amazon.com's self-publishing platform?
JCD: It's not just going to come out from Amazon. It's also going to be available on Nook, iBooks, through Smashwords, ARe and a number of digital distributors. Plus, it's in the process of be readied for print distribution as well. I didn't set out to self-publish it, but I wasn't having any luck selling it to my traditional publishers so I decided to o it solo.
BLVR: Kit is a young heroine – very early 20′s. Although Kit's been on her own since she was 15, she is still young and at an age where many women are beginning to really establish themselves both professionally and with regards to romantic relationships. What attracted you to creating a young heroine?
JCD: Kit is actually in her mid-twenties. I didn't really set out to create anybody based on their age. Kit just is she is.
BLVR: Can we talk about Kit & Damon? Kit is a victim of child abuse and in many ways her relationship with Damon is abusive as well – at one point he even attacks her physically. Why did you choose this kind of relationship for Kit?
JCD: I prefer not to answer this… it's too hard to go into detail without spoilers for the book. I don't see it as an abusive relationship, but explaining the world building here–witches are a match for a shifter, and Damon thought that's what he was dealing with with Kit, and trying to explain everything else about this one scene, involves a lot of material that would be spoiler-ish for the book…I can't explain all the motivation behind both characters without ruining stuff for readers who haven't read it…I hope you understand.
BLVR: The world you have created for BLADE SONG is robust & exciting! I love the witches!!! Did you love writing them?
JCD: They were fun, yes…the best one is yet to come, though. Hopefully I'll have a chance to introduce him in the next book.
Paperback Dolls would like to thank J.C. Daniels for taking the time to answer our questions!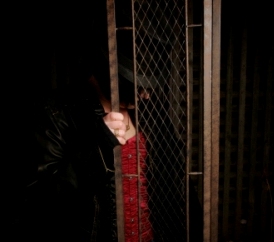 They always say to tell a little about yourself! I was born in Kentucky and have been reading avidly since I was six. Writing became more my focus in middle school-I had a very boring teacher and voices in my head. There was also a book that didn't end the way I wanted it to end-don't ask me the book, because I don't remember. I just remember I started writing. I never stopped.

About me now… hmm… I've been married since I was 19 to my high school sweetheart and we live in the mid-west. I started writing full time in 2004, which lets me write during the day and still devote more time to my family- three adorable children who are growing way too fast and my husband who doesn't see enough of me.

I like to read. There's a shocker!

This list will vary, a lot, but personal faves include Nora Roberts, Stacia Kane, Ilona Andrews, Kresley Cole, Julie James, but my all time favorite is SL Viehl. She writes sci fi and romance, but my favorite of hers is the sci fi series Star Doc. If you haven't read them, I think you're missing out.
Find J.C. Daniels: Website | As Shiloh Walker | | |
Kit Colbana—half breed, assassin, thief, jack of all trades—has a new job: track down the missing ward of one of the local alpha shapeshifters. It should be a piece of cake.

So why is she so nervous? It probably has something to do with the insanity that happens when you deal with shifters—especially sexy ones who come bearing promises of easy jobs and easier money.

Or maybe it's all the other missing kids that Kit discovers while working the case, or the way her gut keeps screaming she's gotten in over her head. Or maybe it's because if she fails—she's dead.

If she can stay just one step ahead, she should be okay. Maybe she'll even live long to collect her fee…
Blade Song is in stores now!
ARe | Smashwords | | BN | iBookstore | Kobo
Paperback Dolls is made up of women from different parts of the world, with different backgrounds, different tastes and beliefs that were brought together through a love of reading. We like to think of ourselves as a cyber version of "The View" that focuses on books, authors, and reading. We are proof positive that one common love can unite the most opposite of people and form lasting friendships that introduce other ways of life and perspectives to each other.
Paperback Dolls