Home » Authors, Carrie Clevenger, Doll Suz, Reviewers, Reviews
ARC Review: Crooked Fang by Carrie Clevenger
Submitted by Doll Suz on August 17, 2012 – 9:14 am
4 Comments
Author: Carrie Clevenger
Title: Crooked Fang
Release: August 20th 2012
Series: Crooked Fang 1
Reviewer: Suz
Source: Author
Purchase: Lyrical Press | | Create Space

Sometimes a vampire's past can bite him in the ass.

Xan Marcelles–bassist for Crooked Fang, vampire and full-time asshole, is content with his quiet existence in the backwoods of Pinecliffe, Colorado. But life at the Pale Rider tavern is set to become a little more complicated when he gets entangled with a feisty, blue-haired damsel and her abusive soon-to-be ex-boyfriend.

To add to his woes, he's gone from hunter to hunted, and his past returns to haunt him when a phone call draws him back to New Mexico. With the help of friends from his living past, he must get to the bottom of a murder, and figure out where he stands with his lover and his band, all while keeping one step ahead of his enemies. Hiding won't be easy for him, especially with a mysterious woman dogging him every step of the way.
Xan Marcelles is not your average vampire.  Well, that's not exactly right.  Perhaps the primary thing that makes Xan Marcelles different from most of the vampires you are likely to read about in contemporary paranormal romance or urban fantasy is that Xan is so "normal" it's kind of unnatural.  He's a gritty, heady mix of biker/ musician hottie next door and badass vampire trying very hard to just stay off everyone's radar.  There will be no ruffled poet shirts here.  Expect lots of whiskey and cigarettes, Harleys and muscle cars, and references to rock music that will span most of the history of rock.  He's also got a low tolerance threshold for bullshit, but that doesn't stop him from ending up in it.
Oh yeah, did I mention he's a hottie musician?
He hasn't been a vampire long enough to be ancient but he's been around long enough that if he looked his age some of the groupies that hang around would probably call him middle aged, or maybe even an old guy.  He's still in a place where he has to be careful because people from his mortal life are still alive and can still recognize him, but it's been long enough that seeing him unchanged would cause a lot of questions.  We get hints of his early life as a vampire and those hints coupled with many other insights that are revealed throughout the course the story tell us that this world has a lot of intrigue and danger, but we hover around the edges of that world in this book.  Even on the edges there is enough dangerous activity to let us know that Xan is no fool for wanting to keep his head down.
As his band continues to get better known keeping his head down gets harder, demand for their performances increases and the band is chaffing at Xan's bit.  But Xan just wants to be a small, local house band where he can play the music that he loves and have access to a sip here and there as his need dictates.  Fame and notoriety, and his band members, have other ideas though.
While Xan would like us all to believe he's an asshole he also has a very large streak of the white knight in him.  He's pragmatic enough to know that it's this streak that is as likely to get him into trouble as anything but insightful enough to realize that it's also a part of him that keeps him connected to his humanity, so it's another fine line he tries to walk with varying results.  In this book his white knight will get him involved with a human woman with significant boyfriend problems and it will send him out on the road to try to help solve a mystery concerning some people from his mortal life.  In the process he'll learn things about his own world that will shake up what he thinks he knows about his reality and about himself.
This book read like it was laying the groundwork for a series. That's not to say that it was all world building because just the journey was engaging and fun.  But by the end I had more questions than when I started even though the primary mystery that sent Xan out of town was solved.  Xan is the kind of character that draws you in but you can't figure out why, like that guy in the local band who isn't living large and you certainly don't feel star struck but somehow he still commands your attention.  That's Xan Marcelles, unwilling and undiscovered rock star that makes his own rules and doesn't really give a fuck who likes it or not.
Did I mention he's a hottie musician?
Don't be confused when you start looking for this book.  There are two covers, one for the ebook, shown above, and one for the dead tree book, shown below.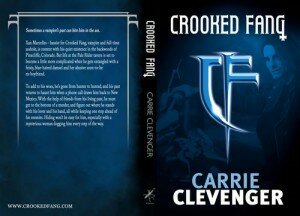 Although this book is set to release on August 20, 2012, it's been available for download on Amazon since August 16, so you can get it now if you just can't wait (I wouldn't wait).
If you'd like to get a free taste of Xan then take heart!  Clevenger teamed up with author/ editor Nerine Dorman, who wrote my previously reviewed Inkarna, to do a back-and-forth writing style novella entitled .  Featuring Xan written by Clevenger and a female romance author written by Dorman, the distinct writing styles come together in a compare/ contrast sort of way that is fun and will leave you wanting to know more about Xan.  It's a tasty first look at the character and the world.  You can find this free download at and Smashwords.
Suz has a grown son, two grandsons, a degree in graphic design and loves both computer and studio fine arts. She reads a lot. She's not very good at diplomacy, most people find her abrasive. She grew up cutting her teeth on high fantasy (and low?) ala Anne McCaffrey and science fiction ala Robert Heinlein. She's gone through bouts of Stephen King and the like being her focus, too. But for several years now she's been stuck in Urban Fantasy and Paranormal Romance. She must admit that she is most often scornful of the Paranormal Romance, constantly hoping to find that rare offering that breaks the tropes and molds but cynical and a bit condescending if she doesn't find it. If you see that from her, it means she was too hopeful for the book and ended up disappointed, not scornful of the genre.
Doll Suz