Home » Articles, Doll Mona Leigh
Doll Mona Leigh gets excited over RT 2013!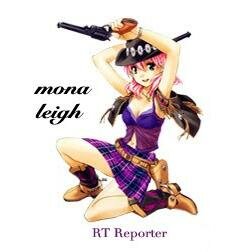 It's that time of year again…time to make plans to attend the 2013 Romantic Times Booklovers Convention. Now that a few months have passed since RT 2012, I thought I'd pass on my experiences at this year's convention. In the past, I've volunteered a little, but mostly attended the Aspiring Writers classes held prior to the convention followed by workshops and parties once it kicked off. This year, I decided to volunteer a lot. They always need extra hands, so I felt it was time to give something back. Here is my behind the scenes peek at RT.
I arrived in Chicago Sunday afternoon, got settled in my room, then went in search of the office to volunteer my services. After wandering aimlessly through the hotel, I found where all the activity was taking place. I was immediately put to work stuffing registration bags with everyone else.
Let me tell you, this may sound simple and easy, but it's not. Boxes upon boxes of books, bookmarks, postcards, flyers, and promo items are stacked against the walls and between the rows of tables. They have to be opened and everything in them sorted and stacked. Then the items must be arranged in order so they can be stuffed in each bag without crushing anything else. A thousand of these bags had to be zipped shut and packed neatly in boxes ready to transport to the sign-in tables. I think we finished sometime after midnight, but ended up running short during registration and had to make more.
Of course, what are the chances of all the correct items arriving at the right time? You got it….slim and none. When the missing books and promos did arrive, someone had to unpack all one thousand bags and add the new material. This meant that valuable time and manpower was lost. I figured everyone would be ranting and raving, but no, they took it in stride and went to work.
Honest to God, the RT staff has the patience of Job. Books and promo items were late or misdirected by the hotel staff, but never once did I see anyone lose their temper. Instead, I was surrounded by good-natured kidding, laughter, and camaraderie. No matter the potential for disaster, people were polite to one another.
There were scads of events that required "goody bags" and all of them had to be filled. Rooms had to be prepared and decorated, books stacked and organized, bags delivered to the correct rooms, and hundreds of other details attended to. It was sometimes backbreaking, tedious work, but it all had to be done. And it was. Yet, as hard as everyone worked, no one complained.
I was given the honor of working at J.R. Ward's table during the huge Book Fair and at Sophie Jordan's during a publisher's event. Poor Sophie….I was so brain dead that I forgot to open the books for her to sign for at least half of the event. But she was gracious about it and didn't condemn me to the dungeon. The Warden was fantastic. She has a great sense of humor and she's not afraid to use it.
Some of you have attended conventions like RomCon, Comic-Con, DragonCon, and even RT, but many more of you haven't so let me tell you what you'll find at the RT Booklovers Convention.
Just as the name implies, it celebrates anything connected with books. Events are scheduled for readers, writers, librarians, and booksellers and tailored specifically for them. You'll also find publishers, editors, agents, and plenty of other industry-oriented people. Thousands of books are given away, and hundreds of authors are available for autographs.
If you write, this is the perfect place to hone your craft. The writing workshops are awesome. The Agents & Editors forum lets you know what to expect from them, what they're looking for in a book, and tips and guidelines on taking all the right steps to get published.
This year, RT hosted Pitch-a-Palooza, and I can't say enough about this workshop. The walls of a ballroom were lined with tables. Agents and editors manned these tables listening to writers pitch their manuscripts. In the center of the room were four professionals ready to help the writers tweak their pitches.
I went through the tweaking process, and I'm so glad I did, because it made all the difference in the world in my pitch. Because of the professional feedback, I received two manuscript requests.
Aside from the books and workshops, there are parties every evening. Something is scheduled for nearly every waking minute, and it helps if you prioritize. First, go through the itinerary. Decide what's most important to you – what will help you the most – then pick your first, second, and third choice for each time slot. There's a reason for this: Your first choice class may be full by the time you get there or you may have covered the same info in another workshop. Since you picked a second choice, you can head on over without having to read through the schedule again. Simple.
If you're into costumes, there's ample opportunity to dress up. Many of the evening events are costume optional, and many people like to dress up just for the fun of it even during the day. You'll see lots of steampunk, fairy, vampire, and even pirate costumes that range from simple to extravagant. Be sure to bring your camera.
Expenses for the event can be as reasonable or outrageous as you want. Hotel rooms can be shared, you can bring snacks and drinks, and like I said, costumes are optional. If you're serious about books – reading or writing – you should attend RT at least once.
The friendships I made at RT remained even after the event was over. We may not correspond every day, but Facebook is a wonderful way to stay in touch. I've already signed up for RT 2013 and reserved my hotel room. The event will be held in Kansas City at the Sheraton Kansas City Hotel at Crown Center.
To find out more, just go to www.rtconvention.com and be sure to check out last year's pictures while you're there. We had a blast.
Mona's first grade teacher, Mrs. Stanford, gifted her with the love of reading. For that, she'll always live in her heart. But reading took over Mona's life, eclipsing everything but playing sports, and has continued to be a huge part of her life. Although she has always written poetry and stories for her self, last year she decided to try her hand at writing fiction. She is currently editing her first urban fantasy and hopes to have it ready for the agent by summer's end. Besides reading, Mona loves speed in the form of fast cars. The faster, the better! In her next life, she plans to drive race cars (or whatever happens to be their replacement in the future) all while reading and writing. She has also taken up rune reading, and find it to be disturbingly accurate and exciting.
Doll Mona Leigh