Home » Authors, Christie Ridgway, Doll Lil, Reviewers, Reviews
Review: Bungalow Nights by Christie Ridgway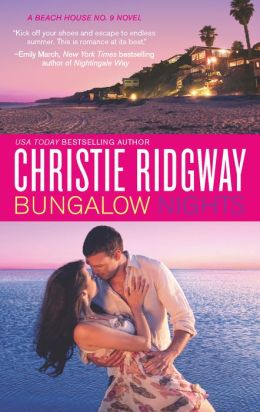 Author:Christie Ridgway
Book:Bungalow Nights
Release: 2/26/2013
Series:Beach House #9
Reviewer: Doll Lil
Source:Publisher
Purchase:/B&N

Combat medic Vance Smith made a promise to a fallen officer: to treat the man's young daughter to an idyllic vacation at Beach House No. 9. One month, some sun and surf, a "helmet list" of activities to check off and Vance will move on. But the "little girl" he's expecting turns out to be a full-grown woman. With silky hair, big brown eyes and smelling sweetly of the cupcakes she makes for her mobile bakery, Layla Parker is irresistible. And Vance shouldn't lay a finger on her. Honor—and one heck of a scarred heart—says so.

To Layla, Vance is a hero who was injured trying to save her father's life. She intends to spend their month of lazy days and warm nights taking very good care of the gorgeous soldier—inside and out….
I don't know about everybody else but I'm ready for some hot days and a summer full of steamy nights. It's darn cold here in Florida and I have been looking for a way to warm up. Christie Ridgway's Bungalow Nights definitely raised my temperature. This book is the second in the miniseries Beach House #9. It's a smart, funny contemporary romance, with Ridgway's knack for writing some very fulfilling sexy moments. If you are a fan of Susan Elizabeth Phillips, Jill Shalvis, or Rachel Gibson you will want to add Christie Ridgway to your TBR.
Christie Ridgway way is everything I love in an author. She not only pulls you deep into the story right from the start she keeps you present in the story until the end and you can't help but to feel the push and pull between her characters. Bungalow Nights's Vince is a super hot military man and let's be honest what is sexier than a man who puts his life on the line to save others? And in the case of this Combat Medic, goes beyond his expected duties to fulfill a promise made to a dead man. He's all about honor and loyalty and I love that. He's also an alpha and I think by now everyone knows I love that.
Ridgway also is great at writing female characters. They are never whiney, narcissistic, princess types that blame EVERYONE else for their problems. So many times I have put books aside because the female lead has me so annoyed I can't enjoy the story and for me there are only a handful of writers who are truly successful at expressing angst, turmoil, or heartache without making me roll my eyes and burst out with a "Seriously? WTF!" no matter where I am (I can't tell you how many times I've been dubbed "The Crazy Book Lady" for yelling openly at a book or my Nook).
The secondary love story in BN is just as much fun as Vince and Layla's story. I simply adore Baxter. And Addy has become one of my favorite supporting characters ever. I don't know what it is about her but I fell in love with her. The setting for this series has sucked me in deep too. I want to vacation on that beach. Laze around in the sun, watch the man candy pass by, and hang out with a fun bunch of women while we drink wine and eat cupcakes next to a roaring surf side fire. It's time to start putting your summer reading list together and this is a must have on your list!
Lil is an avid reader who gave up TV so she could greedily read every book she could get her hands on. In the process she discovered a love for contemporary romance heavily laden with humor. Lil is formerly a True Blood blogger who discovered there is more to the world than her annoying love/hate one-sided relationship with the writers of TB. She credits JR Ward for pulling her from the two dimensional world of TV viewing.
Doll Lil