Home » Authors, Doll Desilula, Reviewers, Reviews, Tera Lynn Childs
Teen Review: Goddess Boot Camp by Tera Lynn Childs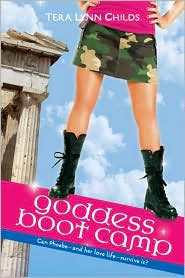 Author: Tera Lynn Childs
Book: Goddess Boot Camp
Series: Oh. My. Gods! 2
Release: June, 2009
Source: Personal Library
Purchase: – Book Depository

Seventeen-year-old Phoebe has recently learned that she's a descendant of Nike (the goddess, not the shoe). Now, in order to learn to control her newfound – and very strong – powers, she's being forced to attend Goddess Boot Camp. The only problem is, none of the other campers is over the age of ten! It's not going to be easy to survive camp, train for the Pythian Games, and keep her romance with Griffin going strong, but goddess help her, Phoebe is determined to make it work!
In the sequel to ., Goddess Boot Camp picks up pretty much where the first book left off. Diving right back into Phoebe's life proves to be even more fun and chock full of drama the second time around!
After landing the hottest guy on campus, getting a coveted spot on the track team and coming to grips with her new life in Greece and her new powers– Phoebe just can't seem to catch a break. Every time she starts to get her crazy life situated another obstacle gets in her way-this time it's many different obstacles.
For starters, Phoebe's powers are running amok. Because she can't seem to get a grip on them her step dad sends her to boot camp with a bunch of kids! Now, before I get too ahead of myself let me explain. Phoebe came into her powers and knowledge of them later in life. Most kids born into the godhood grow up learning about it and have a much better grasp on their powers by the time they are Phoebe's age. But, because our heroine didn't have that luxury she is stuck playing catch-up and it is very important that she harnesses her powers sooner rather than later. However, it may be easier if the added pressure of her new stepsister being a counselor their weren't weighing heavy on her shoulders.
The boot camp isn't the only stress Phoebe has going on either. There is an upcoming tournament (Pythian Games) that is important to her but her time is stretched thin as it is. Plus–It's ain't easy being the new girl and it's never easy when you fear your hunky boyfriend may be straying. Is it just stress causing her insecurities or something more? Tera Lynn Childs does a nice job of plotting the story and tying up all the loose strings to give readers a satisfying resolution.
With all the teenage drama and emotional highs and lows this book is a super fun and fast summer read that is quirky and cute with easy to love characters, a twist on mythology and a beautifully described setting of the Greek Isles! Fun, fun, fun!
Also Reviewed By: – Bla Bla Books –
Desilula is our resident "Tween" who helps give us insight to all the Young adult and children's books from the perspective of....well...a young adult. She loves to read and write and absolutely hates math! Her favorite books include classics like "Little Women" and "Alice in Wonderland", but she is hip with all the latest young adult books including her favorite, "Hunger Games"! She enjoys hanging out with friends and doing activities like swimming, skate boarding, climbing trees, and performing in plays or musicals. She plays a little piano, and a little guitar (mostly power chords;)) and has played in a band. She loves animals and plans to travel the world someday!
Doll Desi