Home » Doll Suz, Features, Interviews, Meet the Dolls, Paperback Proust, Reviewers
Get to Know… Doll Suz
Submitted by Doll Suz on July 15, 2011 – 8:00 am
7 Comments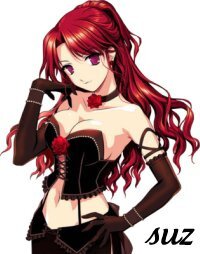 Hi! I'm Suz and the questionnaire below is my offering to you. There's not reall a lot to say about me. I have a grown son, I have two grandsons, I have a degree in graphic design and I love both computer and studio fine arts. I read a lot. I'm not very good at diplomacy, most people find me abrasive. I grew up cutting my teeth on high fantasy (and low?) ala Anne McCaffrey and science fiction ala Robert Heinlein. I've gone through bouts of Stephen King and the like being my focus, too. But for several years now I've been stuck in Urban Fantasy and Paranormal Romance. I must admit that I'm also most often scornful of the Paranormal Romance, constantly hoping to find that rare offering that breaks the tropes and molds but cynical and a bit condescending if I don't find it. If you see that from me, it means I was too hopeful for the book and ended up disappointed, not scornful of the genre.

Anyway, I'm looking forward to sharing some of my thoughts with folks and hopeful that folks will find my perspective helpful, warts and all. :)

Warmest Wicked Regards,
Suz
WHAT IS YOUR GREATEST FEAR?
The Borg.
WHAT IS YOUR CURRENT STATE OF MIND?
It's 5:00 a.m., I have no mind.
WHAT IS YOUR FAVORITE OCCUPATION?(WAY OF SPENDING TIME)
Reading, but it has at other times been things like motorcycle road racing, snowboarding, having sex and/ or making love, rock climbing, watching movies, writing, pottery. The answer to this question changes often.
WHAT HISTORICAL FIGURE DO YOU MOST IDENTIFY WITH?
Grigori Rasputin. Now that's tenacity!
WHICH LIVING PERSON DO YOU MOST ADMIRE?
I'm too cynical to admire people other than briefly and fleetingly for actions, and because of that who I admire at any given time depends on where my mind is in that moment. Right now? I admire Kitt for putting up with my late deadlines.
WHO IS YOUR FAVORITE FICTIONAL HERO?
Lazarus Long by Robert Heinlein. How many people can claim to be their own grandfather?

WHAT IS YOUR MOST TREASURED POSSESSION?
At the moment it's a toss up between my Sony Touch PRS-650 ereader and my 7 year old, out of date, computer.
WHEN AND WHERE WERE YOU HAPPIEST?
That answer changes depending on my mood and what I'm reflecting on too. Most of the answers are rather private.
WHAT IS YOUR MOST OBVIOUS CHARACTERISTIC?
I'm overly forthright and it makes me abrasive.
WHAT IS THE TRAIT YOU MOST DEPLORE (HATE) IN YOURSELF?
I like to think I'm a bit more compassionate with myself than I have been in the past and therefore don't really hate anything. However, I'm not very good at knee-jerk compassion and would very much like to replace any knee-jerk defensivism I might have with a knee-jerk compassion for the person I'm arguing with. The presumption is that I'm bothering to argue because I care about the other person, particularly since I'm most likely to just walk away from a conflict considering it inconsequential. But even though I care about the other person, if they lash out or say or do something that is hurtful I end up being defensive and that never helps. I'd like to learn to just suck it up, take the hurt, and give back the compassion that is my truth for the person I care about. I'm not afraid to fight, I'm tired of fighting.
Interesting that this is the longest response in this questionnaire, yes? :)
WHAT IS THE TRAIT YOU MOST DEPLORE IN OTHERS?
Seven layers of diplomacy to say something mean or snarky. At least have the balls to own it, dammit!
WHAT IS YOUR GREATEST EXTRAVAGANCE?
Books (specifically, ebooks).
WHAT IS YOUR FAVORITE JOURNEY?
The journey that gently ends with me being better for having taken it. More compassionate, more informed, wider perspective – just better.
WHAT DO YOU MOST DISLIKE ABOUT YOUR APPEARANCE?
The diabetic weight gain. No wait, the grey hair. No wait, the aging skin. No wait…
WHAT DO YOU CONSIDER THE MOST OVER-RATED VIRTUE?
Monogamy that's more about sex than honesty, integrity, and commitment.
ON WHAT OCCASION DO YOU LIE?
To a bureaucrat if it's most expedient.
WHICH WORDS OR PHRASES DO YOU MOST OVER-USE?
I, me, mine.
IF YOU COULD CHANGE ONE THING ABOUT YOURSELF, WHAT WOULD IT BE?
I'd like to be able to say that I never lashed out at anyone in anger. I'm not as prone to it as I was when I was younger, but I was very good at it when I was younger.
WHAT DO YOU CONSIDER YOUR GREATEST ACHIEVEMENT?
Raising my son.
WHERE WOULD YOU LIKE TO LIVE?
I'd like to travel more and get a sense of where, other than in America, I'd enjoy living now. I lived in Europe in various places when I was quite young, but haven't been back and wouldn't like to name a place I haven't been to in a while. The best option would be to travel around and live in various places for a while.
WHAT IS THE QUALITY YOU MOST ADMIRE IN A MAN?
The ability to balance emotion and action.
WHAT IS THE QUALITY YOU MOST ADMIRE IN A WOMAN?
The ability to balance emotion and action.
WHAT IS IT YOU MOST DISLIKE?
Onions.
WHAT DO YOU VALUE MOST IN YOUR FRIENDS?
Knee-jerk compassion. I have a few friends that can do that and I'm always in awe of it. When I knee-jerk its not usually with anything so pretty or admirable as compassion. I'm lucky to have been on the receiving end of it on occasion. It's a skill I'd like to acquire.
HOW WOULD YOU LIKE TO DIE?
In my sleep, preferably before I become too feeble to care for myself.
IF YOU WERE TO DIE AND COME BACK AS A PERSON OR AN ANIMAL, WHAT DO YOU THINK IT WOULD BE?
Someone or something that could afford to be reclusive and solitary.
IF YOU COULD CHOOSE AN OBJECT TO COME BACK AS, WHAT WOULD YOU CHOOSE?
Sorry…I got nothin' for this.
WHAT IS YOUR MOTTO (WORDS YOU LIVE BY OR THAT MEAN A LOT TO YOU)?
You can't trust any bureaucracy. They feed on their constituency to maintain their own perpetuity.
WHO HAS BEEN THE GREATEST INFLUENCE ON YOU?
Robert Heinlein, author.
That's the end? :)
Suz
Suz has a grown son, two grandsons, a degree in graphic design and loves both computer and studio fine arts. She reads a lot. She's not very good at diplomacy, most people find her abrasive. She grew up cutting her teeth on high fantasy (and low?) ala Anne McCaffrey and science fiction ala Robert Heinlein. She's gone through bouts of Stephen King and the like being her focus, too. But for several years now she's been stuck in Urban Fantasy and Paranormal Romance. She must admit that she is most often scornful of the Paranormal Romance, constantly hoping to find that rare offering that breaks the tropes and molds but cynical and a bit condescending if she doesn't find it. If you see that from her, it means she was too hopeful for the book and ended up disappointed, not scornful of the genre.
Doll Suz