Home » Authors, Giveaways, Guests, Interviews, Kitty Pilgrim
Interview and Giveaway: author Kitty Pilgrim
Today the Dolls are honored to welcome Kitty Pilgrim – who is making her literary debut with The Explorer's Code – out today (July 5).
Kitty has been a broadcast journalist for 24 years as a correspondent and anchor for CNN news. She rose through the ranks from production assistant to become an anchor in 1996.
She specializes in international affairs, reporting regularly on political and security developments in Russia, Venezuela, Cuba, Iran and North Korea, as well as domestic affairs.
Pilgrim anchored her own morning show, "Early Edition" in 1998-1999 and was back-up anchor for prime time broadcast of "Lou Dobbs Tonight" 2001-2010. Pilgrim is the recipient of an Overseas Press Club Award, a Peabody Award, New York Society of Black Journalists Award, and is a full member of the historic Explorer's Club. She is a single mother of two sons and lives in New York City and Rhinecliff, New York.
PBD: Welcome Kitty! As a veteran CNN reporter, what made you decide to make the move to writing?
KP: I used to read thrillers on the way to assignments. I would pick them up in the airports. I always knew I could write one, but as a single mom with two children and a demanding career, I never had the time. When the boys went off to college, I took a crack at it.
PBD: Have you written anything before The Explorer's Code?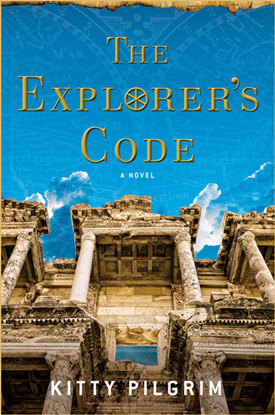 KP: This is my first full length novel. I had written quite a few short stores for my own amusement over the years. When my sons were little I would write poems for special occasions and I have an entire book of childrens' poems from those years. (never published).
PBD: How did those years as a news correspondent help (if at all) in writing this book?
KP: As a correspondent there was a lot of "on the ground reporting". I would go into a situation, find out the facts and spin it into a story, albeit a true story. Now I do the same thing in my fiction writing. I go somewhere, like the Ephesus, or the arctic, find out the facts and then spin it into a story – an imagined one. It is basically the same skill set with a different end product. My news career also helps with deadlines. I turned in a report every night at 5pm, no matter what. So now I find I can sit down and write without too much procrastination.
PBD: What was it that led you to choose this specific genre?
KP: I adore exciting, international intrigues. Also mysteries. I am a big fan of complicated plots, and was reading Sherlock Holmes avidly in the third grade. Agatha Christie addict in my teen years. During my news career, I read a lot of fast paced thrillers and it was really is the only thing I wanted to write. The only thing missing was romance. So I decided to do a hybrid romantic-thriller.
PBD: The Explorer's Code takes the readers to many glamorous (and less glamorous destinations) around the globe – Was there a lot of travelling involved in researching The Explorer's Code?
KP: I basically traveled to all the places in the book, Monaco, London, Paris, Ephesus, the English country estate, the Queen Victoria, and Svalbard. All that was done over the last few years. I travel constantly. Now I call it research. But who am I kidding, I would be traveling anyway.
PBD: Do the locations mentioned have any special meaning for you?
KP: Ephesus is magical. When you walk through the ruins, you are back in Roman times. The entire city was abandoned and buried. They are digging up the streets, and reconstructing them exactly as they were. I adore the Queen Victoria ocean liner and wrote a lot of the book on ocean liners. It is a relaxing place to write, and the view over the ocean is beyond compare.Also Paris. I went to school there when I was 16 years old. The romance of that city always stays in my heart.
PBD: Is there somewhere you have always dreamed of going?
KP: I have a very long list of places I want to go and it revolves around my moods. Sometime I want luxury, other times mystery, sometimes nature, or adventure. So I go where the heart prompts. Next on my list is the Amazon jungle in Brazil, possibly Ecuador, most likely Botswana.
PBD: Archeology, marine research, ecology, botany – where did the idea for such a versatile suspense novel come from?
KP: Part of the variety of subjects comes from my reporting days. I did a lot of reporting on scientific developments, articularly infectious diseases. I like using science as a theme in the novel. Most thrillers use some kind of plot device to propel the action. I wanted to use scientific fact to keep the plot moving. Using the natural sciences in the books also gives me an excuse to research obscure things. For example, I recently took a graduate level botany course at the NY Botanical Garden. What other excuse would I have for doing something that random, if it weren't to write a book?
PBD: There is so much going on in The Explorer's Code – plots, characters…as a writer do you find that you're more of a "plotter" or a "by the seat of your pants" – "pantser" writer?
KP: The Explorer's Code was plotted in detail before I even sat down at the computer. There is no way anyone could randomly write a complicated plot like that without thinking it through initially. Once the bones of the plot are in place, then I embellish with more color and details.
PBD: Do you believe a "Happily Ever After" is essential in a book?
KP: Not always. Life is not always like that. But I am by nature an optimist. I think that shows in the way I approach the interpersonal relationships in the plot. Good people may have flaws, but in the end they always tend to behave well. (Except the bad guys of course. )
PBD: Reading the Explorer's Code there are one or two characters I'm dying to know more about…could it be there is a sequel, or a book focusing on some of the supporting characters?
KP: I really love my characters. Of course Cordelia and Sinclair will always be in each book. Jim Gardiner and Paul Oakley are in the next book. (Charles Bonnard is going to reappear in the third.) Who can resist that supermodel, Shari. She was fun to write. I'll probably get her into something in the future. My most favorite secondary character in this book was Thaddeus Frost, who as a botanist has quite a future in my novels. I like his intensity.
PBD: Which leads me to: What's next from Kitty Pilgrim?
KP: The second of the series is nearly finished. I absolutely won't tell you anything else about it except the plotline involved ancient Egypt and mummies.
Now a few Paperback Proust questions!
What are you reading at the moment?
KP: I always read several at once. Jeanette Walls "Half Broke Horses." The new Le Carre novel "Our Kind of Traitor" and Sommerset Maugham's book – The Moon and Sixpence.
What characters in history do you most dislike?
KP: I couldn't dislike someone if I never met them. That said, I don't approve of the actions of a lot of historical figures who oppressed people. But that is obvious.
Who are your heroines in World history?
KP: That is so hard, there are so many fabulous women. Eleanor Roosevelt, Isak Dinesen, Beryl Markham, Amelia Ehrhart, Marie Curie, Elizabeth the first of England….the list is endless.
World history characters you hate the most?
KP: Too hard to say. There are lots of villains in this word. But I think Henry the Eighth was very badly behaved.
What is your motto?
KP: My motto is inscribed on a silver charm bracelet I wear. Sit Amour Dei (Latin for 'All for the love of God').
I have a personal motto not put limits on myself. I sign my author newsletter with the words
"Every day is an adventure"
What is your favorite journey?
KP: A transatlantic crossing on an ocean liner. It is so utterly peaceful. The High Arctic in winter. The last mile driving to my house in Rhinecliff.
What is your idea of perfect happiness?
KP: Being with the people I love. A quiet dinner at home, on a summer night, with the fireflies just starting to come out. Or sitting around a fireplace in the middle of a snowstorm, drinking hot chocolate and talking.
What do you consider your greatest achievement?
KP: Raising my two sons, on my own.
Thank you so much to Kitty Pilgrim for answering all our questions
For more about Kitty Pilgrim visit her Website and follow her on
- And now on to …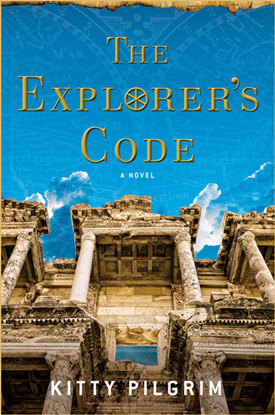 For your chance to win a signed copy of The Explorer's Code
all you need to do is share your own explorer adventure!
Even been to an exotic destination? Had a bit of an adventure?
Or maybe there is just somewhere special you want to visit?
Share in the comments!
The Explorer's Code is out today!
This contest will end July 16th. Winner will be chosen randomly and contacted via email
and announced in the Week In Review post Sunday July 17th.
Paperback Dolls is made up of women from different parts of the world, with different backgrounds, different tastes and beliefs that were brought together through a love of reading. We like to think of ourselves as a cyber version of "The View" that focuses on books, authors, and reading. We are proof positive that one common love can unite the most opposite of people and form lasting friendships that introduce other ways of life and perspectives to each other.
Paperback Dolls