Home » Authors, Doll Noa, Patricia Eimer, Reviewers, Reviews
Review: Luck of the Devil by Patricia Eimer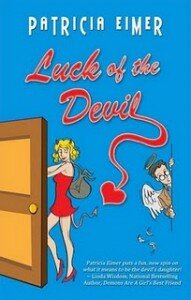 Author:Patricia Eimer
Book: Luck of the Devil
Release: August 2, 2011
Reviewer: Noa
Source: NetGalley
Purchase: – Book Depository

Being the youngest daughter of the Devil isn't all it's cracked up to be. Teenage rebellions and vows of chastity made just to upset dear old Dad are long in the past, and now all Faith wants is a nice, quiet life and a week-long vacation spent watching reruns.

Unfortunately, thanks to the unexpected arrival of her demonically-downsized sister, a ditzy succubus roommate, and a surprise visit from dear old dad, those hopes seems to be going up in flames. Now it's all Faith can do to keep the family reunion from Hell (literally) under wraps and the angelically-inclined hottie across the hall from realizing there's something weird about his neighbor.

And, thankfully, it's working. Until an angelic stalker shows up in a bid to steal her powers and take over the world. Forget watching reruns, with the way things are going, Faith will need the luck of the Devil just to survive until work next Monday.
This book caught my eye on Net Galley through Entangled Publishers and as you can see from the synopsis – it sounds like the perfect summer read.
In Luck of The Devil we meet Faith a nurse who happens to be the Devil's (AKA Satan) youngest daughter by a human woman, which makes her half demon (who annoys her dad by being a bit of a goody two shoes). When we meet her she is caught up in a bit of drama – if that's what you call a situation where your Succubus roommate has just literally sucked the life out of your boss.
With each chapter things seem to get dicey and even more dicey for Faith and we get to meet more members of the Satanic family – Faith's brother, who is also her roommate's maker and demanding boss appears, and he wants a cut from the recent killing, then her sister and brother in law move in after being ousted by a cult, her spiritualistic and annoying mother is in town and then there is dear old Dad.
If that isn't enough there is also her neighbor who seems to be more aware of all these hellish goings on than he's supposed to be – so why is Faith so attracted to him?
This book was a fun breezy read and Ms. Eimer's world where good and evil are related and very relative and all that glitters is not gold. I really felt for Faith and wanted to take her out for a nice restful spa day – she needs it.
Luck of the Devil is a bit of a mystery and a bit of a romance – I just wish there more character development, this is most definitely a plot-based book, so why not get some more background on how the world in which Faith exists works?
The story races along but the end felt a bit rushed, again, because  we didn't really "know" the characters and I really wanted to know them – they are all snarky and fun!
If Luck of the Devil is a first book in a series – which I hope it is, then I am really looking forward to find out more about Faith's background and all the other characters – and really, figuring out the "rules" in this universe, after all, the devil is in the details (sorry, couldn't help myself). So please Ms. Eimer – give us more!
If you're looking for a light summer read – Luck of the Devil is deliciously fun and full of LIPI potential (Laughing in Public Inappropriately).
Also Reviewed By: Book Savvy Babe – The Bawdy Book Blog
Noa first fell in love with books when she discovered 100 acre wood and its inhabitants. To this day, the last pages of "The House at Pooh Corner" make her cry. In a good way. From"Calvin and Hobbes" to "The Iliad and the Odyssey" and lets not forget "Martha Stewart's Cupcakes". Biographies, mysteries, history books and romances all have a place on her bookshelves. Who needs furniture? This 29 year old singleton's dream is to invent the zero-calorie chocolate. But until that day arrives, she tries to create sweet confections with whatever chocolate she can find. An MA in conflict studies (need a mediator?) means Noa loves a good debate, especially when she wins. If she were in charge, books would be free for everyone.
Doll Noa