Home » Authors, Interviews, Laura Caldwell
Interview: Claim of Innocence author Laura Caldwell

Today we welcome acclaimed author Laura Caldwell to the Dollhouse!
Laura is a former civil trial attorney, now Distinguished Scholar in Residence at Loyola University Chicago School of Law, Director of Life After Innocence, published author of several novels and 1 nonfiction book.
Before beginning her writing career, Laura was a partner in a Chicago law firm, specializing in medical malpractice defense and entertainment law. In 2001 she joined Loyola University Chicago School of Law and has taught Advanced Litigation Writing and International Criminal Law among others.
Laura began her writing career in women's fiction and soon turned to mystery/thriller. Her first book, Burning the Map was voted as one of the best books the year by Barnes and Noble.com. Booklist declared "Caldwell is one of the most talented and inventive…writers around," after the release of The Year of Living Famously and The Night I got Lucky. The release of her trilogy in 2009 received critical acclaim and nominations for prestigious industry awards…
While researching her sixth novel, The Rome Affair, Caldwell was led to the criminal case of Jovan Mosley, a young man charged with murder, sitting in a Cook County holding cell for nearly six years with no trial date. After hearing about his case, Caldwell joined a renowned criminal defense attorney to defend him, ultimately proving his innocence and inspiring her first nonfiction book, Long Way Home: A Young Man Lost in the System and the Two Women Who Found Him
She is published in over 22 countries and translated into more than 13 languages. Laura is also a freelance magazine writer and has been publi shed in Chicago Magazine, Woman's Own, The Young Lawyer, Lake Magazine, Australia Woman's Weekly, Shore Magazine and others.
Inspired by Mosley's case and his challenges of rejoining society, Caldwell founded Loyola's Life After Innocence that assists wrongfully convicted individuals or other innocent persons affected by the criminal justice system in order to help them re-enter society and reclaim their lives.


PBD: What are you currently reading?
LC: I always read about 18 things at once. A current sampling: Straight Man by Richard Russo, The Two Deaths of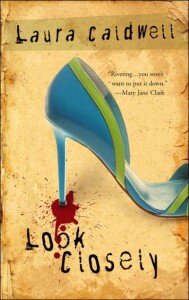 Daniel Hayes by my friend, Marcus Sakey, Your Voice in My Head by Emma Forrest, The Silent Girl by Tess Gerritson, and Bloodsworth by Tim Junkin, which is about my friend, an exoneree, Kirk Bloodsworth.
PBD: Who is your favorite heroine?
LC: That's easy. Izzy McNeil.
PBD: Where do you do most of your writing?
LC: In one of two places: If I'm in Chicago, I write in what the real estate agent grandly called 'the penthouse room.' Basically it's a sunny room off the roof deck. It's filled with red and white furniture (keeps me awake), a curvy book shelf laden with reference books and a street sign bolted to the wall that reads, STOP HERE ON RED.
The other place I love to write is in Long Beach, Indiana, a place of hidden beauty. In the summer, I sit on the deck and am surrounded by a sea of green from all the trees. In the winter, you can find me in front of the fire.
PBD: Can you tell us something about yourself that not a lot of your readers know?

LC: Growing up, I worked as a corn detassler and also as a telephone operator (with an old school switchboard) at a UAW plant. Oh, and I was employed for two summers at a pig and berry farm. I have some hardworking Irish/Polish genes.
PBD: Do you have any quirks that come out while you are writing?
LC: I think I personally become a little sassier when I'm writing Izzy. She's like my avatar.
PBD: What is your daily routine as a writer?
LC: When I'm in the routine it's fantastic. I'm up around 6:00 a.m., I read the scene I wrote the day before and edit it, then write 1000 words. That can take an hour or six hours depending on the day and the nature of the scene. Unfortunately, I've got a lot of things in my life that pull me out of the routine, and I spend a fair amount of time trying to drag myself back.
Thank you so much Laura for visiting today! 
Laura Caldwell's latest book Claim of Innocence is out now!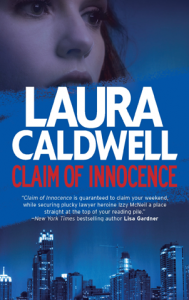 For more visit the Laura Caldwell official website!
Paperback Dolls is made up of women from different parts of the world, with different backgrounds, different tastes and beliefs that were brought together through a love of reading. We like to think of ourselves as a cyber version of "The View" that focuses on books, authors, and reading. We are proof positive that one common love can unite the most opposite of people and form lasting friendships that introduce other ways of life and perspectives to each other.
Paperback Dolls