Home » Anthology, Authors, Doll Day, Melissa Marr, Reviews, Short Story, Uncategorized
Review: Faery Tales & Nightmares by Melissa Marr + Giveaway
Author: Melissa Marr
Book: Faey Tales & Nightmares
Series: Short Story Anthology
Release: February 21 2011
Reviewer: Day
Source: Harper Teen
Purchase: – Barnes & Noble

Faery Tales and Nightmares is a collection of Marr's short stories. Dangerous promises and beguiling threats swirl together in a dozen tales of enchantments, both dark and light. Stories of favorite characters from the author's New York Times bestselling WICKED LOVELY novels mix with seductively lush and chilling accounts of all new characters for readers to fall in love with…or to fear.
FAERY TALES & NIGHTMARES is a fabulous collection of twelve new and old stories by Melissa Marr. These dozen stories come together to create a masterpiece of an anthology that will make readers smile and blush one moment and send shivers down spines the next. And, just look at that cover…it is gorgeous!  For fans of Wicked Lovely series there are plenty of treats, but what I found more appealing were the stories that were  apart from that bestselling world. A few stand outs were the chilling Transition, the disturbingly captivating Flesh For Comfort, the romantic drama Love Struck and the classically lyrical Winter's Kiss. 
"Where Nightmares Walk" – This story is the shortest in the anthology and if this book was a literary opera, this story would serve as the perfect intro–setting the creative tone for the pieces to follow. The story is at first eerie and creepy but progresses into something more dream-like and imaginative. The setting is a wooded forest and the mood is anxious. An unknown narrator tells the story of being chased by nightmares. This story was lyrical and poetic and leaves much to the imagination. ***
"Winter's Kiss" (Fairy Tales)- Such a beautiful story! Like a classic fairy tale made new, this is about a princess, Nesha, who holds winters touch in  her very breath. Not wanting to be locked away in a tower during the summer to prevent her from accidentally freezing the land, she fleas to find refuge. I could have read a full length novel about these characters.  ****
"Transition" (Vampires)- CHILLING. In this story we meet a young girl who has been struck with horrific headaches that just won't ease. Her guardians don't want to spend the money for the high cost perscriptions so she has turned to self medication…illegal pills and other drugs supplied to her by the town badboy for the cost of her companionship. But on one night when she sneaks out with the boy they are surprised by a strange girl and things go from bad to worse…dead worse. I really enjoyed this dark story.  With it's provocative characters and general content, it is definitely for the more mature audience. ****
"Love Struck" (Selchies)- A bright young woman, Alana,  has hopes and aspirations for her future. One night on a beach she meets a beautiful but scary man that gives her an ominous warning after coming onto her. After fleaing from the man she happens upon another beautiful man in the water but this time she feels fear and attraction. This is the tale of a girl caught between two mythical fae Selchie's and her learning to discern between the stories her grandmother told her about Selchies and the true tale that she finds herself living in. ****
"Stopping Time" (WL World) – This is one of my all time favorite short stories…period. This is the story of Leslie, Niall and Irial and beautifully depicts the dynamics of their relationships and made me fall hopelessly in love with Irial. I'm such a softy for the tortured anti-hero. *****
"Old Habits" (WL World)- Irial, Niall and the dark court are center stsge in this story that explores the politics of the fae , particularly the Dark Court,  and the bond between two best friends that are more like soul-mates and the sacrifices they would make for their kingdom and more importantly each other. *****
"The Art of Waiting" – In a little town tucked in the hollow of the mountains where the towns people are at the mercy of the seasons and the weather they bring…Heavy snow in Winter and flood from when the snow thaws. When a strangers come to town there are many questions among the townsfolk. But, most people that want to settle in a place like the hollow probably have reasons they don't want to share for living in such a place. Another really great tale that paints vivid pictures and evokes an eeriness that kept my eyes glued to the pages! ****
"Flesh for Comfort"- One of the strangest and most creepy tales in this Anthology is Flesh For Comfort. It is about a girl stuck in a po-dunk town that desires more, wants to be prettier and what she'll do to get what she wants. This story has unique creatures that are equally as engrossing as they are just plain gross. Loved it! *****
"The Sleeping Girl and the Sumer King" (WL World-ish, the short story that started the series)- This was really interesting, especially when you consider that this was the tale behind the series.  In this story we meet the Summer King, Donnchadh and Aisling, the girl who sleeps through the winter whom he loves. Wicked Lovely fans will cherish the insight into their beloved Wicked Lovely world. ***
"Cotton Candy Skies" (WL World)-  This story takes place in Faerie and features the Hound of the dark court and some familiar characters from Wicked Lovely world and Radiant Shadows in particular. The title, Cotton Candy Skies, refers to the color of the sky in Faerie and the story is about finding a  place in life where  your heart feels at home. ***
"Unexpected Family" (WL World)-  Unexpected Family is about Seth (Aislinn's Love) and his place in The Dark Court and feelings about his connection to the mortal world and Fae.  This was a good story, I admit Seth isn't my favorite character from the series, but Irial's presence in the text made me enjoy it more, plus Aislinn is featured as well. ***
"Merely Mortal" (WL World)- Takes place after the events of Darkest Mercy, so slightly spoilery for those who have yet to finish the series. Keenan and Donia, two of the main character's from Wicked Lovely series, are settling into their lives together and decide to get away for a vacation. Full of great one-liners on Keenan's part and sweet romance between him and The Winter Queen, this was a nice and fun inside look at the character's lives. ****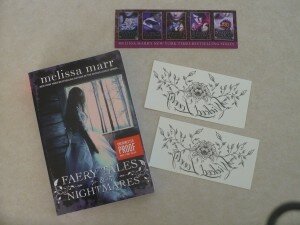 Win a copy of Faery Tales & Nightmares
Day is a dreamer who has never met a stranger. She is fearless and will talk to anyone and read anything! She taught music and dance and was a singer/actress for years, performing on stages both nationally and overseas. Now married with children, she spends less time singing on stage and more time writing songs at home. But, family life has not completely slowed this chick down. She still loves an adventure and learning new things. She resides in Texas with her family, Great Dane (Sophie), Labradoodles (George & Cosmo) and Chihuahua (Juan Carlos).
Doll Day