Home » Authors, Doll Mona Leigh, Reviewers, Reviews, Sarah Maclean
Review: Eleven Scandals to Start to Win a Duke's Heart by Sarah Maclean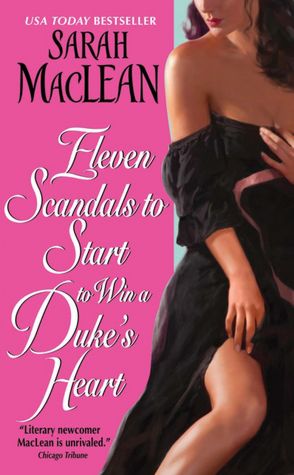 Book: Eleven Scandals to Start to Win a Duke's Heart
Author: Sarah Maclean
Series: Numbers series
Release: April 26, 2011
Reviewer: Mona
Source: Net Galley
Purchase: – Barnes & Noble

She lives for passion.

Bold, impulsive, and a magnet for trouble, Juliana Fiori is no simpering English miss. She refuses to play by society's rules: she speaks her mind, cares nothing for the approval of the ton, and can throw a punch with remarkable accuracy. Her scandalous nature makes her a favorite subject of London's most practiced gossips . . . and precisely the kind of woman The Duke of Leighton wants far far away from him.

He swears by reputation.

Scandal is the last thing Simon Pearson has room for in his well-ordered world. The Duke of Disdain is too focused on keeping his title untainted and his secrets unknown. But when he discovers Juliana hiding in his carriage late one evening—risking everything he holds dear—he swears to teach the reckless beauty a lesson in propriety. She has other plans, however; she wants two weeks to prove that even an unflappable duke is not above passion.
This is the third installment in her Love by Numbers series, but Sarah MacLean had me at the first one. Nine Rules to Break When Romancing a Rake focuses on Gabriel St. John, Marquess of Ralston. Ten Ways to be Adored When Landing a Lord followed Gabriel's twin brother, Nicholas St. John. And now, Eleven Scandals to Start to Win a Duke's Heart is all about their Italian half-sister, Juliana Fiori.
The siblings have the misfortune of sharing the same mother – the one who can't be bothered to honor her marriage vows or raise her children. Now the ton delights in gossiping about Juliana and comparing her unfavorably to her mother. No matter what she does or how innocent it may be, she always seems to end up scandalizing society.
The Duke of Leighton is both fascinated and appalled by her beauty and notoriety. When she suddenly appears in his carriage with her clothes nearly torn off, he becomes angry and protective. But what bothers him most is how she insinuates herself into his life and turns it upside down stirring emotions he doesn't want disturbed, making him realize he's hiding from the world. He also realizes he wants to pound her attacker into the ground….if he could just find out the name of the culprit.
Sarah MacLean has a way with words. She can transport you back in time with her characters and have you anxiously waiting for the next book just to find out what happens to this man or that woman. Her London is snobbish and critical and places itself upon a pedestal. Kicking the pedestal out from under them proves to be great fun. This series is a 'must read' for all historical romance enthusiasts.
Mona's first grade teacher, Mrs. Stanford, gifted her with the love of reading. For that, she'll always live in her heart. But reading took over Mona's life, eclipsing everything but playing sports, and has continued to be a huge part of her life. Although she has always written poetry and stories for her self, last year she decided to try her hand at writing fiction. She is currently editing her first urban fantasy and hopes to have it ready for the agent by summer's end. Besides reading, Mona loves speed in the form of fast cars. The faster, the better! In her next life, she plans to drive race cars (or whatever happens to be their replacement in the future) all while reading and writing. She has also taken up rune reading, and find it to be disturbingly accurate and exciting.
Doll Mona Leigh