Home » Authors, Giveaways, Guests, Interviews, Novella, Robin Bielman
Interview and Giveaway: Worth the Risk by Robin Bielman
Kitt: Hi Robin, we'd like to welcome you to Paperback Dolls! We're so happy to have you here.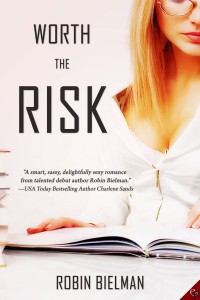 Robin: Hi Kitt! Huge thanks to you and Paperback Dolls for having me! I'm delighted to be here.
Kitt: Since this is your first time at Paperback Dolls, can you tell our readers a little about yourself?
Robin: Sure! I live in California with my wonderful hubby, two terrific boys (well, most of the time), and a very cute mini labradoodle named Harry. I work part-time in the medical field and on my days off, you'll find me attached to my laptop. I can't live without my Chap Stick, am tech challenged, and have recently become addicted to café mochas.
Kitt: When did you first start writing? What made you decide – 'ok, this is it, I'm writing a book'?
Robin: I started writing after college. I worked for a local production company and wrote commercials, corporate videos and ½ hour cable programs. When I had my kids, I stayed home with them and started freelance writing. I was working on an assignment for a company where I wrote about brides and weddings when another freelance writer asked me if I'd ever thought about writing a romance novel, and if not, then I should. A little bell went off in my head (seriously!) and I realized that was exactly what I wanted to do. That was five years ago.
Kitt: Do you have any authors that you took inspiration from or influenced you the most?
Robin: So many authors have inspired me! When I first started writing fiction, I had no idea the kind of camaraderie I'd be blessed with. The friends I've made, the advice and encouragement and kindness that's been shown to me, has been amazing, and I'm very grateful. I'm a total fan girl, too, and whenever I see a book by an author that's now a friend, or meet someone I admire, I have to pinch myself. I can't believe I know them!
Kitt: When you want to get away from your own books and take a break, what do you read?
Robin: Oh, I read lots of romance! In any genre – I really love them all. If there's kissing, I'm there.  I also love YA, women's fiction, mysteries, and urban fantasy. (I really need more hours in the day so I can read more!)
Kitt: Can you tell us a little bit about your debut novella, Worth the Risk?
Robin: Worth the Risk is about a hotshot environmentalist named Dean and attorney/environmental preservationist Samantha. They spent a summer together after college and then parted ways. Five years later their paths cross again, sparks ignite, and they discover they still have unresolved feelings for each other. Unfortunately, sorting through those feelings is especially difficult because they're in competition for the same job.
Kitt: Of all your characters in Worth the Risk, which one is your favorite?
Robin: I have to pick one? I'm pretty in love with Dean. He's loyal, protective, cocky, and passionate about the environment. The first time he sees Sam again, he's immediately smitten, and I love how he can't bear the idea of her walking away from him even though he has no intention of things going beyond a weekend fling.
Kitt: Are any of your characters, such as Dean Malloy, based on other people? Do you have mental images for your characters?
Robin: No, Dean's not based on anyone I know. I did get inspiration for his occupation from one of my favorite magazines, though. And I do have mental images for my characters, although they aren't crystal clear. It's sort of a vague picture with a voice and personality that seems to be the driving force that helps me shape them.
Kitt: Was there a particular scene or part of the novella that was more challenging to write, if so, can you explain?
Robin: The hospital scene near the end of the novella was tough for me. A slew of emotions are going through Sam and Dean, and I wanted to capture their independence as well as the hope of things being different for them the second time around. They're both vulnerable and admitting it out loud is something neither one of them is able to do.
Kitt: If there is a lesson that each of your main characters need to learn what would it be?
Robin: For Samantha, it's to trust in herself more and not let doubt and the hateful words her dad has spoken to her affect her. Dean learns that having someone by his side, someone to share his passion with, is far better than going it alone.
Kitt: So, what's next on your "to-do" list? We know you are busy promoting your new book, but are there any new works in progress we can be anticipating? Or are there any other genres that you'd like to explore?
Robin: I recently finished a second novella for my editor and pitched him a third idea. The hero in my second novella is McCall, a character I introduce in Worth the Risk. So fingers crossed! I also write YA and am finishing revisions on a contemporary story I just adore.
Kitt: We want to thank you so much for taking the time to visit us and answer our questions! We are super thrilled to have you on Paperback Dolls. Best of Luck to you!
Robin: Thanks again for having me, Kitt! It's a thrill for me to be here among so many wonderful authors.

Robin Bielman lives in Southern California, a bike ride away from the ocean if she's feeling really adventurous. She loves books and baking and running on the treadmill while watching her favorite TV shows. When she's not reading or writing her next story, she's spending time with her high school sweetheart husband and two sons, most likely watching, playing, or discussing baseball. She drives too fast, drinks too much caffeine, and if every day were Cupcake Day, she'd be a happy camper! She loves to connect with readers.
Find Robin: Website | Blog | | |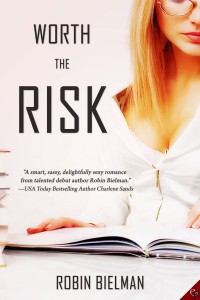 Their love was ancient history…until their paths crossed again.
Samantha Bennett put Dean Malloy out of her mind five years ago, when he broke her heart after a summer fling. But now he's back in her life, and ready to steal a heritage protection contract that could make or break her career–if he doesn't steal her heart first. Samantha's vowed to hate him, but it's more than anger heating the competition between them.
With sparks flying across the conference table and sizzling in every touch, Dean proposes a weekend liaison. Anything to have Sam again; anything to get her out of his system. But the unresolved feelings between them complicate both their personal and professional lives, and one wild weekend could turn into a disaster that would destroy the one job that means more to Samantha than anything. For a shot at love…is it worth the risk?

You can read the first two chapters of Worth the Risk here: http://www.entangledpublishing.com/worth-the-risk/
Buy the Book: | Barnes and Noble | Books on Board
a Rafflecopter giveaway

Giveaway provided by Entangled. By entering this giveaway, you are agreeing to the rules set by our Giveaway Policy. Ends 05/19 International.
Paperback Dolls is made up of women from different parts of the world, with different backgrounds, different tastes and beliefs that were brought together through a love of reading. We like to think of ourselves as a cyber version of "The View" that focuses on books, authors, and reading. We are proof positive that one common love can unite the most opposite of people and form lasting friendships that introduce other ways of life and perspectives to each other.
Paperback Dolls