Home » Doll KittNLuv, Meet the Dolls, On My Wishlist
On My Wishlist (#21) Kitt {Recommendations!}
On My Wishlist is a fun weekly event hosted by Cosy Up Book Reviews (originally created by Book Chick City) and runs every Saturday. It's where we list all the books we desperately want but haven't actually bought yet. They can be old, new or forthcoming. It's also an event that you can join in with too – Mr Linky is always at the ready for you to link your own 'On My Wishlist' post.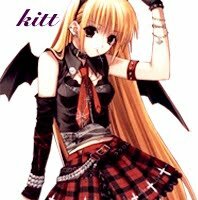 This week is for recommendations it seems! These three fabulous looking books were all pointed out to me in the last few days, and now I can't wait to get my hands on them. Especially The Siren – this book has been spreading through the blog-o-sphere like wildfire!
---
Recommended by Kaleigha at
Wanton Thoughts and Wicked Scribes
: "So, once in a while
Nalini Singh
recommends a book over on her blog, and she hasn't steered me wrong yet.  One of the latest ones that caught her attention was called , from author
Wen Spencer
.  Now, I have to admit, the awful cover almost turned me away, but I am glad it didn't.  This one features girl genius/scrapyard owner heroine Tinker in an alternate version of Pittsburgh – that is part of the land of the Elves.  To say this one gave me a
Kate Daniels
vibe would be an understatement – but since it actually was released three years before , should say Kate Daniels gives me an Elfhome vibe, I guess. This was followed by , a couple of e-novellas, and the third full book called which was released earlier this month."
Author: Wen Spencer
Book: Tinker
Release: October 1st 2003
Series: Elfhome 1


 

 
Inventor, girl genius Tinker lives in a near-future Pittsburgh which now exists mostly in the land of the elves. She runs her salvage business, pays her taxes, and tries to keep the local ambient level of magic down with gadgets of her own design. When a pack of wargs chase an Elven noble into her scrap yard, life as she knows it takes a serious detour. Tinker finds herself taking on the Elven court, the NSA, the Elven Interdimensional Agency, technology smugglers and a college-minded Xenobiologist as she tries to stay focused on what's really important — her first date. Armed with an intelligence the size of a planet, steel-toed boots, and a junkyard dog attitude, Tinker is ready to kick butt to get her first kiss.
Recommended by Doll Mona Leigh and Doll Suz: Look for their review up later next month. This rec actually spurred a slew of others, and now it feels I'm the last to read it. lol

Author: Tiffany Reisz
Book: The Siren
Release: September 20th 2011
Series: The Original Sinners 1


 

 
Notorious Nora Sutherlin is famous for her delicious works of erotica, each one more popular with readers than the last. But her latest manuscript is different—more serious, more personal—and she's sure it'll be her breakout book…if it ever sees the light of day.

Zachary Easton holds Nora's fate in his well-manicured hands. The demanding British editor agrees to handle the book on one condition: he wants complete control. Nora must rewrite the entire novel to his exacting standards—in six weeks—or it's no deal.

Nora's grueling writing sessions with Zach are draining…and shockingly arousing. And a dangerous former lover has her wondering which is more torturous—staying away from him…or returning to his bed?

Nora thought she knew everything about being pushed to your limits. But in a world where passion is pain, nothing is ever that simple.
Recommended by : "What if Kevin Smith wrote an urban fantasy novel?*
If that question intrigues you, this book should shoot straight to the top of your TBR pile. If that sounds like it might be a little too heavy or meta, "Geekomancy" is still worth the read–but it might yield diminished returns if you're not highly fluent in geek culture. Since geek culture has gone pretty far mainstream, however, I doubt there will be many readers scratching their heads over lines such as "You *are* the droid they're looking for."
The pop culture references come at you fast and furious, and — here's the kicker — they're actually integral to the plot (which you can read in the synopsis, so I won't recap here…). The plot is pretty standard for urban fantasy–mentor trains a young heroine how to use her "powers." I can't wait to see what directions Underwood takes the premise in the future…
*Although I guess "Dogma" was technically urban fantasy."

Author: Michael R. Underwood
Book: Geekomancy
Release: July 10th 2012
Series: N/A


 

 
Ree Reyes' life was easier when she just had to worry about scraping together tips from her gig as a barista-and-comicshop slave wage in the port city of Pearson to pursue her ambitions as a screenwriter.

When a scruffy-looking guy storms into the shop looking for a comic like his life depends on it, Ree writes it off as just another day in the land of the geeks. Until a gigantic 'BOOM!' echoes from the alley a minute later, and Ree follows the rabbit hole into Pearson's magical flip-side. Here, astral cowboy hackers fight trolls, rubber-suited werewolves and Elegant Gothic Lolita fate witches by channeling genre tropes and wielding nostalgia-powered props.

Ree joins Eastwood (aka scruffy guy), investigating a mysterious string of teen suicides as she tries to avoid imploding after her own drag-your-heart-through-jagged-glass breakup. But as she digs deeper, Ree discovers Eastwood may not be the knight-in-cardboard-armor she thought. Will Ree be able to stop the suicides, save Eastwood from himself, and somehow keep her job?
So, that's what's on my wishlist this week – what's on yours?
Kitt is an avid reader of Urban Fantasy, Fantasy, Paranormal Romance, Historical, Classics, Young Adult, and on the occasion she reads some Erotica to spice things up. Her entrance into the world of Paranormal started with Charlaine Harris's Stackhouse series. When not feeding her addiction she can be found slaving away cooking as a Sous Chef, watching movies and Anime, or out looking for trouble. She lives in Florida with her DB Deist and their two cats Salem and Dublin.
Doll KittNLuv