Home » Doll KittNLuv, Meet the Dolls, On My Wishlist
On My Wishlist (#27) Kitt
On My Wishlist is a fun weekly event hosted by Cosy Up Book Reviews (originally created by Book Chick City) and runs every Saturday. It's where we list all the books we desperately want but haven't actually bought yet. They can be old, new or forthcoming. It's also an event that you can join in with too – Mr Linky is always at the ready for you to link your own 'On My Wishlist' post.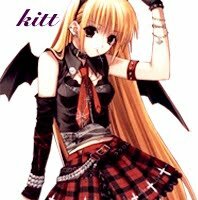 Author: Rachel Caine
Book: Two Weeks' Notice
Release: August 7th 2012
Series: Revivalist 2


 

 
After dying and being revived with the experimental drug Returne, Bryn Davis is theoretically free to live her unlife—with regular doses to keep her going. But Bryn knows that the government has every intention of keeping a tight lid on Pharmadene's life-altering discovery, no matter the cost.

And when some of the members of a support group for Returne addicts suddenly disappear, Bryn begins to wonder if the government is methodically removing a threat to their security, or if some unknown enemy has decided to run the zombies into the ground…
Author: Katharine Kerr
Book: Love on the Run
Release: August 7th 2012
Series: Nola O'Grady 4


 

 
A Fishy Situation

Nola O'Grady is sick and tired of psychic squid-images following her everywhere, waving their tentacles and generally making nuisances of themselves. She and her partner, Ari Nathan, have a dangerous job on their hands, hunting down two criminals who have escaped into another level of the multiverse, the San Francisco of Terra Six.

Terrorists have turned parts of that city into a deathtrap—religious fanatics, yes, but from what religion? Nola suspects that the Peacock Angel Chaos cult lies behind the bombings and mass murders. As she gathers evidence, she finds herself face-to-face with part of her own personal past that she'd prefer to bury forever.

And by the way, just who is it that keeps trying to kill her?
Author: Kristen Callihan
Book: Moonglow
Release: July 31st 2012
Series: Darkest London 2


 

 
Once the seeds of desire are sown . . .

Finally free of her suffocating marriage, widow Daisy Ellis Craigmore is ready to embrace the pleasures of life that have long been denied her. Yet her new-found freedom is short lived. A string of unexplained murders has brought danger to Daisy's door, forcing her to turn to the most unlikely of saviors . . .

Their growing passion knows no bounds . . .

Ian Ranulf, the Marquis of Northrup, has spent lifetimes hiding his primal nature from London society. But now a vicious killer threatens to expose his secrets. Ian must step out of the shadows and protect the beautiful, fearless Daisy, who awakens in him desires he thought long dead. As their quest to unmask the villain draws them closer together, Daisy has no choice but to reveal her own startling secret, and Ian must face the undeniable truth: Losing his heart to Daisy may be the only way to save his soul.
So, that's what's on my wishlist this week – what's on yours?
Kitt is an avid reader of Urban Fantasy, Fantasy, Paranormal Romance, Historical, Classics, Young Adult, and on the occasion she reads some Erotica to spice things up. Her entrance into the world of Paranormal started with Charlaine Harris's Stackhouse series. When not feeding her addiction she can be found slaving away cooking as a Sous Chef, watching movies and Anime, or out looking for trouble. She lives in Florida with her DB Deist and their two cats Salem and Dublin.
Doll KittNLuv