Home » Authors, Giveaways, Guest Blog, Guests, Jennifer Estep
Blog Tour Excerpt and Giveaway: Widow's Web by Jennifer Estep
WIDOW'S WEB EXCERPT:
Finnegan Lane, my foster brother, looked at me, a clear plea in his eyes. "You don't have to do this. You've proven your point by icing Owen there already. This whole thing was your lover's brilliant idea, not mine. Don't blame me for his mistakes."


I gestured with the gun at Owen Grayson's prone form. "That's not how I remember things. In fact, I distinctly recall you being the mouthpiece behind this whole situation. You were the one who kept pushing and pushing me. Well, tonight, I finally decided to push back."
When he realized I couldn't be reasoned with, Finn decided another tactic—bribery. "I'll pay you whatever you want to put the gun down and walk away, you know that."
"I do know that." A cold, cruel smile curved my lips. "But walking away is not nearly as much fun as this is. You know that as well as I do."
"No, please, don't—"
I pulled the trigger twice, cutting off his protests, and my foster brother joined my lover on the floor.
Silence.
Then, Finn let out a loud, unhappy sigh and climbed to his feet.
"Really, Gin, did you have to ruin my suit?" he said. "This was a Fiona Fine original."
He stared down at the bright red paint splattered across the black fabric of his suit jacket and white shirt. Then, Finn raised his head and glared at me, his green eyes bright in his ruddy face. I didn't bother pointing out the red paint had also splashed onto his face and up into his walnut-colored locks. He was just as obsessive about his hair as he was about his suits, and it just wouldn't do for Finnegan Lane to ever look anything less than perfect.
"I agree with Finn," Owen rumbled and sat up. "I didn't think our little experiment would get quite so messy."
Owen Grayson got to his feet, his chest covered in just as much red paint as Finn's was. Still, despite his ruined suit, my eyes traced over him, from his blue-black hair to his intense violet eyes to his strong, muscled body. All the paint in the world couldn't dampen Owen's rugged appeal or the way he had of making me feel like I was one of the most important people in the world to him.
I walked over, leaned against the desk, and pointed my paintball gun at Owen. "You should have known better than to let Finn talk you into drinking so much at Northern Aggression. Drunken challenges issued to assassins to have them test your security rarely end well for the challenger. Or challengers, in this case."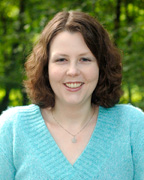 Jennifer Estep is a New York Timesbestselling author, prowling the streets of her imagination in search of her next fantasy idea.

The Elemental Assassin series (for adults)

Jennifer writes the Elemental Assassin urban fantasy series for Pocket Books. The books focus on Gin Blanco, an assassin codenamed the Spider who can control the elements of Ice and Stone. When she's not busy killing people and righting wrongs, Gin runs a barbecue restaurant called the Pork Pit in the fictional Southern metropolis of Ashland. The city is also home to giants, dwarves, vampires, and elementals – Air, Fire, Ice, and Stone.

Books in the series are , , , , , and . , an e-novella, is also available.

, the seventh book, is set to be released on Aug. 21, 2012. , the eighth book, is tentatively set to be published on March 26, 2013.

Haints and Hobwebs: An Elemental Assassin short story can be found in .
Find Jennifer Estep: Website | Blog | | |

The seventh book in the hugely popular Elemental Assassin series by New York Times and USA TODAY bestselling author Jennifer Estep—Gin Blanco is back and ready for action.

My name is Gin, and I kill people. It's something I've been doing for years as the assassin called Spider, but now, it's turned into a necessity on my part just to survive all the lowlifes in Ashland who are gunning for me. The underworld is still in turmoil, and I seem to be on everyone's hit list these days.

To add to Gin's problems, her lover Owen's ex is in town. Salina is back in Ashland to reclaim an old family legacy—and she thinks that Owen is hers for the taking. Also in the mix is Phillip Kincaid, a casino owner and all-around shady character who has a mysterious connection to both Owen and Salina.

Salina might seem like a sweet Southern belle, but there's more to her than meets the eye. Her water elemental magic makes her a dangerous enemy—and someone who can go toe-to-toe with Gin's Ice and Stone power. But Gin is determined to get to the bottom of Salina's deadly scheme, even though it just might cost her everything…including Owen.
a Rafflecopter giveaway

Giveaway provided by Jennifer Estep. By entering this giveaway, you are agreeing to the rules set by our Giveaway Policy. Ends 08/25 US Only.
Paperback Dolls is made up of women from different parts of the world, with different backgrounds, different tastes and beliefs that were brought together through a love of reading. We like to think of ourselves as a cyber version of "The View" that focuses on books, authors, and reading. We are proof positive that one common love can unite the most opposite of people and form lasting friendships that introduce other ways of life and perspectives to each other.
Paperback Dolls