Home » Christie Ridgway, Doll Lil, Uncategorized
ARC Review: The Love Shack by Christie Ridgway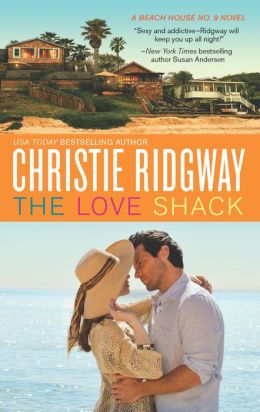 Author:Christie Ridgway
Book:The Love Shack
Release: 3/26/2013
Series:Beach House #9
Reviewer: Doll Lil
Source:Publisher

Purchase: | Book Depository

Globe-trotting photojournalist Gage Lowell spent carefree childhood summers in Crescent Cove. Now that he desperately needs some R & R, he books a vacation at Beach House No. 9—ready to soak up some sun and surprise old friend and property manager Skye Alexander. Their long-distance letters got him through a dangerous time he can't otherwise talk about. But when he arrives, the tightly wound beauty isn't exactly happy to see him.

Skye knows any red-blooded woman would be thrilled to spend time with gorgeous, sexy Gage. But she harbors secrets of her own, including that she might just be a little bit in love with him. And she's convinced the restless wanderer won't stay long enough for her to dare share her past—or dream of a future together. Luckily for them both, summer at Crescent Cove has a way of making the impossible happen….
The final book of the series stole my heart. Don't tell Griffin (BH #9) or Vince but as cute as they are Gage completely won me over. This is a trilogy meant for summer reading or even better spring break reading! When the wind is still cold and the days are just getting longer and we are all craving sun and sand I look for books to get me through. This last book did just that. It made me laugh, it made me take a cold shower, and it even gave me what I love the most in a romance novel, a wee bit of angst.
Sometimes I want to dive deep into a dark heart wrenching saga but then sometimes what I need is something that will touch my soft spot but won't have me ugly crying. Instead I was giggling, and sighing deeply, and once or twice fanning myself because Christie Ridgway knows how to write a love scene. She also knows how to wrap up several story continuations in a way that won't leave anyone wanting. Of course I would love more of Beach House #9, as in me sitting on the deck watching the guys play some beach volleyball while I sip on a Salty Dog, but I digress…
What I loved most about The Love Shack was inclusion of the pen pal letters between Gage and Skye. It was an insight that brought the reader into their relationship and told a story of love, friendship, and the beginnings of a deep emotional connection between our two main characters. Where Bungalow Nights was a lighter story TLS had a more serious edge to it. Skye has had something terrifying happen to her and Gage isn't exactly over some very traumatizing events that took place while on assignment in the Mideast. What could have turned into a depressing and somewhat tired story is Ridgway's talent to infuse humor and hot as hell romance into the more serious moments. It gives it a real life to the story and I will be honest I haven't read a lot of books recently that I believed. Unless I'm reading a genre specific book I don't want to be saying to myself "that would never happen!".
And a little side note on our secondary love story? It involves Teague, a fireman. Teague is a recurring character throughout the series. He is adorable and incredibly sexy! But I don't want to give anything away so that's all I'll say about that. ;p
I'm a true believer in Christie Ridgway's writing and am happy to say this series is full of all the elements of what I love about Contemporary Romance! Add it to your TBR and I promise you won't regret it!
Get Reading!
Lil
Lil is an avid reader who gave up TV so she could greedily read every book she could get her hands on. In the process she discovered a love for contemporary romance heavily laden with humor. Lil is formerly a True Blood blogger who discovered there is more to the world than her annoying love/hate one-sided relationship with the writers of TB. She credits JR Ward for pulling her from the two dimensional world of TV viewing.
Doll Lil