Home » Blog Hop, Doll Lil, Elizabeth Naughton
ARC Review of Bound By Elisabeth Naughton and Author Blog Hop Giveaway!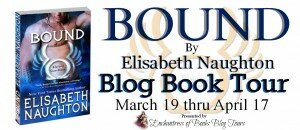 Author: Elisabeth Naughton
Title: Bound
Release: March 26, 2013
Series: Eternal Guardian
Reviewer: Lil
Source: Publisher
Purchase: /Barnes & Noble

TITUS—To most his gift seems like a blessing, but for him it's a curse the other Eternal Guardians—those who protect the mortal realm from threats of the Underworld—seek to exploit. One he would gladly trade for the chance to be free…

Obsessed. Her touch is like a drug. From the moment he met her, Titus knew she was different. Even dangerous. Yet though his guardian brethren are convinced Natasa is working for Hades, Titus can't stop thinking about her. Can't stop fantasizing about her. Can't stop craving the one thing he knows could lead to the downfall of his world.

Possessed. Faced with stopping Natasa or joining in her quest, Titus falls to temptation and is thrust into a world of lust, deception, and deadly treachery designed by the gods. Her touch—only hers—frees him from his bonds, but desire may just condemn him. Because before the end he'll have to decide which is more important: duty and honor to those he took an oath to defend, or a woman who could very well be the biggest curse to them all.
A tormented Alpha Male full of passion and a sense of honor? Oh yeah sign me up! It's no secret I am a fan of Elisabeth Naughton's Eternal Guardians series. I was hooked from page one of Marked, the first in the series about Argolaen Argonauts and the women who love them. The Argonauts are direct descendants of the Greek Heroes. They have been charged with the protection of their homeland and to ensure the safety of it's people from ancient forces that only want more power regardless of whom they must destroy to get it.
Okay so now… I have deleted everything I've written five times because I feel like I am giving too much away. If you are new to the series or are behind in the books I don't want to spoil it for you. See, the thing with Naughton's writing is she is fantastic at keeping the reader guessing and is a master at crafting a twisting and turning plot keeping you engaged until the last page.
Bound continues this high standard of story telling. There was never a moment I was bored or not craving the next page, the next chapter. Dishes were left in the sink. I may have put off some laundry and yes, I did skip some must needed sleep because I couldn't put the e-reader down. Bound is a rich and full love story between Titus and Natasa but Naughton never loses the thread of the core story of the Argonauts and what they see as an imperative. So often I find myself annoyed when an author loses focus of what won me over as a fan in the first place.
For fellow fans of the series you will be happy to see many of the past heroes heavily placed in the story. And the foreshadowing of book seven left me a little giddy and downright breathless. I know that the end of March is a heavy release week but I must insist you put Bound and all of the series at the top of your TBR. Compelling stories full of mystery, passion, and the brilliantly played story arc that is found within the pages of Bound should not be missed!
And now with the help from our very own Blog Wizard(ess) Noa here is your opportunity to enter Elisabeth Naughton's "Bound" Book Blog Tour Giveaway!
The Prizes included are:
• 1 ebook copy of "Bound"
• Character Trading Cards
• 1 Eternal Guardian Bookmarker
• 1 Eternal Guardians Drink Coaster
• 1 Eternal Guardian logo Temporary tattoo
• 1 Bound Car Charm
• 1 Bound Keychain
                 Follow Elisabeth's Blog Hop and increase your chances of winning!

I was never one of those people who knew they wanted to be an author at the age of six. I didn't have imaginary friends. I didn't write stories in my journal or entertain my relatives by firelight after Thanksgiving dinner. For the most part, I was just a normal, everyday kid. I liked to read, but I wasn't exceptional at it. And when my teachers complimented me on my writing abilities, I brushed them off. I did, however, always have a penchant for the unique and absurd. And as my mother told me all throughout my childhood, I should have been an actress—I was a drama queen before my time.
Years ago, my husband bought me Scarlett: The Sequel to Gone With The Wind. If you ever saw the book, you know it's a long one. I sat and read that thing from cover to cover, and dreamed of one day being a writer. But I didn't actually try my hand at writing until years later when I quit my teaching job to stay home with my kids. And my husband? After that week of reading where I neglected him and everything else until I finished Scarlett, he vowed never to buy me another book again. Little did he know I'd one day end up sitting at a keyboard all day drafting my own stories.
My writing journey has not been easy. I didn't just sit down one day, decide I was going to write a book and voila! sell my very first attempt. As most authors will probably agree, the path to publication is filled with hours of work, pulling all-nighters I thought I'd given up in college, sacrifices, rejections, but a love I discovered along the way I just can't live without. Instead of a big, thick book to read by lamplight (I do read much smaller ones when I get the chance), I've traded in my reading obsession for a laptop. And I've never been happier.
I'm one of the lucky ones. I have a wonderful family and fabulous husband who put up with my writing—and obsessive personality—even when life is chaotic. More than once my kids have been late to swimming or baseball because I needed just five more minutes to finish a scene. Their support and encouragement mean the world to me. I also have amazing friends and a support network I couldn't survive without. So to all of you out there who have encouraged me along the way, sent me emails and fan letters, phone calls and congratulations, I just want to say, thank you. You make this whole writing gig that much more enjoyable. I truly wouldn't be here without you.
Links To Follow and Like!:
www.enchantressofbooksblogtours.com
(Facebook)
Follow on Twitter!
Fan Elisabeth on !

 
Lil is an avid reader who gave up TV so she could greedily read every book she could get her hands on. In the process she discovered a love for contemporary romance heavily laden with humor. Lil is formerly a True Blood blogger who discovered there is more to the world than her annoying love/hate one-sided relationship with the writers of TB. She credits JR Ward for pulling her from the two dimensional world of TV viewing.
Doll Lil