Home » Authors, Giveaways, Guest Blog, Guests, Jenn LeBlanc
Guest Blog and Giveaway: The Rake and the Recluse by Jenn LeBlanc


Hey everybody! I've been making some rounds on the blog-o-sphere and decided to do something just a little bit different so I called on an old friend of mine: The Duke of Roxleigh.
Jenn: *smiles giddily* well hello Your Grace, how are you faring these days?
Rox: Quite well, thank you. You may call me Rox, we are more familiar than that, after all.
Jenn: *blushes* well, I have seen you in your…alltogether I suppose that qualifies then as familliar?
Rox: *grins* Without a doubt my dear.
Jenn: And how is your lovely Francine? (oh my goodness you guys should see the smile on this guy! *giggles* aw!)
Rox: She is well, I suppose I could tell you that she has taken over at Eildon Hill, there is no stopping that woman, she has the estate running rather sound of course. Though I believe I can share with you how incredible it is to have a 21st century international business expert as a wife. Most definitely unexpected. Most definitely.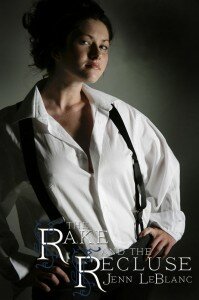 Rox: Oh you would show that picture, *clears throat* I'm not entirely— could you put that away? It is terribly improper. My wife in that…



Rox: I am not sure this is a better alternative, perhaps one where Francine has a bit more clothing on?



Rox: not at all what I meant Mrs. LeBlanc
Jenn: Oh well my dear Dukeliness, people have come to meet you.
Rox: To see me is more like.
Jenn: Well…yes. When did you start to believe that Francine was different?
Rox: from the moment she opened her mouth and a string of curses the likes of which I had never heard, even on a Naval vessel, erupted in one smooth sentence.
Jenn: So pretty much from the start.
Rox: Pardon? Pretty much? Yes, I believe you could say that. I was taken with her from the outset.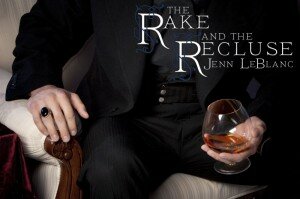 Rox: Oh very nice image, I do love a bit of warmed Brandy in the evening. That waistcoat is quite stunning, I was terribly fond of it, but I believe it met a rather untimely end.
Jenn: You don't say?
Rox: *grumbles* well, yes.
Jenn: so tell me Rox, besides Francine, what else can't you live without?
Rox: Oh dear, that fine brandy for one, *chuckles* my dear brother Perry I would say. He is a great pain in my arse but I do care for him so very much.
Jenn: I know your little vacation to the 21st century has been an adventure, so tell me what A-list celebrity would play you in the BBC masterpiece adaptation of "The Rake and the Recluse."
Rox: besides that stunning Derek Hutchins fellow? I think he portrayed me rather well. Rather naked, but rather well.
Jenn: Are you saying the nakedness did not happen?
Rox: The what? Naked-ness? No, there is most definitely some nakedness, but, well, I—
Jenn: Your Grace?
Rox: *clears throat* Hmm?
Jenn: Fluster much?
Rox: *glares* next question.
Jenn: Heh, yes sir. Recall a moment from your whirlwind courtship that most sticks out to you.
Rox: Well that is easy, the moment I saw her at the top of my grand staircase in the pinstripe dress I purchased for her in London. She wore the ametrine, topaz and amethyst necklace. Quite stunning really. She quite stole my breath away.
Jenn: Really?
Rox: *narrows eyes* Fine then. The moment I saw her in that blasted shirt of mine, tearing across the park on Delilah. Could hardly keep up with her. She have me quite the set down as well that day. Reminded me what it was that drew me to her.
Jenn: What's one thing about yourself that Francine has yet to discover?
Rox: I…well. I've no idea there. I do believe she has discovered just about everything there is to know.
Jenn: As a duke, you were bred from birth for the responsibilities that lay ahead of you. What do you do when you needed to escape it all?
Rox: I ride.
Jenn: A horse?
Rox: *narrows eyes* Inappropriate.
Jenn: *smiles grandly* moving along! If you weren't a duke, what occupation would you currently hold?
Rox: Francine's assistant.
Jenn: That one I believe. OK a few quick questions. Doing paperwork or riding Samson?
Rox: Samson.
Jenn: Silly debutantes or some crazy woman running in front of your horses?
Rox: Hmph. I am quite afraid to answer that one, what is it Francine said once? I plead the Fifth? Yes…I plead the Fifth.
Jenn: OK then how about a complete chatterbox who has nothing to talk about or a woman who has lost her voice and has a lot to say?
Rox: *smiles crookedly* The woman with much to say.
Jenn: A quiet night in or a night out in a loud, stuffy, ballroom?
Rox: oh there you have me, we enjoy our quiet nights, but once in awhile in a ballroom is not too terrible.
Jenn: One last question: How do you think others would describe you?
Francine: Hello!!
Jenn: Well hi there!
Francine: Can I field this one my love?
Jenn: Seriously people, you should see the smile on this guy.
Francine: *giggles as she sits on his knee* Other people used to say he was terrifying, overbearing, angry and reclusive.
Jenn: And now?
Francine: He is still all those things…just tempered with a bit of humility, and some grace.
Jenn: Hey now, I know sign language you too, after all I had to do the research.
Francine: Oh yes. Well, we should be getting back to Eildon, we have been away for much too long.
Jenn: How long was this trip?
Francine: Three whole days!
Jenn: *rolls eyes* Love you both, off with you, back to the Eildon Hills. Tell Perry I said hello!!
Well I hope you enjoyed our little chat, and if you read my book PLEASE track me down somewhere and let me know what you think! I LOVE LOVE to hear from readers.
Because The Rake And The Recluse is a FULLY ILLUSTRATED novel, it is meant to be read as an eBook. It is available on , Barnes and Noble, All Romance eBooks and on iBooks from your iThingy and is ONLY $2.99!
Thank you so much Dolls!! I had a great time. I would like to send out a quick thank you to a couple friends who helped me with the questions for my hero: Rita and Kati, y'all are the awesome.
We would like to thank Jenn for visiting with us today! If you'd like to find out more about her or her books, please visit her website: http://jennleblanc.com/ or http://illustratedromance.com/


Jenn LeBlanc has several constants in life that define her:

Colorado, Canon, CJ, kids and curls.

Born and raised in a household of other people's children in this beautiful state —very nearly with a camera in hand— she never left. She talked about escaping; but that never happened. She started her own family, got used to the curls, went to college, built a CJ, and started a business.

She always had another passion. Storytelling, born from daydreams and nightmares. Her fingers were not as quick as her mind, and no amount of practice got them there. Then her second daughter was born, and her inherent traits kept Jenn pinned to the spot, her only escape the keyboard. Spending her days in parenting chat rooms, she can still type fast with just one hand. She recently finished her first novel— this novel. The problem was, Jenn was born a photographer.

From the realization that someone ELSE would be shooting the cover of HER novel her control-freak took over. What started as an easy cover shoot ballooned into this completely new kind of media, designed specifically for digital book readers.

Jenn lives and thrives off chaos and the constant flow of the creative process. She is currently working on the illustrations for her second novel.
Francine Larrabee woke up on the wrong side of the century. She was fairly certain she went to sleep in her own comfy bed, but she doesn't quite seem to be there now. Only adding to her problems is that she has no voice, is constantly being glowered at by a large, stunning man who is obsessed with propriety, and she is apparently betrothed to another horrid little man, determined to ruin her, and any other girls that get in his way.

How does she find herself in the past, when she couldn't even find herself in her present? How does a self sufficient businesswoman survive in a time when women were still considered property for the whole of their lives and what is she going to do with this man who draws her to him so fiercely.
Paperback Dolls is made up of women from different parts of the world, with different backgrounds, different tastes and beliefs that were brought together through a love of reading. We like to think of ourselves as a cyber version of "The View" that focuses on books, authors, and reading. We are proof positive that one common love can unite the most opposite of people and form lasting friendships that introduce other ways of life and perspectives to each other.
Paperback Dolls