Home » Authors, Cook Books, Cooking, Doll Alli, Features, Guests, Jill Shalvis, Recipe, Reviewers, Thankful Feature
Author Jill Shalvis tells us what she's thankful for & shares a recipe!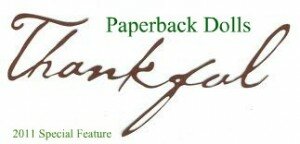 As Thanksgiving approaches and the holiday season kicks into gear, we caught up with one of our favorite romance authors, Jill Shalvis, and asked her what she is thankful for this year and if there was a particular favorite recipe of hers she looks forward to making. Here is what she had to say…
I am HUGELY grateful and thankful for all the readers who go out and buy my books! It means so much to me that there are people out there enjoying my words!!!

I do enjoy cooking, and as some of you may know, I have a Lucky Harbor inspired cookbook titled .

In the pages of this book are recipes on how to catch a man, how to cope with sisters, and bunches of wisdom. Whoops, sorry. Wrong book. (See either , , or ).

There are, however, some fantastic recipes from my very own kitchen, and in the cooking of these recipes, I can guarantee you a culinary experience that will make you forget your troubles.

Here's one of my all time fave recipes in , which as an added bonus is now FREE for download on  and Barnes & Noble!

Good Morning Sunshine Casserole

Ingredients:
1 layer of tater tots
1 layer of ham or sausage cubes
(or crumbled bacon, whatever makes your skirt blow up)
1 layer of grated cheddar cheese
(there's no such thing as too much cheese for breakfast)
Pour this over the layer:
6 beaten eggs
1/2 tsp. salt (or more, if no one's looking)
1/2 tsp. pepper
1 tsp. dry mustard
1/2 cup of chopped onion
3 cups of milk
2 tsp. Worchestershire sauce
Add 1/2 cup melted butter over all that.
Cook 1 hour at 350 degrees uncovered.

Happy cooking, happy eating,  happy reading and Happy Thanksgiving!
How cool is that?!?  I just love a good deal and you can't beat FREE downloads! Thank you Jill for the recipe and for sharing your stories with us. Have a wonderful holiday!
Lil is an avid reader who gave up TV so she could greedily read every book she could get her hands on. In the process she discovered a love for contemporary romance heavily laden with humor. Lil is formerly a True Blood blogger who discovered there is more to the world than her annoying love/hate one-sided relationship with the writers of TB. She credits JR Ward for pulling her from the two dimensional world of TV viewing.
Doll Lil