Home » Authors, Features, Giveaways, Guests, Interviews, Month of Love
Month of Love Interview and Giveaway: The Garter Brides visit the Dollhouse!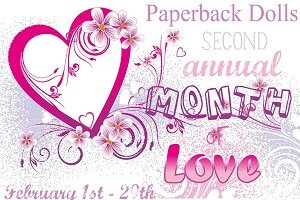 Everyone please welcome The Garter Brides to Paperback Dolls! Love for Grown-ups is their debut novel. To learn more about them and their other works, please visit their website here. To learn more about Month of Love and who is visiting you can go here.
---


Today the Dolls are extremely honored to welcome 'The garter Brides' AKA Ann Blumenthal Jacobs, Patricia Lampl and Tish Rabe. Why are they here on our month of Love? Because if anyone knows about the long winding road on the path to love (and romance!) it's them. They were kind enough to answer our questions and followers, take note – these ladies have oodles of experience and have each managed to create their own HEA.
PBD: You call yourself The Garter Brides can you tell us where the name came from?
TGB: The Garter Brides started over a girl's dinner between Ann, Pat and our friend Nina. All of us had great lives, but none of us thought we'd get married – too may dates, too much disappointment. Six months later, Nina got married. Six months after that, Ann got married. And Pat walked down the aisle six months after that! All three of us wore the same garter as "something borrowed". We shared it with other brides who were over 35 years old. Tish became a Garter Bride when she married at 36 to a man she met in high school. The garter has traveled all over the world! That's how the Garter Bride sisterhood was born.
PBD: The title of your book is 'Love for Grown-Ups: The Garter Brides' Guide to Marrying For Life When You've Already Got a Life' – Do you think 'having a life' makes finding love more complicated/difficult?
TGB: Actually we found that "having a life" made finding true love even easier. As a mature bride you have built a life for yourself and you know when you are ready to share it with the man you love. We also found that women were open to a new adventure and had a willingness and joy about making major changes – we bust the myth that you are set in your ways after a certain age.
PBD: How did you ladies come up with the idea for this book? How did you all get together?
TGB: Tish and Pat met when they were both working for Sesame Street and from the first moment that Tish heard the story of how a group of women wore the same garter at their weddings she was in love with the story. She called Ann and Pat and said. "We need to write a book!" And even more that than, this is the book we wish we had had when we got married. It would have saved us a lot of angst in facing some of the challenges that arise when you are combining two full lives.
PBD: In your book you share both advice and personal anecdotes on your own road to finding love, was it difficult to put the sometimes less than happy experiences to paper? Or perhaps, was it therapeutic?
TGB: The amazing women who shared their stories with us knew that they were sharing intimate realities of their loves and lives but it truly was with one clear purpose in mind: to help other women find the happiness that we all have. As all women are, they were busy, busy, busy, but found time to talk to us to help other women and inspire them to know that it's never too late to find true love. Everyone we spoke to became a new friend – we keep in touch and, of course, are always anticipating who the next bride will be to wear the garter.
PBD: As someone who has been on nearly 500 dates at the age of 31, I can honestly say that the process of finding love is an exhausting one that leaves me very disenchanted (and perhaps cynical) about all things romance (romance versus love) – is there a chance for romance no matter how old you are?
TGB: The Garter Brides will tell you to "never give up" and we mean it. Our brides have found love in sometimes the oddest of times and circumstances, but they were all open to finding someone new- and as we always say "It happened to us- it can happen to you." Remember, Pat met her husband on her '9001st' blind date – that she didn't want to go on! One date can change your life.
PBD: Do you ladies believe in fairytales?
TGB: The Garter Brides believe you can find real love in the real world of 2012. There is someone special out there for you- but it's up to you to be open to meeting him, to give him a chance, to understand that you- and he- have had life experiences that make you both who you are. Can he sweep you off your feet and into the sunset? Absolutely- but as we like to say "at 21, you ride off on the white charger –over 35 it's usually a minivan!"
PBD: "The one that got away", "Love at first sight", "the girl/boy next door", "first love" and "soul mates" – are they all possible?
TGB: The thousands of Garter Brides who've contacted us will tell you that all of the above are very possible. Some of our brides knew on the first date that this was "the one", some reconnected after years had gone by, some (like one of the authors of the book, Garter Bride Tish,) fell in love with the guy the next locker over in high school and married him years later.
PBD: Reading other people's impressions of 'Garter Brides' I noticed there were readers of all ages and relationship statuses – in your opinion, what is it about Garter Brides that manages to reach so many different people?
TGB: One of the many wonderful things about the Garter Brides is we truly reach women (and men!) from diverse backgrounds who all want one important thing- love and happiness for not only themselves but for their friends and loved ones.
PBD: We've been interviewing and featuring many romance writers this month for Month of Love – do you have any romance favorites?
TGB: Our favorite romances are REBECCA, THE BRIDGES OF MADISON COUNTY and SAFE HAVEN.
PBD: Favorite literary heroes and heroines?
TGB: You can't beat Jane Austen!
PBD: Finally, what are the chances of you ladies passing that 'magic garter' on to me? ;)
TGB: Pat has the "magic garter" in a box in her drawer and is ready to send it to the next Garter Bride. As she likes to say "The lucky Garter Bride Garter has been shipped via Fed Ex more often the Harry and David pears…" Please know it is ready to be shipped to you and any other Garter Brides can start their own chapter…
Love to you all,
Ann, Pat and Tish
The Garter Brides

Ann Blumenthal Jacobs, Patricia Lampl and Tish Rabe are the authors of Love for Grown-ups: The Garter Brides' Guide to Marrying for Life When You've Already Got a Life, a relationship guide for women over 35 on how to find Mr. Right, marry and find life-long happiness. The Garter Brides are a sisterhood of women who got married later in life and wore the same garter at their weddings! They offer tried and true advice on how to have the love and life you want.

Visit them on
Paperback Dolls is made up of women from different parts of the world, with different backgrounds, different tastes and beliefs that were brought together through a love of reading. We like to think of ourselves as a cyber version of "The View" that focuses on books, authors, and reading. We are proof positive that one common love can unite the most opposite of people and form lasting friendships that introduce other ways of life and perspectives to each other.
Paperback Dolls